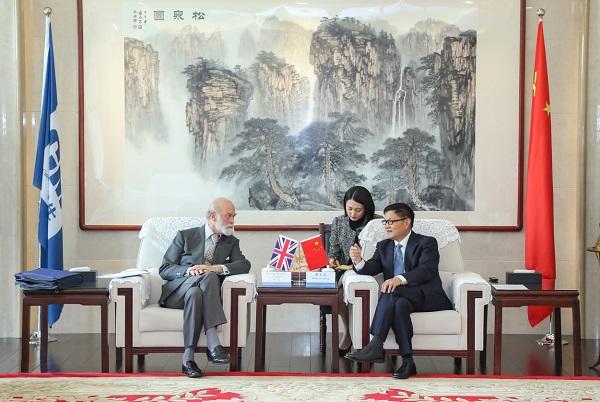 On April 13, 2016, Chairman of China Minsheng Investment Capital Co., Ltd. ("CMIG") Mr. Dong Wenbiao met with Prince Michael of Kent in Beijing. The "Belt and Road" initiative proposed by China tightly connects the country with Europe, which is an important target market for CMIG's global strategy. President Dong and Prince Michael held in-depth discussions on investment in Europe and CMIG's expansion in Europe. CMIG Vice-President, Mr. Kong Linshan, and Secretary of the Board of Directors, Mr. Zhong Jipeng, also attended the meeting.
Mr. Dong introduced CMIG to Prince Michael not to mention their three major industries of finance, new energy, and health. Mr. Dong pointed out that CMIG is now gradually building an overseas investment platform committed to providing high-quality financial and investment services for private companies who seek cross-border investment and asset allocation opportunities. CMIG is now working on its European plan, having already begun a strategic partnership with Luxaviation.
Prince Michael is an influential figure in the United Kingdom and throughout the rest of Europe. He has officially attended a number of events at home and abroad on behalf of the Queen. Prince Michael fully recognizes the achievements of CMIG since its establishment and he said he was more than willing to learn about CMIG and serve as a bridge to help the organization identify suitable business partners and projects including supporting its development in the aviation field in Europe. Prince Michael also expressed his enthusiasm for large-scale private investment groups, such as CMIG, to enter the UK market. Compared with other western countries, the UK has a more open attitude toward foreign investors. He agreed to assist CMIG learn to more about the UK investment environment.
As an emerging investor and with significant financial power, China's private capital is beginning to gain a reputation on the global stage. Since the day it was founded, CMIG has continuously gathered high quality capital at home and abroad, enhancing its global development and implementing the state's "Belt and Road" strategy. It is CMIG's initial vision to be able to help our country enter the global market by using domestic and international resources and markets. With this vision in mind, CMIG has established its headquarters in London and Singapore.
In April 2015, CMIG signed a strategic cooperation agreement with Luxaviation on future industry-chain acquisitions of business airlines across the globe. In June 2015, CMIG signed a contract with the world-leading real estate service provider Savills, which marked the official establishment of its first investment fund platform in Europe, as well as a solid foundation for subsequent investment expansion in the region.