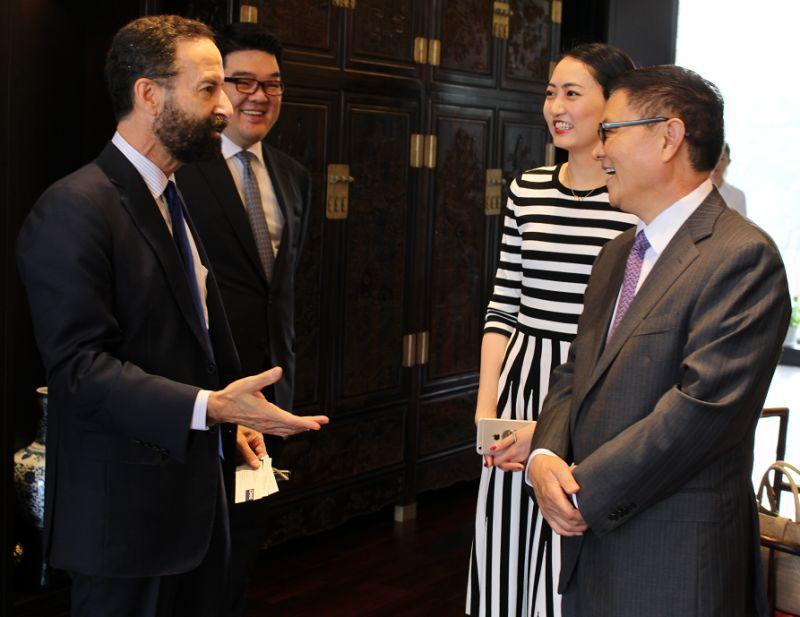 On the morning of July 8, 2016, Dong Wenbiao, Chairman of CMIG Board of Directors, met with the delegation led by Mr. Mark Schwartz, Vice Chairman of world-leading investment bank Goldman Sachs Group, in Beijing. Both sides unfolded in-depth discussion on topics including CMIG's future strategic plan and global deployment, and further cooperation between CMIG and Goldman Sachs. Executive Vice Chairman of the Board of Directors Li Yinheng, Secretary of the Board of Directors Zhong Jipeng, and CEO of CMIG International Liao Feng attended the interview.
Chairman Dong first briefly introduced CMIG's current strategic focus and business progress. In the finance field, CMIG will build three financial platforms in insurance, financing & leasing and asset management in Singapore, Hong Kong and Europe; in industry field, CMIG will dedicate itself to developing new energy and home-based aged care, and boost precision poverty alleviation through "New energy +" strategy; by cooperating with leading medical institutions to promote new model of home-based aged care, remove the public's worry about the arrival of the aging society in China.
Chairman Dong further pointed out, CMIG boasts deep understanding of the Chinese market, whereas Goldman Sachs has rich experience in European and American markets. Both sides should bring out advantages in their respective markets, learn from each other, strengthen cooperation, and join hands to propel Chinese enterprises' "Walk-out, take-in" progress.
Mr. Mark Schwartz said, since the inception of CMIG, Goldman Sachs closely monitored the development of CMIG, and remained optimistic about its model and prospects. Over the past two years, CMIG recorded steady growth in highly challenging economic macro environment, and acquired remarkable achievements. CMIG's selection of strategic focus is very professional and forward-looking, and will definitely acquire generous investment reward in the days to come.
He added, Goldman Sachs is a world-leading investment bank, with business distributed worldwide, nevertheless, in China it is still a young company, Goldman Sachs has been looking for the best commercial partner in China. CMIG has successful business experience in China, globalization strategy and deployment, making it an ideal strategic partner for Goldman Sachs. Over the past two years, Goldman Sachs has established cooperation foundation with CMIG, and developed excellent cooperation relationship. As senior executives from both sides deepen exchange and interaction, they can surely kick off all-round cooperation.