The first "Cambodia-China Business Forum and Financial Development Forum", a top-level activity for nongovernmental economic exchanges between China and Cambodia led by China Minsheng Investment Group (CMIG), is about to be held in Phnom Penh the Cambodian capital, on December 1. As jointly initiated by Cambodian Prime Minister Hun Sen and Chairman of CMIG Board of Directors Dong Wenbiao, the Forum marks another important step of CMIG toward leading Chinese private enterprises to go global in groups and following the national "Belt and Road" initiative.

Themed in "Cambodia: the Kingdom of Opportunities Along the 'One Belt One Road'", the Forum is focused on the investment opportunities provided by Cambodia to Chinese private businesses. Several high-ranking governmental officials of China and Cambodia, Chairman Dong and Ly Yong Phat the Chairman of L.Y.P Group, among other renowned entrepreneurs from both nations, will attend the Forum.
The Forum will showcase the planning and progress of key industries and financial projects that CMIG has engaged in Cambodia for the first time. Over 100 participants from CMIG's shareholders, Asia Financial Cooperation Association, governments of the two nations, non-governmental organizations and other partner enterprises, will conduct in-depth discussions on manifold topics including investment experience in Cambodia and China-Cambodia industrial financial cooperation, etc. Moreover, the Forum will also witness the signing and release of multiple agreements.
This Forum marks an important action of CMIG in following President Xi Jinping's instructions on strengthening connectivity and cooperation between China and Cambodia under the framework of the "Belt and Road" initiative. On October 13 this year, President Xi and Prime Minister Hun Sen held a meeting in Phnom Penh, whereby both parties reached an agreement to formulate and jointly promote the planning outline of "Belt and Road" construction progress, reinforce cooperation in multiple areas and continue the development of Sihanoukville Special Economic Zone and other cooperation projects.
Of particular note, Sihanoukville Special Economic Zone belongs to a project developed by Hodo Group, a shareholder of CMIG, in Cambodia. It has become a model project on pragmatic bilateral cooperation recognized by governments of both nations, which is hailed as "Shenzhen-like area in Cambodia". Besides, Fudian Bank, a member unit of Asia Financial Cooperation Association as the first local Chinese commercial bank eligible for overseas branch establishment, has set up institutions in Laos and other nations. It has created a wide geographical financial network covering Vietnam, Cambodia, Thailand, Malaysia, Singapore, and other Southeast Asian countries.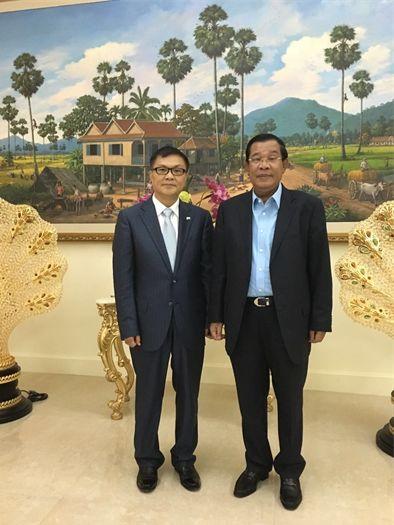 CMIG Chairman Dong Wenbiao led a team to visit Cambodian Prime Minister Hun Sen in Phnom Penh this September
In this September, Dong Wenbiao, Chairman of CMIG Board of Directors, led a team to visit Hun Sen, Prime Minister of Cambodia, in Phnom Penh. Both sides reached common understanding on cooperation in areas such as infrastructure, industrialized construction, photovoltaic power generation, finance and general aviation. They also agreed to hold regular China- Cambodia business forums to promote exchanges and cooperation between private enterprises of the two nations. CMIG will play the role as a leader of Chinese private enterprises, to facilitate investment of Chinese capitals in Cambodia, or build bridges for cooperation. This Forum delivers the initial achievements after the meeting.
Over the past two years since establishment, CMIG has achieved soaring development with its assets increased to RMB230 billion from RMB30 billion, thus becoming a spearhead in the course of "going global" of Chinese private capitals. CMIG not only engages in establishment of three overseas platforms in Singapore, Hong Kong and London, but also leads a dozen of domestic leading businesses from dominating industries to co-build the CMIG Indonesia Industrial Park with an investment of USD5 billion. CMIG has continuously pitched in business alongside the "Belt and Road", in an effort to promote social prosperity and common development of nations along the route.
What achievements will CMIG further bring in Cambodia this time? The upcoming Dec 1 meeting will tell us.