On April 28, 2017, Beijing time, the AIIA announced that, the GP community launched by China Minsheng Investment Group (CMIG) and consisting of institutional investors from many countries and regions including Mainland China, Hong Kong of China, Japan, South Korea, Israel, India, and Southeast Asia, will hereby establish an Asian Institutional Investor Joint Overseas Investment Fund (hereinafter referred to as the Fund).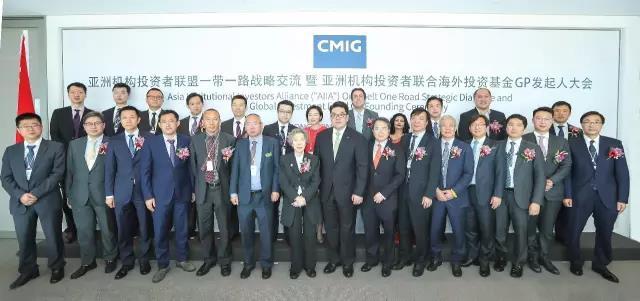 The group photo of guests to the GP Initiator Conference of the Fund
The Fund, with a targeted amount of USD10-15 billion, aims to give a play to the financial wisdom and industrial strength of members, gather their capital to achieve overseas development with joint forces, and seize the opportunities for "going global and bringing in" that are offered by developed countries' advantages of technology, brand, and resource, and the potential of countries alongside the Belt and Road, so as to build a globalized industrial platform.
Sharing opportunities in the Belt and Road Initiative
In the morning of April 28, the Belt and Road Initiative Exchange Conference of AIIA & the GP Initiator Conference for Asian Institutional Investors Joint Overseas Investment Fund was held in CMIG's Hong Kong headquarter. Institutional delegations from countries and regions including Mainland China, Hong Kong, Japan, South Korea, Israel, India, and Southeast Asia were present at this conference to discuss the Belt and Road initiative for international cooperation, as well as the opportunities from the global economic development and upgrading. Kevin E. Lee, the executive vice chairman of CMIG Board of Directors expressed his welcome for guests, and showed his gratitude for the support from strategic cooperators.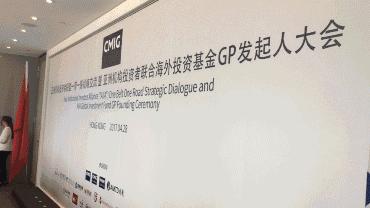 Site of the conference
Regarding the current global situation, CMIG Vice President Lyu Benxian holds the opinion that, though regions like the US and Europe are seeing anti-globalization trend, the opportunities and economic development under globalization are actually unstoppable.
As an international cooperation initiative proposed by China, the Belt and Road Initiative is of great significance for Asia's modernization. According to Kevin E. Lee, the Executive Vice Chairman of CMIG Board of Directors, under the background of a new round of global economic transformation, the Initiative is exactly a new globalization solution, which highlights the joint discussion, construction, and sharing, whereby each country engaged can reinforce their economic and cultural interaction and cooperation, so as to advance global integration and development.
Doctor Annie WU, a member of CPPCC as well as the life-long honorary member of the World Trade Center, shared her ideas about the strategic ground of launching the Fund from the perspective of an industrialist. . She believes that Chinese enterprises' overseas development conforms to the trend of economic globalization. However, as a single enterprise's fight in the international market will be challenged by increasing risks, the Fund based on AIIA will help them reduce the strategic risks in M & A and choose an object prudently.
Doctor Wu further noted that, the Belt and Road Initiative has brought precious opportunities for Hong Kong. As Hong Kong is the most efficient platform for "bringing in" foreign capitals as well as Chinese enterprises' "going global", this region should further act as a "super communicator" to contribute to the globalization.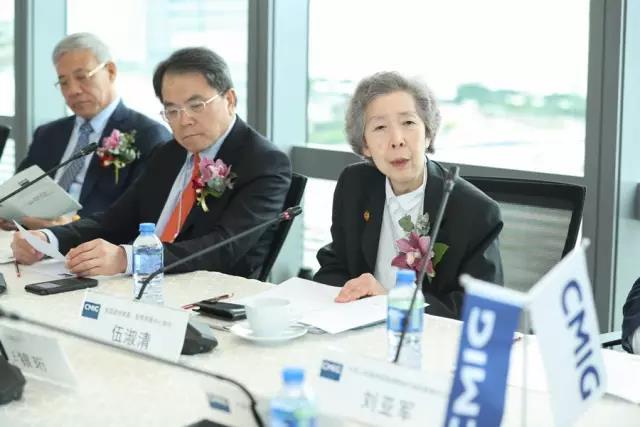 The conference guests shared their wonderful ideas
Guests to this discussion also included Deputy Director Liu Yajun of the Economic Affairs Department of the Liaison Office of the Central People's Government in HK SAR, Chairman Francis Leung of the Chamber of Hong Kong Listed Companies, Deputy Consul-General Nasser Awad S.Alghanoom of Saudi Arabia to Hong Kong, and Giancarlo Bruno, the head of Financial Institutions in the World Economic Forum.
More than ten institutional investors jointly invest in overseas markets
This conference also included the signing ceremony for strategic cooperators of the Fund. More than ten institutional investors from home and abroad including CMIG, ORIX Corporation from Japan, Mirae Assets from South Korea, Cukierman & Co from Israel, IndoChina from Southeast Asia, Sun Hung Kai Financial from Hong Kong, BlackPine Private Equity Partners, AMTD Group, Taiping Financial Holdings, CCB International, GF Investments, Zhongtai International, China First Capital Group, and Fox Fintech Group will jointly launch the Fund as strategic cooperators.

Signing ceremony for strategic cooperators of the Fund
According to Cai Zhijian, the senior assistant to CMIG President, the secretary to AIIA, and the head of CMIG's Hong Kong Headquarter, in view of the new opportunities brought by globalization, by drawing experience from some successful cases, the Fund initiated by CMIG and jointly established by cooperators from Mainland China, Hong Kong, Japan, South Korea, Israel and Southeast Asia will facilitate their cooperation and sharing. With the gathered strength, Hong Kong as the tie, as well as diversified channels and tools in capital markets, a globalized industrial platform will be built.
Per some introduction, the total amount of the Fund is expected to reach USD10-15 billion, and the Fund will focus on investment opportunities in sectors including aged care and healthcare, high-tech, fin-tech, and emerging industries in developed economies and countries alongside the Belt and Road.
Mr. Cai noted that, with strategic cooperators' diversified backgrounds and management capacities in investment and financing across fields, as well as CMIG's own advantaged resources as an enterprise and capital platform, the Fund could better give a play to the strategy of industry-finance integration. With diversified driving forces, we will be able to achieve an innovative development.
In October 2016, CMIG initiated and established AIIA, which has gathered Asian sovereign wealth funds, banks, long-term funds, and private equity funds, aiming to create a globalized institutional investor platform with regional features. The establishment of the Fund will further the cooperation and exchange among AIIA members, and then bring about an "Asian force" into the international capital market.