At the three-year anniversary of China Minsheng Investment Group ("CMIG"), the "CMIG Charity Run" activity, which was initiated by CMIG and its charity partner, and participated by CMIG's staff and people from other walks of life, kicked off in Shanghai World Expo Park. On August 19, 2017, more than a hundred participants took part in the activity to convey their love and contribute their efforts to the charity cause.
  It is a charity run activity initiated by CMIG, a leading investment group in China and a charity organization, and participated by the staff of CMIG, and people from the All-China Federation of Industry and Commerce (ACFIC), several financial institutions, media agencies and various other circles of the society.
  Move forward step by step
  On the very first day of the charity run activity, a total of 150 participants, including staff of CMIG, and representatives from ACFIC, financial institutions and media agencies, ran 750 kilometers in total. In the name of every runner, CMIG donated CNY300,000 to the charity partner Chinese Society of Cardiothoracic and Vascular Anesthesiology, for the purpose of promoting cardiopulmonary resuscitation and relevant training, driving medical advancement in the cardiovascular field, and enhancing the health of the public. The activity marks the formal launch of the mode of combining personal fitness and charity cause in CMIG, and more of such activities will be held in the future.
  CMIG Executives, including the Chairman of the Board of Directors Dong Wenbiao, also participated in the charity run in various ways. Chairman Dong also signed on the Certificate of Appreciation for the hosting of the activity and the funds raised.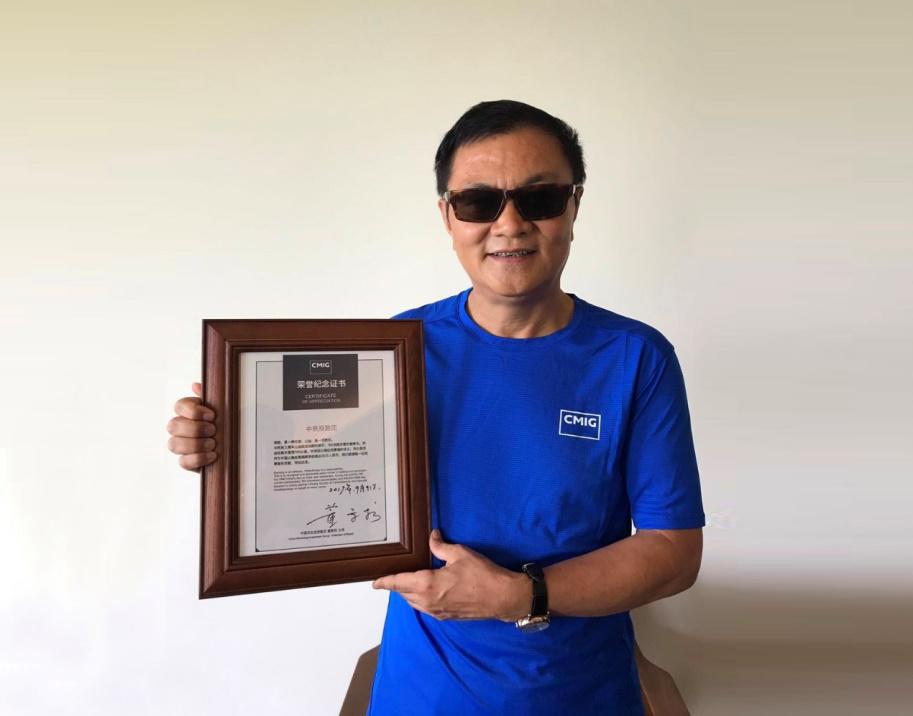 Chairman Dong Wenbiao signs on the Certificate of Appreciation for the hosting of the activity and the funds raised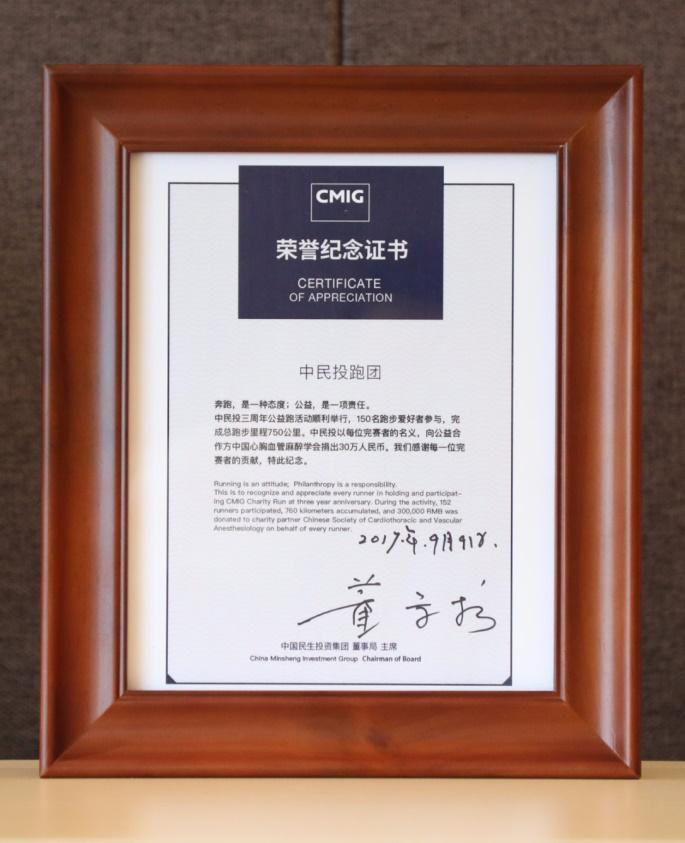 Certificate of Appreciation
  Chairman Dong remarked that CMIG had been committed to its social responsibility while pursuing its own development, and initiatively organized charity activities. The charity run activity held at the third anniversary of its establishment well displays the philosophy of responsibility that CMIG has been committed to.
   "It is never easy to start up a business, and great efforts must be made. CMIG has made brilliant achievements over the past three years, but it still faces daunting tasks and has a long way to go in 'following the national strategy and driving transition and upgrading'," Dong said, and he added that, "I am convinced that we will be able to build our company into a great business worldwide only if we keep firm confidence, remain committed to our missions and continuously move forward, as just what we do in this charity run."
  After the activity was launched, another more than a hundred people also joined in it, increasing the total number of participants to 260.
  A platform combining health and charity
   "The activity initiated by CMIG at its third anniversary aims to create a platform that integrates the pursuit of leading a healthy life and shouldering the charity responsibility, through which employees of CMIG reward the society via their own acts. More such activities will be organized in the future, as CMIG will continue to support charity, and this also tallies with our philosophy of 'making responsible investment' and sponsoring social well-being that we have always adhered to," said Kevin E. Lee, Executive Vice Chairman of CMIG Board of Directors.
  Jiang Hangxiang, leader of CMIG's Run Club and director of the Audit Department, said that, "CMIG's Run Club initiated by the group's Labor Union, is one of the largest staff communities in CMIG. Members of the run team sign in to record their running mileages in the WeChat group chat every day, including 'experienced runners' who even took part in Marathon and 'green hands'. Regardless of their experience, many employees have joined in the team to encourage each other and grow together. It is believed more people will get involved as motivated by the charity activity."
  Attention is paid to cardiovascular health
  The recipient of the donations - Chinese Society of Cardiothoracic and Vascular Anesthesiology – is a Class-A medical academic society in China. The association is committed to advancing the medical progress in cardiovascular and other related fields, promoting cardiopulmonary resuscitation and holding relevant trainings, providing charity clinics of professionals, making stroke screening, and organizing health lectures, among other charity activities. The cardiopulmonary resuscitation charity activity "Connecting Hearts, Brightening Lives" initiated by the association has lasted over two years across China, with trainings offered to tens of thousands of recipients, to help them learn to provide aid for patients with cardiac arrest.
  Cardiovascular health has arrested wider attention in the society in recent years. Statistical data shows that 540,000 people die from sudden cardiac death each year in China, 80% of whom lost their lives or became disabled owing to the lack of timely and effective cardiopulmonary resuscitation treatment before being sent to hospitals.
  Ms. Gao Yang, Head of Charity Department, Chinese Society of Cardiothoracic and Vascular Anesthesiology, noted that the partnership of CMIG and the association had played a proactive role in aiding the patients, promoting the cardiopulmonary resuscitation technology, publicizing the charity philosophy, enhancing the sense of responsibility among the public and improving the health conditions. During the activity, professional doctors also lectured to and trained the runners on cardiopulmonary resuscitation.
  Down the road, CMIG will deepen its cooperation with Chinese Society of Cardiothoracic and Vascular Anesthesiology, and it is expected projects in key business areas like home-based aged care and combination of medical treatment and endowment will be launched, to drive common development of its own business and the charity cause, and create both social and economic values.
  Charity run is not a one-time activity
  Kevin E. Lee expressed that the charity run activity would be further expanded to more countries as CMIG broadens its layout along the Belt and Road, which will benefit local well-being through cooperation with the people, communities and institutions of these countries.
  Ao Hushan, General Secretary of Chinese Society of Cardiothoracic and Vascular Anesthesiology, spoke highly of the creativeness of combining individual health and social responsibility exhibited in CMIG's charity run activity, and praises it as a role model in the industry. "CMIG's strategy of boosting combination of medical treatment and endowment and home-based aged care aligns with the association's idea of propelling health management of communities, and I hope more cooperative projects in other fields will be in place in the future," he said.
  The series of activities for celebration of the third anniversary of CMIG, represented by the charity run in the theme of "Reach The Place You Dream Of" further elaborates CMIG's philosophy of making "responsible investments". Over the past three years since establishment, CMIG has steadily pushed forward the development of green, environmentally-friendliness and well-being causes, by dedication in three featured industries, i.e., "new energy, home-based aged care and prefabricated construction". Moreover, CMIG also sponsors the industrial development of community, healthcare and new energy via new financial forms such as inclusive finance and financial leasing.
  Investment requires the sense of responsibility on top of seeking returns. By making investments following the global universal philosophy of valuing ESG (Environment, Society and Governance), CMIG has been exploring development opportunities and incubating emerging industries, to enable capitals to play a positive role in driving social and economic advancement. CMIG will remain committed to becoming a respectable and credible investment institution.