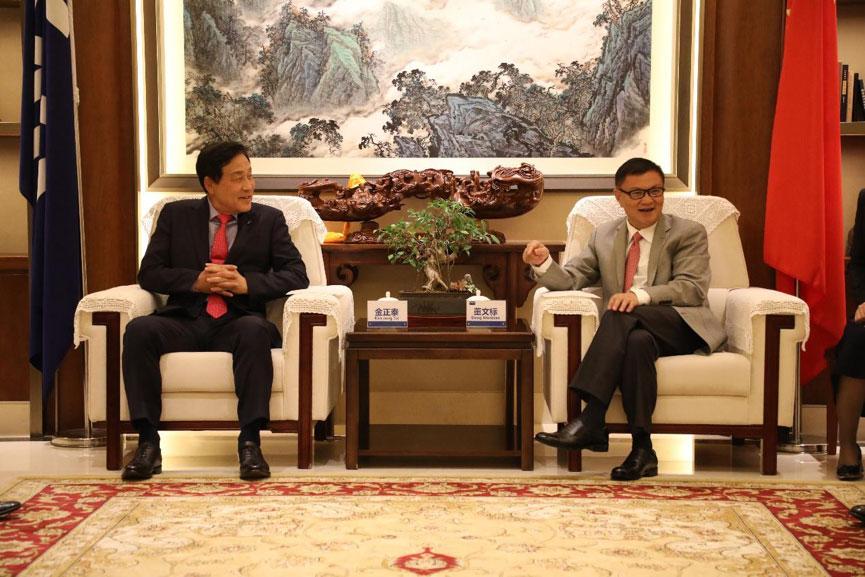 On the afternoon of November 7th, CMIG Chairman of the Board Dong Wenbiao met with Hana Financial Group ('HFG') Chairman Kim Jung-tai and his team at the Group Headquarters in Shanghai.
The meeting was attended by HFG Deputy President Yoo Je Bong and Director Kim Seung Joon, and Shanghai Branch Head Chen Yiding and Director Zheng Yongji, as well as CMIG Board of Directors Executive Vice-Chairman Kevin E. Lee, President Li Huaizhen, Secretary General Zhong Jipeng, CMIG Leasing Chairman Wang Rong and Strategic Investment Head Lee Dae Hyun.
Chairman Dong warmly welcomed Chairman Kim and his team and introduced the development course of CMIG, particularly its progress in leasing, as well as CMIG Leasing's investment in such featured businesses as big health, aviation, logistics and new energy.
Chairman Kim expressed gratitude for Chairman Dong's warm reception and praised his far-sighted moves at CMIG. He is pleased to work with CMIG Leasing and hopes to expand HFG's cooperation with CMIG in Belt and Road investment.
The two also exchanged and explored such issues as China-Korea economic cooperation.