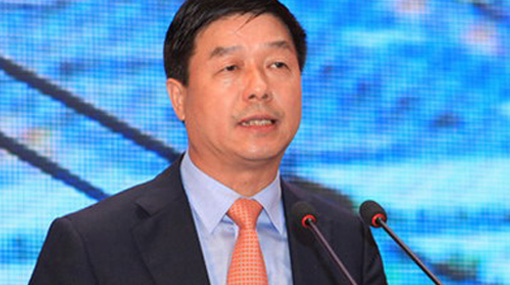 "I'm confident that CMIG will develop into a great private investment group that has international competitiveness, wins respect and achieves sustainable development under the leadership of Chairman Dong," Zhang Jianhong looks forward to the future of CMIG as such.
The confidence comes from the resolution to work together and the consensus in achieving leapfrog development of a host of Chinese private enterprises. As the vice chairman of the ACFIC, chairman & party secretary of Dongyue Group and one of the sponsoring shareholders of CMIG, Zhang Jianhong always holds the view that entrepreneurs should especially bear in mind that "empty talks would lead the country astray, and hard work can rejuvenate the nation", remain down-to-earth in developing respective products and work to exceed the developed countries at an early date.
Moreover, transcendence is originated from his emphasis on scientific R&D and perseverance in indigenous innovation. In his words, "Dongyue Group has realized independent innovation in new environmental protection, new materials and new energy and consolidated China's national industry in recent years." Therefore, with regard to the future of the manufacturing industry, he believes that stepping up efforts in scientific innovation is the only way and his enterprise has benefited as a result. Innovation enables Dongyue to become the "world number one" in two areas - green and environmental friendly refrigerating fluid -- the alternative of freon, and PTFE (Polytetrafluoroethylene).
In this case, Zhang Jianhong particularly hopes CMIG could promote and facilitate the scientific innovation capability and green economic development through industrial integration, investment mobilization and capital aggregation.
CM New Era: What are the development process and achievements of Dongyue Group in recent years?
Zhang Jianhong: Dongyue Group is a private enterprise established in 1987 and got public on the main board of the Stock Exchange of Hong Kong in 2007. Its main products include green and environmental friendly refrigerating fluid, organic fluorine high polymer materials and organosilicon materials. In addition, Dongyue represents the first fluorosilicone material industrial park in China and possesses a complete industrial chain of new environmental protection, new materials and new energy that is independently innovated and breaks monopoly. It is the largest fluorosilicone materials production base in Asia, China's major high-and-new-tech enterprise, statelevel innovation-driven pilot enterprise and backbone enterprise of new materials industrialization base. Besides that, Dongyue has the state-level enterprise technological center, postdoctoral research center, Taishan Scholar post and other R&D platforms, and holds over 1,000 patents. This innovation-driven enterprise ranks the 4th among Top 500 Chinese enterprises with scientific competitive edge and the 25th among Top 100 Chinese chemical companies, and is the largest tax contributor among Zibo-based private enterprises for three consecutive years.
Science and technology are the backbone of development. While building its technological strength and talent highland, Dongyue has entered partnerships successively with Tsinghua University, Shanghai Jiaotong University, University of Science and Technology of China and other institutes, the 6th Framework Programme of the EU, national academies of sciences of such countries as Russia, Canada and France, the Energy Research Centre of the Netherlands, and R&D arms of well-known companies, including Benz, Ballard, 3M and General Motor. Dongyue has made innovation in new environmental protection, new materials and new energy fields, destroyed monopoly and entrenched national industry.
"New environmental protection field" mainly refers to green and friendly refrigerating fluid. The line of products of Dongyue-Tsinghua green refrigerating fluid, a result of cooperation between Dongyue and Tsinghua University, has realized localized replacement of refrigerating fluid and won the National Award for Technological Invention. For now, Dongyue has 41 varieties of green and environmental friendly refrigerating fluid with a productivity of 400,000 tons and ranks first worldwide.
"New materials field" mainly covers fluorine and silicon high polymer materials. Dongyue has built up the world's largest PTFE device and 200,000-ton organosilicone and deep processing project with proprietary intellectual property rights. Fluorine silicone materials are widely adopted in all segments of national economy, including war industry, aviation, electronics, construction and auto, and are used as sealing, lubrication and space suit treatment materials, making great contribution to China's aerospace industry, including Tiangong-1 and Shenzhou Spacecrafts.
"New energy field" mainly refers to perfluor ionic membrane. In 2003, Dongyue took advantage of fluororesin supporting technology and industrial platform and joined hands with Shanghai Jiaotong University in tackling key problems of the ionic membrane project. The technology of ionic membrane has long been monopolized by other countries and China took it as the key project of the Sixth and Seventh Five-year Plans, but failed at last. Dongyue faced up to the difficulty and overcame the worldwide technological challenge in eight years with the support of national key scientific and technological project and the No. 1 high-and-new-tech project of Shandong Province, thoroughly putting an end to the reactive position of China's chlorine industry. Li Keqiang and Zhang Dejiang instructed in the meantime on the internal reference of Xinhua News Agency, requiring relevant ministries and commissions to lend full support to Dongyue ionic membrane to realize localized replacement as soon as practicable. For now, Dongyue ionic membrane has been widely employed in chlor-alkali enterprises, including Shanghai Chlor-Alkali, China Salt Changzhou Chemical and Jiangsu Suhua Group, with its operating indicators reaching or surpassing the standard of products of its kind of other countries. In 2013, Dongyue succeeded in fuel cell membrane R&D and on November 27, 2013, Dongyue Group and AFCC (Automotive Fuel Cell Cooperation) held the signing ceremony of jointly developing new vehicle use fuel cell membrane. This project is highly important for China to occupy the commanding point of fuel cell membrane research and promote the global industrialization of clean and new energy fuel cell vehicles. At the same time, Dongyue also successfully developed and is developing solar cell package membrane, vanadium cell membrane, sewage treatment membrane, sea water desalination membrane and other membrane materials, with a view to build the world's largest functional membrane materials base.
At this point, China's economic development has entered a "new normal" era. I believe this isn't a cycle of economic downturn; rather, it's a period for comprehensive transformation and upgrading of product and technological structure. New normal is an era without any road sign to lead the direction. Under new normal, we need to carefully examine, thoroughly study and judge the development trend and actively adapt to the era featured by moderate and high speed growth.
Dongyue has identified the new development goal of "building global functional membrane materials base, 100-billion grade fluorosilicone industrial park and striving to become a world-class branded company". We will firmly seize on the opportunity that fluorosilicone materials are listed as one of the seven strategically emerging industries of China and the strategic industry of Shandong Peninsula Blue Economic Zone and Yellow River Delta High-efficient Ecological Economic Zone, carry out industrial upgrading in the industrial park in a comprehensive way, and try to build a state-level industrial park. We will persist in independent innovation, smash monopoly, be innovation-driven and achieve scientific development as we work to win honor for the country and make a difference in the development of national industry.
CM New Era: What's your expectation for the establishment and development of CMIG as a sponsoring shareholder of CMIG?
Zhang Jianhong: As for my expectation for the establishment and development of CMIC, I remembered that during the proceedings of the Forum on the Development of China's Private Economy held in Changbai Mountain on Aug. 13, 2013, Dong Wenbiao, Sun Yinhuan, Mao Yonghong and I, who are all vice chairmen of the ACFIC, agreed that at the current stage of China's economic development and against the backdrop that China unswervingly presses ahead with economic adjustment and economic transformation and upgrading, with the fact that the current term of the ACFIC is led by Dong, a well-respected legendary leader, private entrepreneurs like us should, and are willing to, establish a large platform for resource integration, and jointly found a private investment company to do something for China and national industry. This is my expectation for the organization at that time.
The ACFIC has attached great importance to the establishment of CMIG. Chairman Wang Qinmin and Secretary Quan Zhezhu have closely followed the endeavor, listened to reports for many times and given clear instructions concerning CMIG's historical mission, responsibility and standardized operation, among other major issues. Vice Chairman Huang Rong served as the leader of the preparation team during the preparation process. All people at the ACFIC have paid special attention to and given special support for that matter.
Four words Chairman Dong said at the CMIG Inaugural Meeting on April 17 this year still remain fresh in my memory, which relate to the development orientation of CMIG: clear-cut development strategy, perfect governance structure, whole-new business model and first-rate management. CMIG will live up to the expectation of the ACFIC. It is supposed to guide China's private capital investment, boost strategic transition and upgrading of industries and serve as the facilitator for private enterprises to make their dream a reality. I'm confident that CMIG will develop into a great private investment group that has international competitiveness, wins respect and achieves sustainable development under the leadership of Chairman Dong.
CM New Era: State Leader Xi Jinping noted in his speeches that China needs to unswervingly facilitate structural adjustment and economic transition and upgrading. During this process, what role do you envisage CMIG could play as a large private investment company?
Zhang Jianhong: I think CMIG could play a constructive role in the following areas:
1. Industrial integration. As the largest private investment company in China, CMIG enjoys exceptional comprehensive advantages in resource integration, capital operation and model innovation, which is unavailable for any other private investment companies in China. With these advantages in place, CMIG is well-poised to move forward with strategic integration in major fields. Besides that, CMIG could realize an allround, scientific and high-level integration of quality industrial assets by building sustainable and strategic business mode and leveraging on capital input;
2. Promotion of industrial transition and upgrading via strategic investment in industries. For instance, CMIG's arrangement in the PV base in Ningxia will rapidly facilitate the transition and upgrading of such industries as new energy, tourism and aviation logistics. On top of that, CMIG could achieve structural adjustment, transition and upgrading in terms of highend industrial investor, urban operator and property management platform closest to people's well-being based on its strong points in industrial resources and financial capital;
3. Facilitation of transition of small and micro private enterprises by building the platform for industry-finance integration. This is also one of the goals of founding CMIG. Through share participation and shareholding, CMIG is expected to seize on the new development trend of the financial industry and provide innovative services for private enterprises with the concept of "new finance".
In addition, CMIG could also promote and facilitate the scientific innovation capability and green economic development through industrial integration, investment mobilization and capital aggregation.