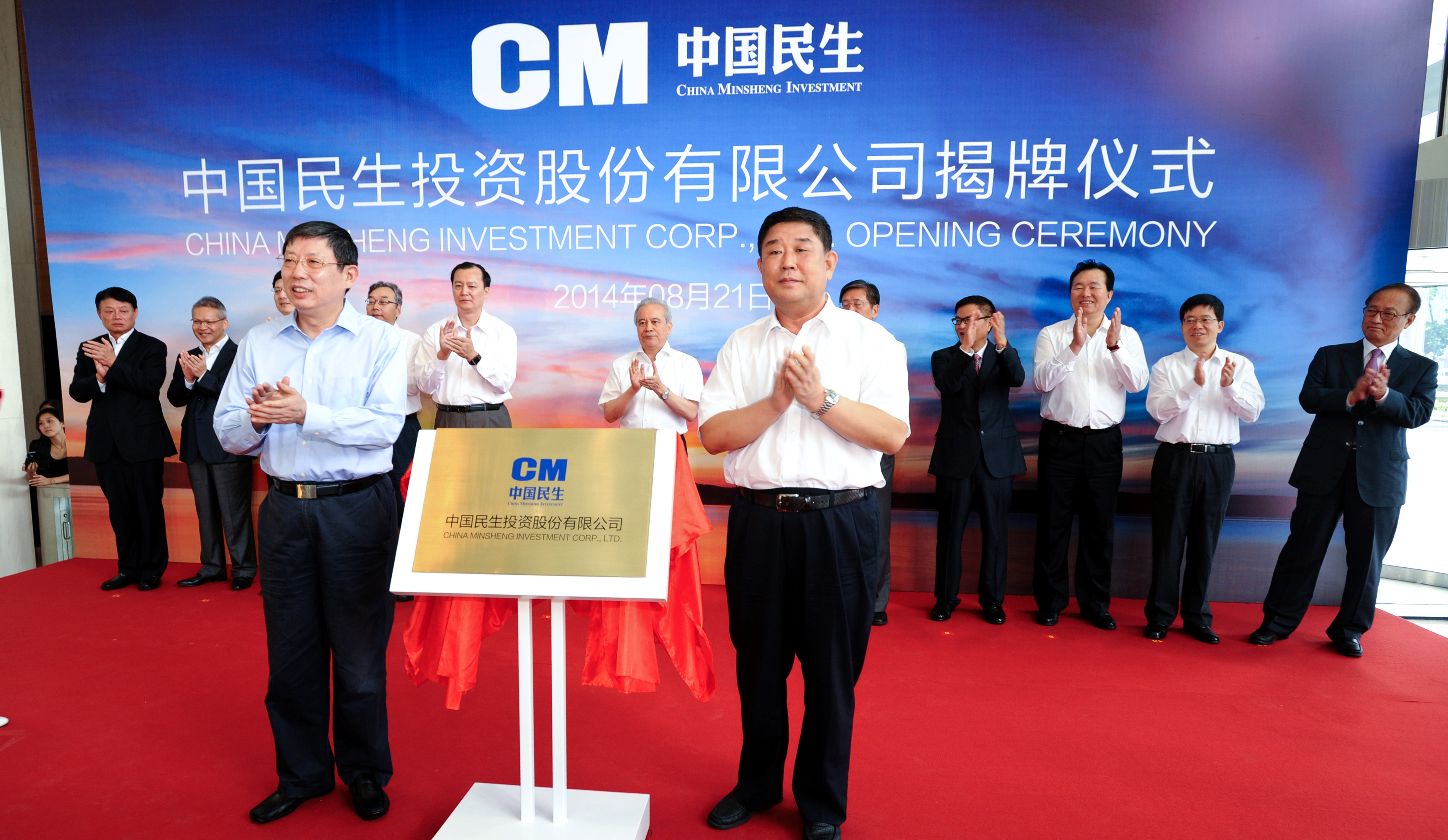 AUG. 2014
On August 21, 2014, CMIG was established in Shanghai. The Chairman of ACFIC, Wang Qinmin attended the opening ceremony and gave a speech. The Secretary of ACFIC Party Committee, Quan Zhezhu and the Mayor of Shanghai Yang Xiong unveiled the nameplate for CMIG.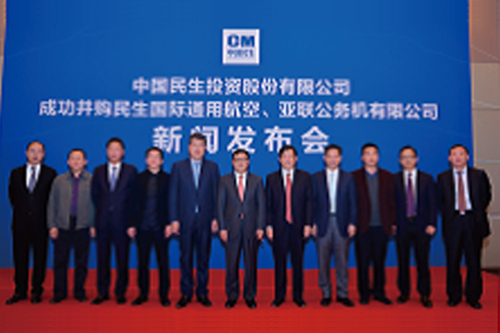 NOV. 2014
On November 24, 2014, CMIG announced its successful acquisition of Minsheng International JET Co., Ltd. and Asia United Business Aviation Limited.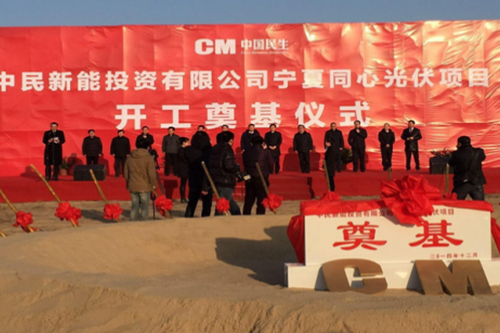 DEC. 2014
On December 26, 2014, CMIG New Energy held the commencement ceremony for the 200MW photovoltaic construction project in Tongxin of Ningxia.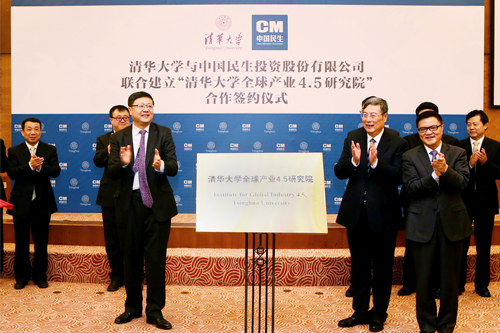 JAN. 2015
On January 26, 2015, CMIG and Tsinghua University jointly established the Institute for Global Industry of Tsinghua University, committed to building a high-level scientific and technological innovation think tank.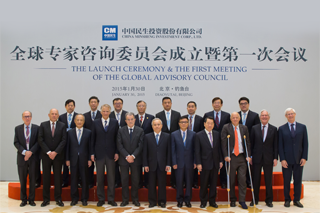 JAN. 2015
On January 30, 2015, CMIG organized the Launching Ceremony & Inaugural Meeting of the Global Advisory Council in Beijing, facilitating the company's global strategic development.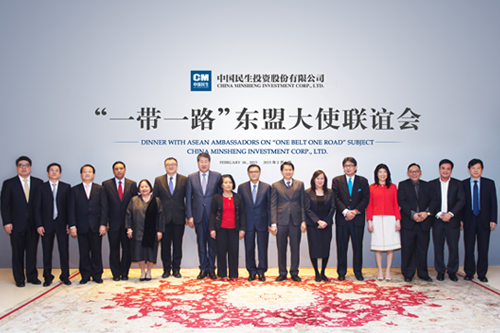 FEB. 2015
On February 6, 2015, CMIG held a Dinner with ASEAN Ambassadors on the "One Belt One Road" Strategy in Beijing in an attempt to accelerate globalization strategies.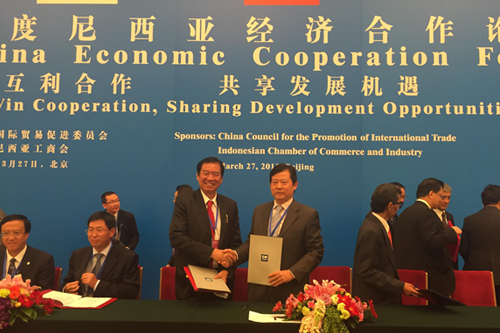 MAR. 2015
On March 27, 2015, CMIG announced that it would steer dozens of leading Chinese private enterprises to invest 5 billion USD in Indonesia for building the CMIG Indonesia Industrial Park, which is a critical move in CMIG's implementation of the "One Belt One Road" strategy.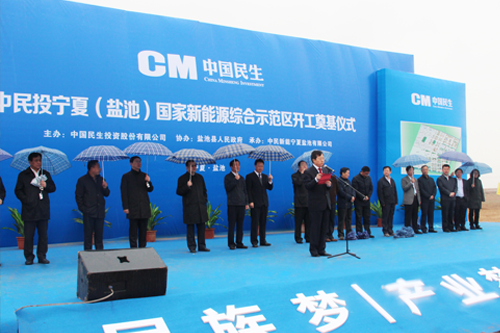 APR. 2015
On April 18, 2015, the groundbreaking ceremony for CMIG New Energy Yanchi National Demonstration Zone was held in Ningxia. Total investment for the project was about 15 billion RMB, and the world's largest single PV-power station will be built there.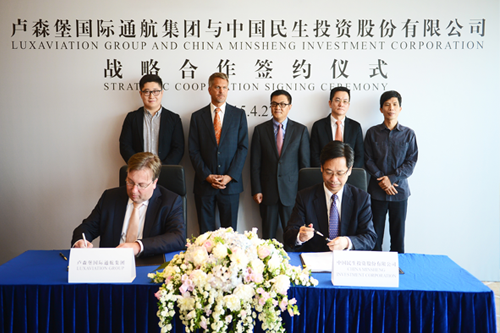 APR. 2015
On April 27, 2015, CMIG entered a strategic cooperation agreement with Luxaviation Group in Shanghai, in an attempt to improve its advantageous position in the aviation industry.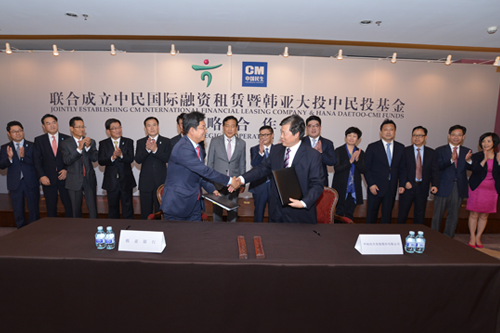 MAY 2015
On May 12, 2015, CMIG signed a cooperation agreement with Hana Financial Group in Beijing to jointly establish CMIG Leasing & Hana Daetoo-CMIG Funds.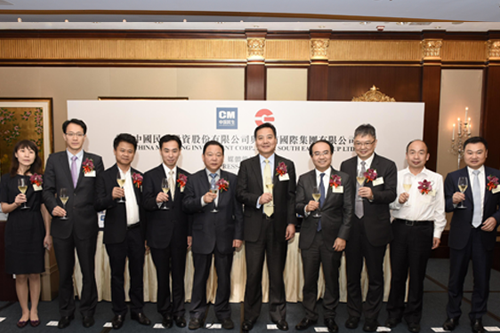 MAY 2015
On May 28, 2015, CMIG Jiaye took over South East Group and changed its name to 'CMIG Drawin', with the aim of making it a leader in construction industrialization.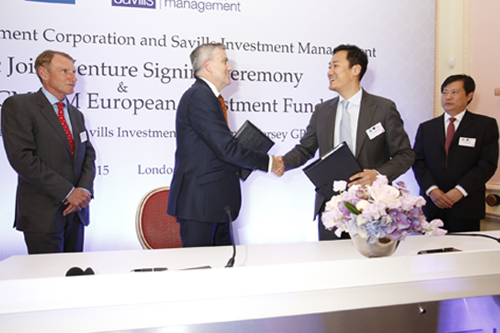 JUN. 2015
On June 15, 2015, CMIG entered into a cooperation agreement with Savills in London to set up a fund management joint venture in the UK for global investment and asset management.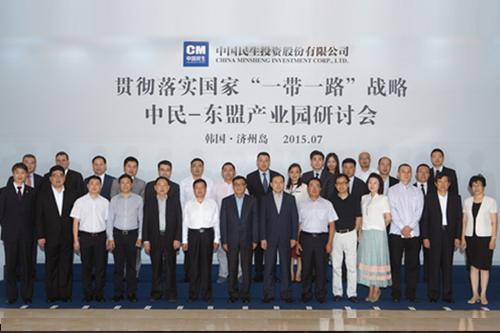 JUL. 2015
On July 17, 2015, dozens of outstanding private enterprises led by CMIG gathered in Jeju Island, South Korea to promote cooperation with internationally renowned financial institutions and actively advance the implementation of the "One Belt One Road" strategy.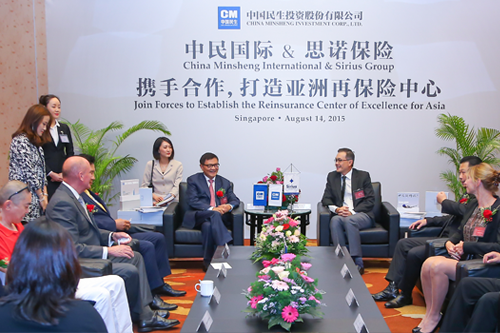 AUG. 2015
On August 14, 2015, CMIG's overseas investment platform CMIG International held an acquisition agreement ceremony with Sirius Insurance Group in Singapore, marking the entrance into the global insurance area.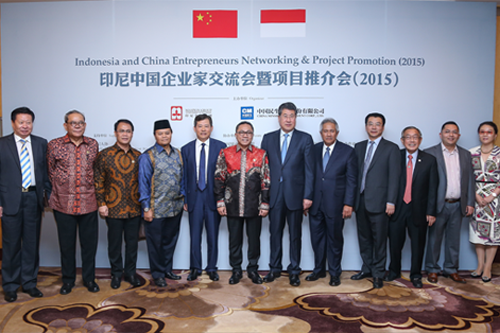 SEP. 2015
On September 18, 2015, CMIG held the Indonesia and China Entrepreneurs Networking & Project Promotion in Beijing together with the Indonesian Embassy and the ACFIC. CMIG served as a bridge to facilitate a discussion with Indonesian enterprises on the 'Belt and Road'.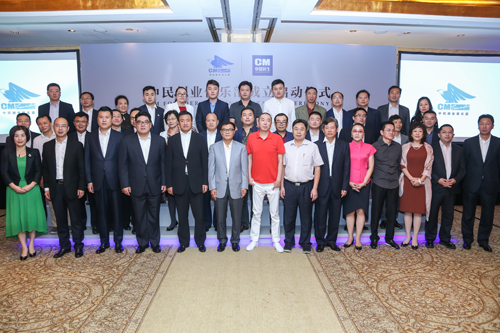 OCT. 2015
On October 28, 2015, CMIG Founder Club held its launch ceremony in Singapore, starting its official operation as an exchange and cooperation platform for CMIG shareholders.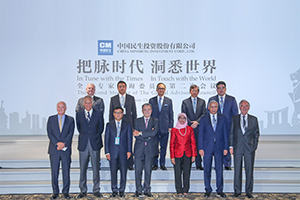 OCT. 2015
On October 29, 2015, the CMIG Global Advisory Council held its second meeting in Singapore. The theme of the meeting was "In Tune with the Times, In Touch with the World," and they explored in-depth topics including going global, overseas investment opportunities, and economic win-win in the "One Belt One Road" area.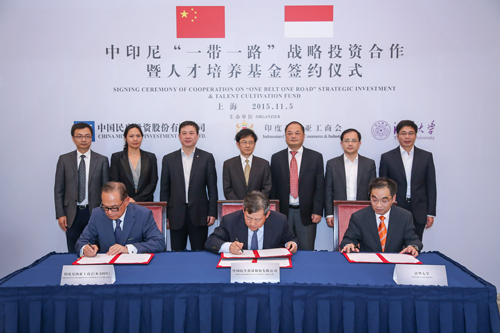 NOV. 2015
On November 5, 2015 in Shanghai, CMIG, the Indonesian Chamber of Commerce and Industry, and Tsinghua University entered into a cooperation agreement. The first "One Belt One Road" Talent Training Project would be implemented at Tsinghua University to provide special training for outstanding business management talents from Indonesia.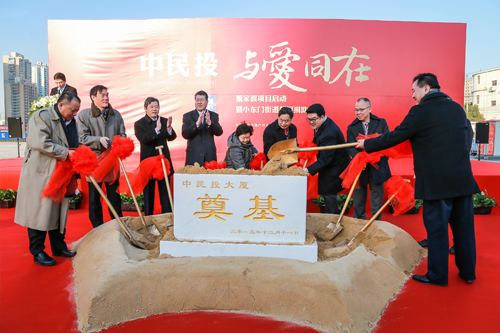 DEC. 2015
On December 18, 2015, CMIG held an onsite launch ceremony at the Dongjiadu development project, announcing the commencement of the Dongjiadu plot development project in Shanghai as scheduled.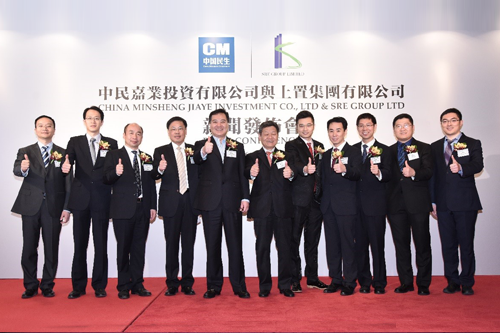 JAN. 2016
On January 7, 2016, CMIG Jiaye held a press conference in Hong Kong, announcing that it had officially acquired SRE Group, positioning SRE as a comprehensive real estate financial group.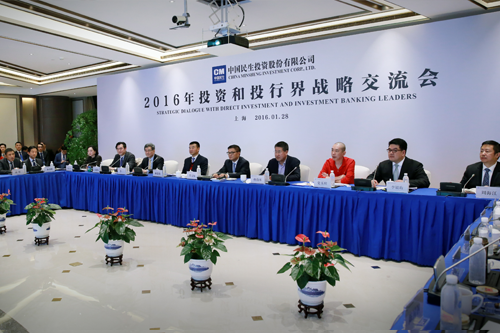 JAN. 2016
On January 28, 2016, CMIG organized a Strategic Conference with Investment Banking Leaders in Shanghai. Executives from JP Morgan, UBS, Morgan Stanley, Goldman Sachs, Citigroup, Swiss Re-insurance, Roland Berger, CVC Capital Partners, D.E. Shaw & Co. and GF Securities held in-depth discussions with CMIG directors and shareholders on the global economic situation and industrial investment.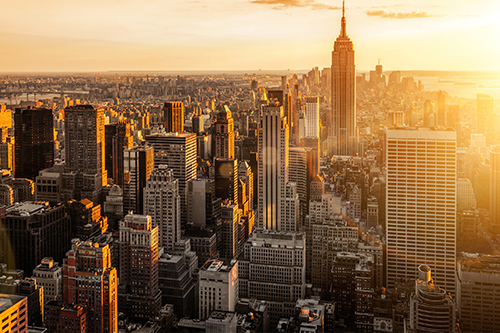 FEB. 2016
In February 2016, Elite International Investment Fund, jointly launched by China Minsheng Asset Management and China Real Estate Chamber of Commerce, as well as some of the latter's members, signed a fund agreement of 30 million USD. The two parties intended to work closely together to develop business in the US real estate market.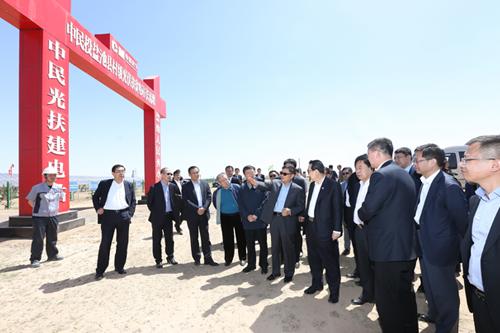 APR. 2016
On April 28, 2016, CMIG Chairman Dong Wenbiao and Chia Tai Group Chairman Xie Guomin, together with 31 other people, visited the Yanchi New Energy Comprehensive Demonstration Base in Ningxia for an onsite update of the "photovoltaic+" poverty relief project. The "photovoltaic+" model innovated by CMIG has been extensively recognized by all sectors of society.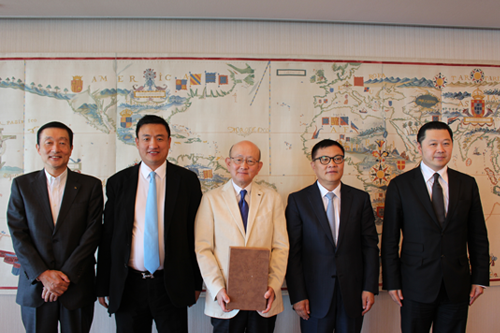 MAY 2016
From May 10-13, 2016, a delegation led by CMIG Chairman Dong Wenbiao visited some world leading financial institutions like Hana Financial Group, Sumitomo Mitsui and Itochu for an in-depth exchange on cooperation of overseas business.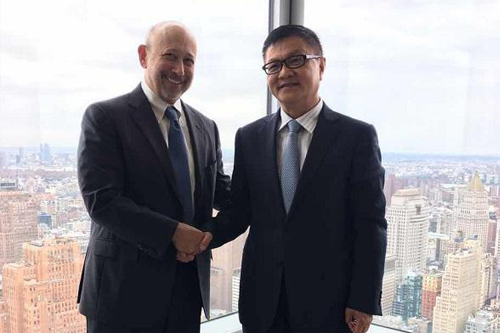 MAY 2016
On May 17, 2016, a delegation led by CMIG Chairman Dong Wenbiao visited the headquarters of Goldman Sachs, exploring cooperation opportunities with Goldman Sachs Chairman and CEO Lloyd Blankfein and the trading investment team.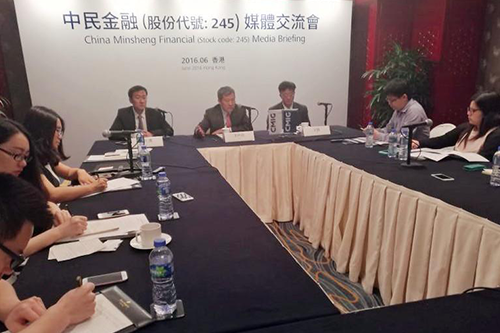 JUN. 2016
On June 7, 2016, CM Financial management team visited mainstream financial institutions in Hong Kong, indicating that CMIG would accelerate its strategic development in Hong Kong's financial market.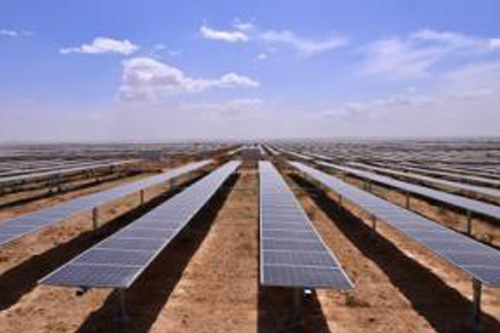 JUN. 2016
On June 28, 2016, the first 380MWp photovoltaic project of Phase I of the CMIG New Energy Ningxia (Yanchi) Demonstration Zone was successfully completed and connected to the grid for power generation.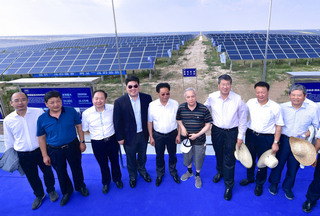 AUG. 2016
On August 6, 2016, Wang Qinmin,the Chairman of ACFIC, Dong Wenbiao,Chairman of CMIG and tens of our shareholders made an in-depth research on the "Photovoltaic +" poverty alleviation initiative in Ningxia. This project had made notable progress through solar energy economies of scale.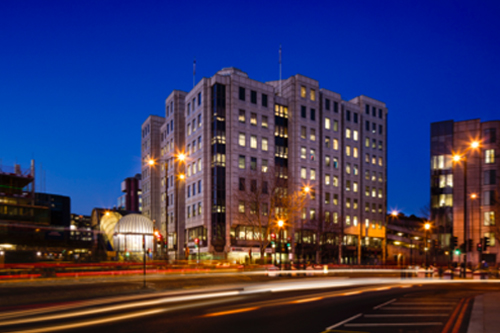 SEP. 2016
In September 2016, CMIG acquired the 41 Tower Hill in Central London, the Headquarters of Societe Generale in the U.K.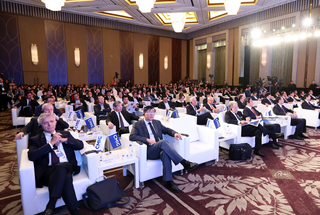 OCT. 2016
On October 13,2016, the Third Meeting of the Global Advisory Council opened in Shanghai. The Meeting focus on the global economic situation and Asia's new investment opportunities. The conference invites political, economic, and academic elites to discuss trends affecting regional development.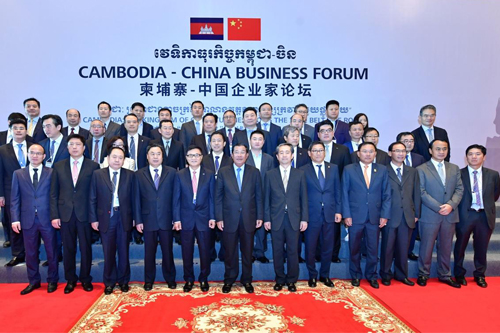 DEC. 2016
On December 1,2016, the Cambodia-China Business and Financial Development Forum was held in Phnom Penh. Cambodia is an important country along the 'Belt and Road'. CMIG promotes the cultural exchange and economic cooperation between the two countries, and support Cambodian economic transition and upgrade.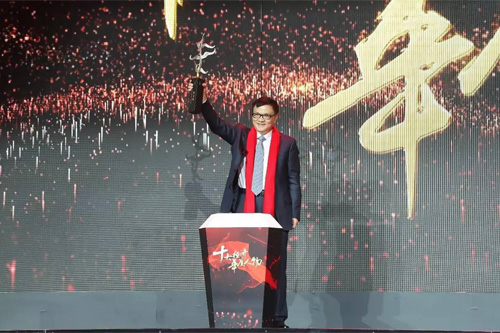 DEC. 2016
On January 10th 2017, the awarding ceremony for the "Top 10 Chinese Economic Personages in 2016", an annual top economic award in China was held in Beijing. Owing to his series of ground-breaking achievements, Mr. Dong Wenbiao, the Chairman of CMIG Board of Directors was awarded the honorary title of "Top 10 Chinese Economic Personages in 2016".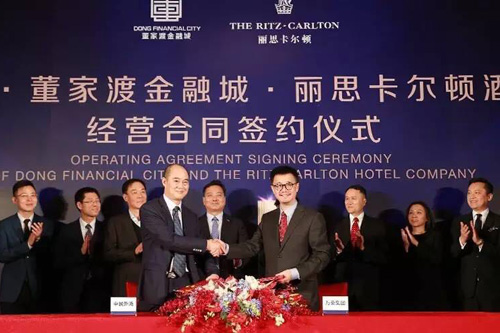 APR. 2017
On April 6, 2017, CMIG and Marriott International, Inc. jointly held the signing ceremony for the operating contract of Dongjiadu Financial City Project and The Ritz-Carlton. Hereby, Ritz-Carlton, the world's top luxury hotel brand with reputation across the world will be settled in Dongjiadu Financial City, which will then become the highest hotel in the financial cluster area in the Bund as well as a new luxury landmark in Shanghai in the future.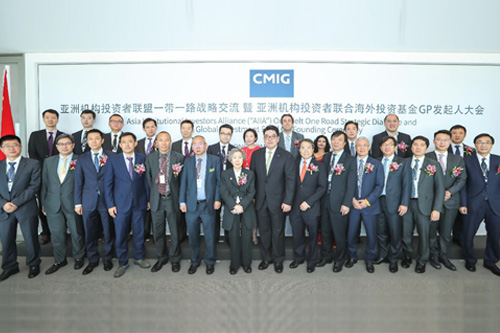 APR. 2017
On April 28, 2017, the AIIA announced that, the GP community launched by CMIG and consisting of institutional investors from many countries and regions including Mainland China, Hong Kong of China, Japan, South Korea, Israel, India, and Southeast Asia, will hereby establish an Asian Institutional Investor Joint Overseas Investment Fund.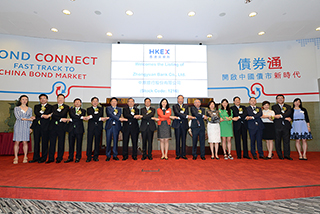 JULY. 2017
On July 19, 2017, Zhongyuan Bank (1216.HK), the largest urban commercial bank in Henan Province, was listed on the Stock Exchange of Hong Kong. CMIG Futurelife subscribed H-shares of Zhongyuan Bank as a cornerstone investor.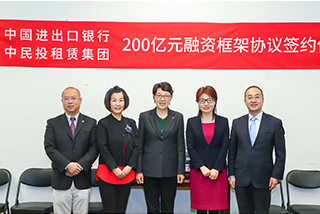 OCT. 2017
On October 30, 2017, CMIG Leasing signed a RMB 20 billion framework agreement with Export-Import Bank of China in Beijing.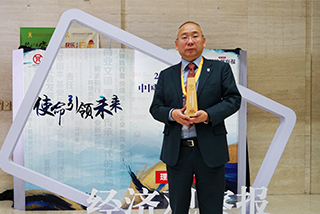 NOV. 2017
On November 28, 2017, the 'Future Powered by Mission' Annual Meeting of China's Most Admired Enterprises 2016-2017 was held in Beijing by The Economic Observer, China's economic media authority. CMIG wins the honor of 'China's Most Admired Enterprise 2016-2017'.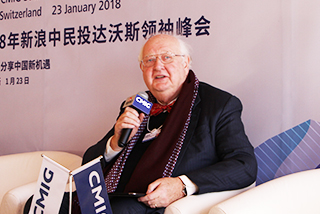 JAN. 2018
On January 23, 2018, CMIG held the Business Leaders Summit in Davos, Switzerland, together with Sina. Sir Angus Stewart Deaton, the Senior advisor of CMIG and the Nobel Laureate in economics in 2015, delivered a keynote speech on the Chinese economy from the perspective of Happiness Economics.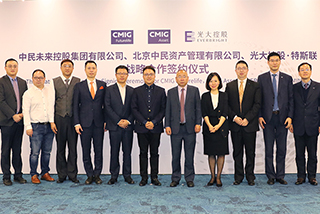 MAR. 2018
On March 8, 2018, a strategic cooperation framework agreement was signed by CMIG Futurelife, CMIG Asset and Terminus (Beijing) Technologies Co., Ltd. The cooperation will focus on community value-added market valuing over one trillion yuan.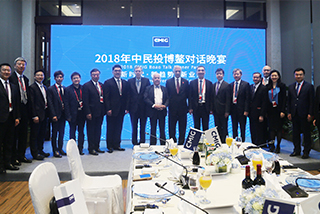 APR. 2018
On April 4, 2018, CMIG and Jim Rogers jointly held an internal talk themed on "New Era, New Trends, New Business Forms", during Boao Forum for Asia (BFA).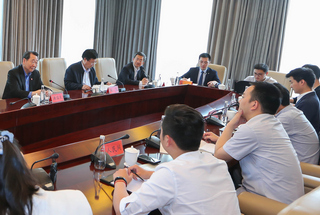 MAY. 2018
On May 4, 2018, CMIG, together with Thailand-based Chia Tai Group, had a study tour to Henan Province. The two sides will cooperate in rural vitalization, the development of agricultural and animal husbandry, the construction of beautiful countryside, etc.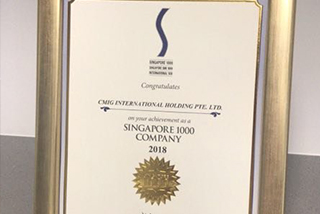 MAY. 2018
On May 18, 2018, CMIG International wins the Singapore 1000 Award for its outstanding financial performance.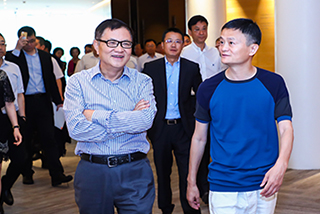 JUN. 2018
On June 5, 2018, Dong Wenbiao, Chairman of the CMIG headed a delegation consisting of representatives of over 30 financial institutions from the Asia Financial Cooperation Association, including 25 chairmen, as well as some senior executives of CMIG, to visit Alibaba Group and had talks with Alibaba Chairman Jack Ma.