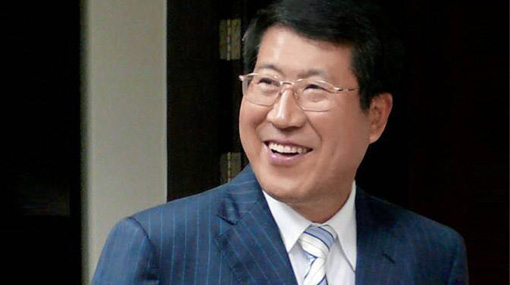 "I believe with the concerted efforts of all shareholders and associates, CMIG will surely develop into a leading international company that is highly recognized by the government, while gaining strong trust from the public and making a great difference in the private economy," Sun Yinhuan commented, as he looks forward to the bright future of CMIG.
As the Vice Chairman of the ACFIC, Chairman of Yida Group and one of the sponsoring shareholders of CMIG, Sun Yinhuan emphasized that CMIG could serve as an active yet important leader in the development of the Chinese economy, the private economy in particular.
CM New Era: Chairman Sun, thank you for accepting the interview of CM New Era. Please share with us the developments and outlook of Yida Group.
Sun Yinhuan: Founded in 1984, Yida Group has evolved into a leading enterprise group with a mix of investment and operation management of software parks and sci-tech complexes, software and information services, education and training, modular machine tool manufacturing, and cold-chain logistics, among other industries.
Yida started its operation from construction and decoration in the early days. In order to gain a firm foothold, we identified that quality underpins our survival. All projects we undertook shall eliminate "qualified products", and reach high quality and above. In so doing, we carried on many projects and opened the market rapidly. Back then, half of the provincial high quality projects of Liaoning bore the name of Yida. We also won the Luban Award, which is a top award for construction companies, for many times. As urbanization deepens, Yida entered into the real estate industry in 1989 and has developed nearly 100 high quality residential communities in different regions. Thanks to our quality products, comfortable environment, excellent education, perfect business formats, sound transportation and considerate property services, we've been highly recognized and trusted by our consumers.
Since 1998, Yida has embarked on the road to innovative development with industry-city integration. The Dalian Software Park runned and operated with our investment has become the largest state-level software park in China that is the mostly internationalized, has the most Global Fortune 500 companies, the largest business scale and is the most demonstrative in terms of industry-university-research integration. At the moment, over 500 software enterprises and 80-plus World 500 companies are stationed in the Park, employing over 150,000 people. Last year, it recorded 150 billion yuan in sales revenue.
Yida Group has become a leading business park operator in China, developing and running several software parks and sci-tech parks in Beijing, Shanghai, Tianjin,Shenzhen, Wuhan, Suzhou and Chengdu, accumulated rich experience in park operation and management and phased in a sophisticated development mode with industry-city integration and core corporate competence. Besides that, Yida has entered into long-term strategic partnership with nearly 100 leading multinationals, including Neusoft, Shui On Group, Ascendas, IBM, Hewlett-Packard, Genpact, Oracle, Panasonics, Hitachi, Pfizer Pharmaceuticals, SAP, NTT, Accenture, Cisco, Softbank, Fidelity, Alcatel-Lucent, British Telecom and Citibank, among others.
Going forward, Yida will develop and run more software parks and sci-tech parks across China as it works to develop itself into a world-class business park operator and industrial operation facilitator and make a greater difference in China's economic transition and industrial upgrading.
CM New Era: What's your expectation for the establishment and development of CMIG as the sponsoring shareholder and Vice Chairman of CMIG?
Sun Yinhuan: CMIG's establishment is closely linked with the comprehensively deepening reform and the overall background of economic transition and upgrading in China, and would have been impossible without the strong support of the State Council and the ACFIC. It embodies the dream of CMIG and all sponsoring shareholders for serving the country through industrial development.
platform with industry-finance integration. But different from average investment companies, CMIG will not follow suit during the investment process, nor will it only focus on the immediate interest. Instead, CMIG is supposed to identify its investment target and plan with a new angle and thought based on national development strategy. So I believe when making strategic planning, investment decision and engaging in specific operations, CMIG could put the promotion of transition and upgrading of real economy and real industries high on its agenda, keep a foothold in making real industries larger and stronger, boost the development of private enterprises, and facilitate industrial integration and upgrading, so that more investors will follow the real economy.
I sincerely hope CMIG could serve as an active yet important leader in the development of the Chinese economy, the private economy in particular.
CM New Era: General Secretary Xi Jinping noted in his speeches that China needs to unswervingly facilitate structural adjustment and economic transition and upgrading. During this process, what role do you envisage CMIG could play as a leading private investment company?
Sun Yinhuan: CMIG's shareholders are leading private enterprises engaging in such fields as new energy, machine manufacturing, information technology, science and development and environmental protection, financial investment, metallurgy & mining, electric power and chemical engineering, medical treatment, education, modern logistics, modern agriculture, real estate development and park operation. The total value of assets of these participating enterprises reaches trillions of yuan. As a private investment group which gathers many outstanding entrepreneurs, CMIG is not only responsible for, but also capable of serving as a leader in structural adjustment, transition and upgrading.
With the mission of "synergizing the capital, improving economic vitality and following the national strategy", CMIG enjoys advantages in many fields, including strong vertical and horizontal platform advantage, integration advantage in gathering resources, financial strength in investment introduction, operational advantage in industrial connection, expansion advantage in internal and external coordination, all-inclusive talent advantage, and institutional advantage in efficient decision-making. All of these advantages will help CMIG fully consolidate the scattered industrial value chain and vigorously boost structural adjustment, transition and upgrading by implementing scientific and rigid industry-finance strategies in an effective way.
More importantly, CMIG could integrate the financial, economic, capital and industrial features of private capital and drive the healthy development of the real economy and real industries by virtue of capital. I'm fully confident in CMIG's future!
CM New Era: Both you and Yida Group have contributed a lot in charity. You have also won the highest award in China's charity field - China Charity Prize. This points to corporate social responsibility. What will you expect and suggest for CMIG's corporate social responsibility?
Sun Yinhuan: Enterprise is the economic cell of the society and each step of development cannot be separated from social recognition and support. It's true that enterprises need to make profits, but profitability isn't the only goal. Enterprises shall have higher pursuits, i.e., assuming social responsibility and creating social value on top of enterprise value. Since its establishment, CMIG donated and built the new premise of Dandelion Middle School, which demonstrates its value. I believe this is very meaningful.
In modern society, irresponsible enterprises are doomed to fail in the end. So CMIG, a benchmark private enterprise, should highly value the development of corporate social responsibility, ensure integrity-based operation, standardized management, quality service, environmental friendliness, corporate harmony, employee growth and sharing with partners through corporate governance, institutional arrangement and business practice, and actively participate in various public-good and charitable activities.
I believe with the concerted efforts all shareholders and associates, CMIG will surely develop itself into a leading international company that is highly recognized by the government, gains strong trust from the public and makes a great difference in private economy and transition.