On February 22, the Signing Ceremony of the Joint Venture Contract of Rizhao Port Minggang Crude Oil Terminal Co., Ltd. took place, opening a new page for the development of Rizhao Port. The representatives of Shandong Transport Industry Development Fund (STIDF), Rizhao Port Group and Shandong Dongming Petrochemical Group (Dongming Petrochemical) attended and addressed the ceremony.
  STIDF, a contracting party, is a mixed-ownership government guidance fund initiated by CMIG and Shandong Railway Investment Holding Group Co., Ltd. (SDRail). It aims to boost Shandong's driving force conversion and optimize Shandong's industry layout.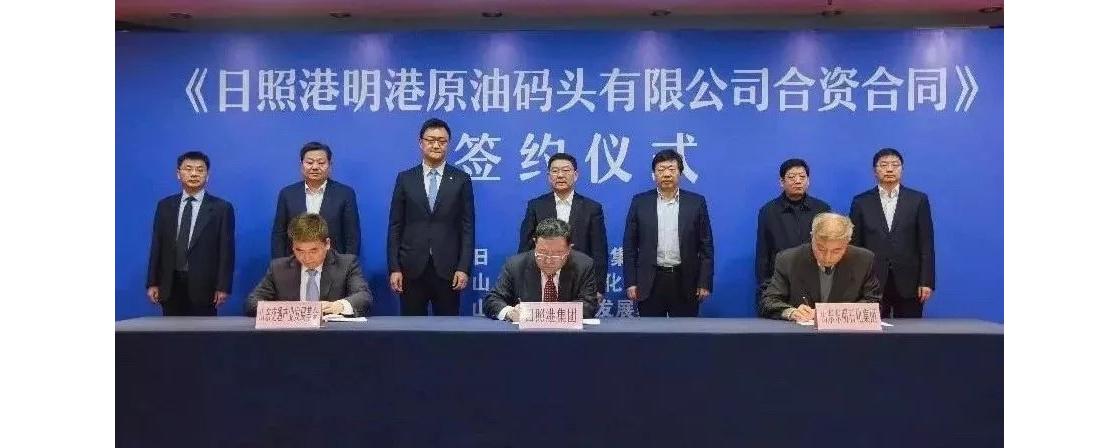 The management team established by CMIG and SDRail includes senior investors from the Wall Street and renowned domestic institutions, as well as law and accounting professionals. With a management scale of more than 10 billion yuan, the team has successfully exited a number of renowned investment projects at home and abroad, thus accumulating rich investment management experience.
  According to the idea of strategic transformation proposed by Lyu Benxian, President of CMIG, CMIG is transforming its strategy from "investment + shareholding + management" to "investment". It will no longer merely rely on capital input and short-term liabilities, but conduct investment & financing in modes such as industrial fund, project partnership and assets management, to cultivate new growth points.
  Under the contract, the three sides will jointly construct and manage Phase 3 of the 300,000t crude oil terminal in Lanshan Area of Rizhao Port. With an estimated total investment of 820 million yuan and a designed annual throughput of 18 million tons, it will be the fourth 300,000t crude oil terminal of Rizhao Port. After its completion, the crude oil throughput will hit 100 million tons. This is not only an important move to implement the driving force conversion project, but also a new outcome of the strong combination.
  Located in the center of the Chinese coastline, at the junction of the Pacific Rim Economic Circle and the New Eurasian Continental Bridge Economic Belt, Rizhao Port is an Oriental bridgehead of New Eurasian Continental Bridge, as well as an intersection of the "Belt and Road". Facing South Korea and Japan across the sea, it plays an important strategic role in China's productive force allocation, and global energy and raw materials transport.
  The three parties' representatives introduced respective groups' development and future development plans, expressing confidence in the cooperation:
  The tripartite cooperation can give full play to respective advantages, and will be of great significance to further expanding the scale of crude oil transport of Rizhao Port, amplifying the driving effect of transport fund investment, improving the production support capacity of Dongming Petrochemical, boosting the development of Rizhao's green chemical industry cluster, and promoting the structural optimization, transformation and upgrading of Shandong's petrochemical industry, said Cai Zhongtang, Party Secretary and Chairman of Rizhao Port.
  With contract signing as an opportunity, we will advance the project at full speed, make all-out efforts to ensure that the project progresses smoothly, and build an economic community of shared future with Rizhao and Rizhao Port, in a joint bid to boost the prosperity, transformation and upgrading of Shandong's petrochemical industry, said Li Xiangping, Party Secretary, Chairman and President of Dongming Petrochemical.
  With the mission of boosting Shandong's driving force conversion and improving Shandong's industrial layout, with the help of Shandong's governments and key enterprises at all levels, STIDF will work extensively with local governments, listed companies and key institutions, to create a STIDF-centered FOF and sub-fund cluster. While investing in key transport infrastructure projects during Shandong's driving force conversion, STIDF will invest in outstanding enterprises in emerging industrial fields, and build a high-tech industry ecosphere with pan-transport industry fields and diversified high-tech industry fields as investment focuses, said Chi Chao, General Manager of STIDF.
  With a planned scale of 10 billion yuan and an initial subscription amount of 4 billion yuan, STIDF is a mixed-ownership government guidance fund initiated by CMIG and SDRail.
  STIDF upholds the business concept of "governance guidance, social fundraising and professional management". With focus on government guidance, driven by a market-oriented incentive mechanism, the management team will take full advantage of STIDF's capital strength, resource integration capacity, value-added service capacity and team execution power, and make all-out efforts to build and improve the brand and advantage of STIDF.