On March 18, Chairman Kim Jung-tai of Hana Financial Group and his delegation visited CMIG International Leasing and had an exchange meeting with Chairman Wang Rong of CMIG Leasing.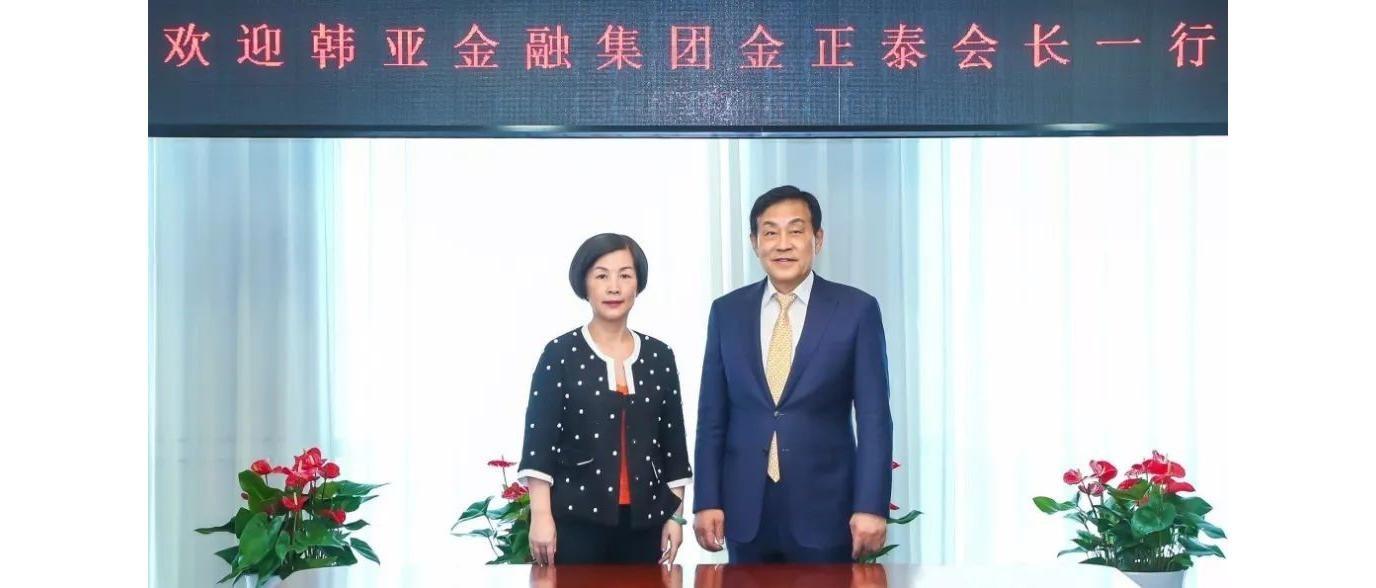 Kim Jung-tai (Right), Chairman of Hana Financial Group, and Wang Rong (Left), Chairman of CMIG Leasing
  At the meeting, the two sides had an in-depth exchange on how to strengthen cooperation and better support the operation and development in next stage of CMIG International Leasing.
  As for the tight liquidity and operational challenges that have prevailed in Chinese private enterprises since 2018, Chairman Kim Jung-tai of Hana Financial Group said, "During the process of development, enterprises always encounter temporary difficulties and hardships. As long as they cope with them properly, good changes will take place in the future, and the difficulties and hardships they undergo will become the driving force and experience for future development. We hoped that the two of us will strengthen   communication and cooperation in the future. KEB Hana Bank and Hana Bank (China) will offer greater support to CMIG International Leasing. I believe that under the leadership of senior management team, the company will develop and grow stronger, and make breakthroughs."
  Wang Rong thanked Hana Financial Group and KEB Hana Bank for their understanding and support as shareholders. She said that CMIG International Leasing would surely overcome difficulties with the active support of CMIG and Hana Financial Group as well as the gradual improvement of internal and external environment. Follow-up exchanges and cooperation between the two sides will be strengthened to create better value for shareholders in the meantime of ensuring the investment safety of Hana Financial Group.
  KEB Hana Bank, a subsidiary of Hana Financial Group, is also the sponsor shareholder of CMIG International Leasing. Hana Financial Group was previously known as Korea Investment Finance, the first financial enterprise founded entirely by private capital in Korea.
  Since 2014, Hana Financial Group has been an important partner of CMIG.
  At the end of 2014, CMIG and Hana Financial Group signed a strategic cooperation agreement at the group level. The two sides launched in-depth cooperation in various aspects and jointly financed the establishment of CM International Financial Leasing Co., Ltd.
  In May 2016, CMIG International, a subsidiary of CMIG, signed a strategic cooperation agreement with Hana Bank under Hana Financial Group, committing to deep cooperation in third-party markets.