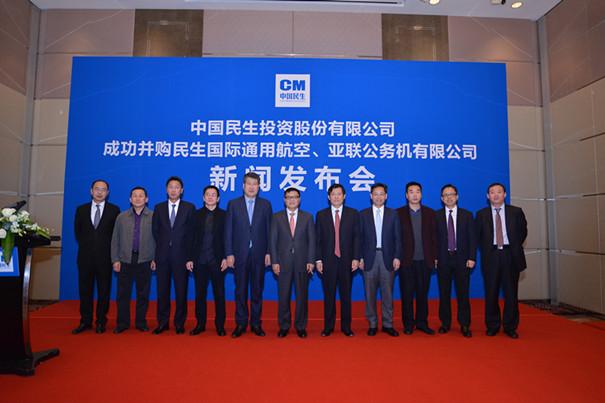 On 24 November2014, China Minsheng Investment Co., Ltd. ("CMIG") held a press conference announcing the acquisition of Minsheng International Jet Co., Ltd. (MIJ), Asia United Business Aviation Limited (AUBA).
CMIG Chairman Dong Wenbiao, Vice-Chairman Sun Yinhuan, Vice-Chairman Gao Yangyu, President Li Huaizhen, Vice-President Kong Linshan; Minsheng International Jet Chairman Mo Lijun, Shareholders Zhang Kun, Luo Haiqiang, Peng Yachao, Zhao Bin and McKinsey's worldwide managing partner Qu Xiangjun were present at the press conference. The press Conference was presided over by CCTV News channel anchor Wang Ning.
General Aviation is one of the most important emerging industries in China. Beijing held the 22nd national low-altitude airspace management reform work conference where it proposed to promote the shipping industry development and meet the public demand's goal to maximize low-level airspace resources, promote the speedy and healthy development of the general aviation industry. In 2011, the "twelfth five year plan" clearly stated the goal to "actively promote the development of General Aviation" after which the State Department in 2012 issued the Opinions on Promoting the development of the civil aviation clearly proposing the need to "vigorously develop general aviation and expedite the incorporation of general aviation as a new economic growth point." China's general aviation industry is entering the fast-track and will greatly support China's economic transformation and advancement.
Through a capital increase, CMIG completed the acquisition of 61.25% stake in Minsheng International Jet Co., Ltd. (MIJ). MIJ wholly acquired Asia United Business Aviation Limited (AUBA).
Minsheng International Jet Co., Ltd. (MIJ) was established in October 2013. During its over one year of operation, MIJ has observed the philosophy of "efficient and pragmatic" business development, is committed to providing high quality to more Chinese companies and high-end customers, comprehensive, personalized service, and has been quickly grown into one of top members of China's general aviation industry.
Asia United Business Aviation Limited was founded in April 2007, is now one of Asia's largest aircraft management companies. AUBA's management team has professional experience in civil aviation management, combines Eastern and Western cultural service concepts and has gained recognition of having high quality operations.
Through this acquisition, MIJ has become one of Asia's largest business jet operators. CMIG will take advantage of all of its resources to fully support MIJ in becoming bigger and stronger in the aviation industry chain through its financial platform, vigorously promote low-altitude airspace, civilian helicopters, and other areas of aviation. MIJ is positioned to become the leader in Asia's general aviation industry, and within the next 3-5 years, will develop to be highly market-oriented, obtain clear competitive advantage, and become the top brand in global general aviation standards. We will develop this brand to fulfill our responsibility to promote the industry.
Investment in General Aviation is an important step in the development of CMIG. Sponsored by the All-China Federation of Industry and Commerce, the State Council approved the establishment of China Minsheng Investment Co., Ltd., which is currently the only large private investment enterprise that includes China in its prefix. CMIG, established on May 9, has been able to advance quickly through its position in the combination of industry and finance and made important progress in the photovoltaic industry, modern property, general aviation, as well as platforms overseas.