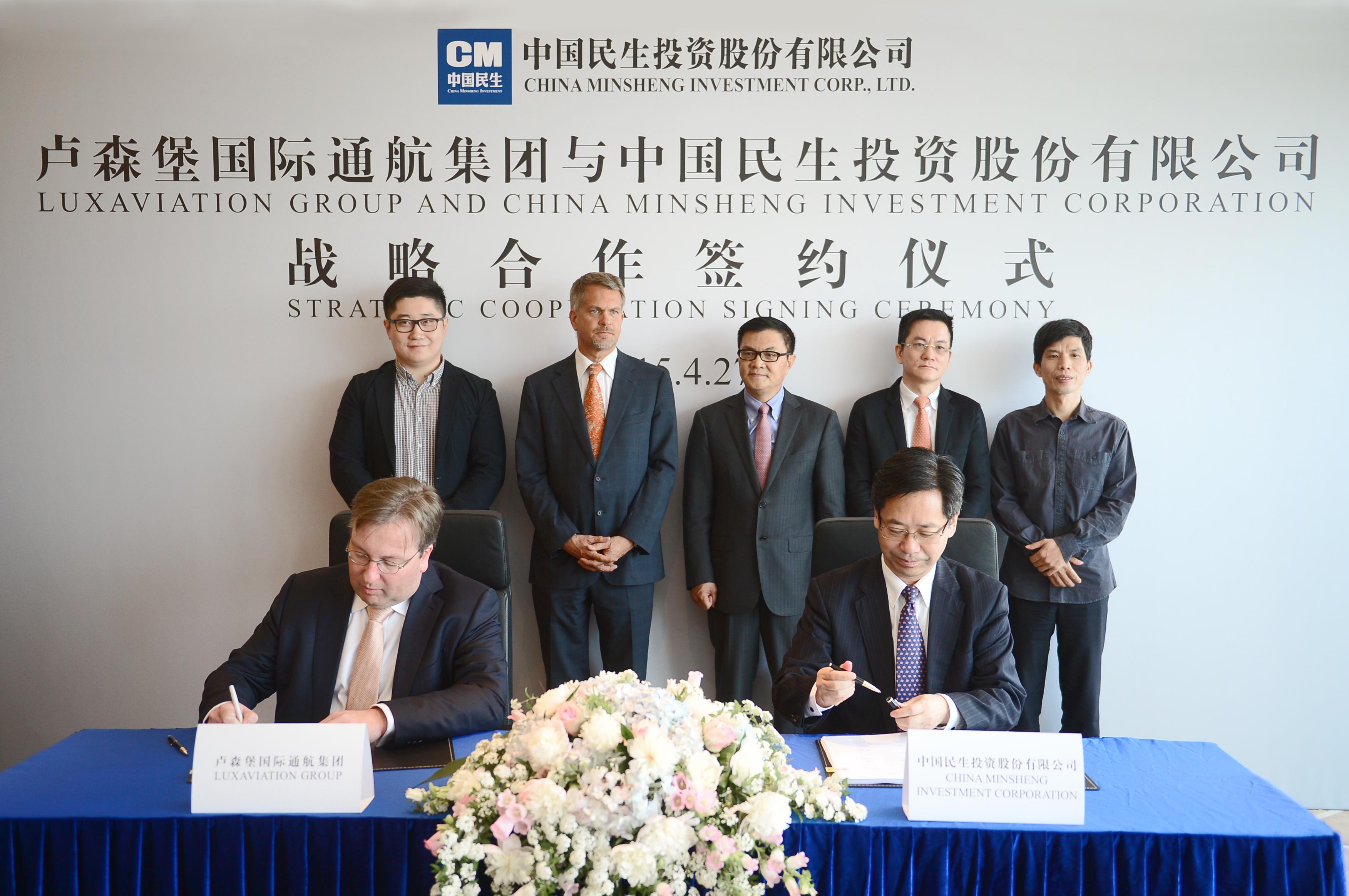 China Minsheng Investment Corp., Ltd. (hereinafter referred to as "CMIG") and Luxaviation Group (hereinafter referred to as "Luxaviation") signed the strategic cooperation agreement in Shanghai in the afternoon of April 27. Among others, Paul Steinmetz, Luxemburg ambassador to China, Luxaviation President Patrick Hansen, CFO Yves Germeaux and COO Charlotte Pedersen, and CMIG Chairman Dong Wenbiao, Vice Chairman of the Board of Supervisors Gao Yangyu, Executive Deputy Chairman of the Risk Management Committee Luo Haiqiang and Vice President Kong Linshan were present at the signing ceremony.
CMIG Vice President Kong Linshan and Luxaviation President Patrick Hansen signed the Strategic Cooperation Agreement on behalf of the respective parties, announcing that both parties will initiate strategic cooperation. Going forward, CMIG and Luxaviation will work together in the global acquisition of business jet industrial chain. Besides that, Luxaviation will make its presence in the Asian market across the board by virtue of CMIG's industrial resources.
CMIG Vice President Kong Linshan noted that general aviation is an important emerging industry in China and the cooperation is a key arrangement of CMIG's internationalization strategy. By engaging in cooperation with the world's leading business jet operators, rapidly expanding the global share of its business jet business and making preemptive arrangement in the key segments of the general aviation industry, CMIG is set to witness an improvement in its influence, competitive edge and dominant position in the global business jet industrial chain.
Luxaviation President Patrick Hansen highly recognized CMIG's abundant industrial resources, saying that both parties enjoy a high degree of strategic integration and strong business and market complementarity. He is very optimistic about the cooperation prospects.
Luxaviation is a leading full business jet industrial chain service provider in the world and after the global acquisition through cooperation with CMIG, its fleet is expected to exceed 200 planes, making it the second largest business jet operator in the world second only to NetJets owned by American legendary investor Warren Buffett. The joint venture will make arrangements in the global Fixed-based Operation (FBO) and Multi-Region Operation (MRO) bases that are featured by high profitability and exclusiveness, which is highly important for increasing customer loyalty and stabilizing business cycle.
Europe is a key development orientation for CMIG's internationalization strategy. CMIG has, since its inception, taken "the full utilization of domestic and overseas resources and markets, and following the national globalization strategy" as its strategic vision. At the moment, CMIG has set up regional headquarters in Singapore and Hong Kong, and officially launched the Global Advisory Council. General aviation is a vital segment of CMIG's development and in November 2014, CMIG acquired 61.25% of shares in Minsheng International Jet which has become one of the largest business jet management operator after wholly acquiring Asia United Business Aviation Limited.