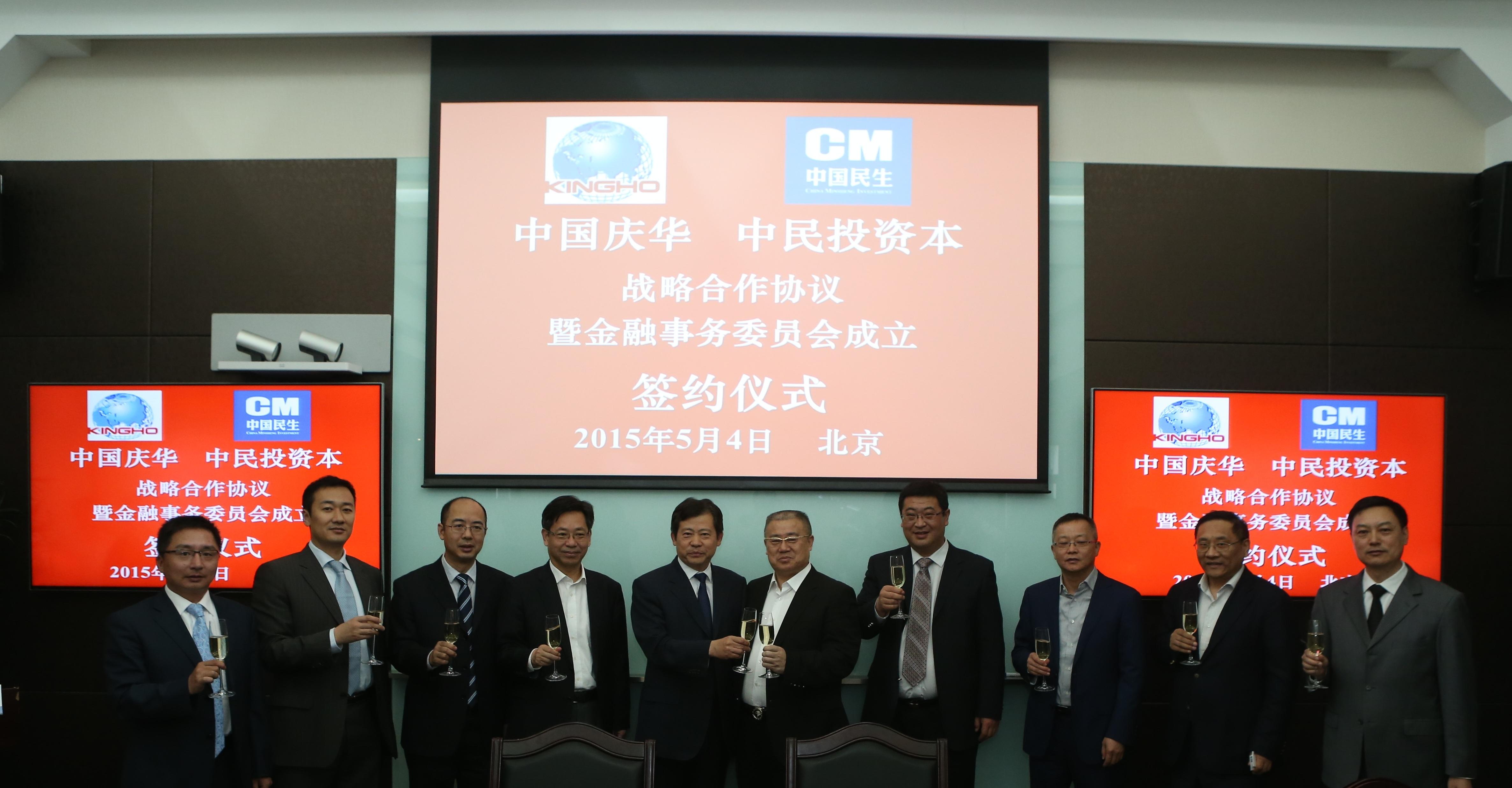 China Minsheng Capital, a wholly-owned subsidiary of China Minsheng Investment Corp., Ltd. (hereinafter referred to as "CMIG"), and China Kingho Energy Group Co., Ltd. (hereinafter referred to as "China Kingho") signed a strategic cooperation agreement in Beijing on May 4, announcing that both parties will jointly establish a Financial Affairs Committee, bring in the financial steward pattern and usher in the whole-new mode of close cooperation of "finance and industry".
CMIG President Li Huaizhen, Vice President Kong Linshan, China Minsheng Capital President Liu Tianlin, China Kingho Chairman Huo Qinghua, Xinjiang Kingho General Manager Xu Zhong, and Liu Zirong, general manager of the Financial Dept. of China Kingho, as well as guests from the China Development Bank, Cinda and other financial institutions attended the signing ceremony.
The creative introduction of the "financial steward" mode represents the greatest breakthrough in the strategic cooperation between China Minsheng Capital and China Kingho. Both parties will jointly establish a "Financial Affairs Committee" to help China Kingho handle investment, financing and other affairs. Subject to the agreement between both parties, cooperation concerning appropriate projects may be launched between both sides in various means, such as equity investment, joint investment, strategic cooperative investment and joint initiation of fund investment.
With a registered capital of RMB10 billion, China Minsheng Capital is the largest financial holding and investment platform of CMIG. Its goal is to become an all-round financial holding group.
CMIG Vice President Kong Linshan said that with regard to the establishment of the Financial Affairs Committee with China Kingho, CMIG will dispatch a team led by a "chief financial officer", truly mainstream the holistic, professional, refined and prospective "financial steward" services into all fields in which China Kingho is operating, and fully combine financial management with corporate management and technical advantages, thereby giving play to greater efficiency and realizing industry-finance integration in the real sense.
Xinjiang Kingho General Manager Xu Zhong noted that the execution of the strategic cooperation agreement by China Minsheng Capital and China Kingho symbolizes that the two enterprises join hands with each other, live up to the "industry-finance integration" development philosophy and steadily forge ahead towards the goal of "unifying private business development and industrial upgrading, and unifying corporate value and social value".
CMIG is a leading private investment company founded in Shanghai on May 9, 2014. With a registered capital of RMB50 billion, CMIG is organized by the All-China Federation of Industry and Commerce (ACFIC) and established by 59 prestigious private enterprises. CMIG's businesses encompass equity investment, equity investment management, business consulting, financial consulting, industrial investment, asset management and investment consulting, among others.
China Kingho is a leading group with producing coal-based clean energy and fine chemical products at the core. For now, China Kingho is making global arrangement in the modern coal chemical industrial chain and many of its coal-based clean energy projects have been up and running in Xinjiang, Qinghai, Inner Mongolia, Ningxia, and even Central Asia and Africa along the "One Belt One Road". Specifically, the 5.5 billion cubicmeter coal-to-gas project of Xinjiang Kingho is one of the first batch of national "coal-based natural gas" demonstrative projects and the first "comprehensive quality-based coal utilization" demonstrative project in China.
At this point, CMIG is also actively responding to the "One Belt One Road" national strategy. CMIG announced in late March that it will guide dozens of leading Chinese private companies in advantageous industries to invest US$5 billion in Indonesia to build CMIG Indonesia Industrial Park, with coal chemical, iron & steel and other major industries covered. Thanks to the highly consistent integration points of both parties in the strategic investment orientations of "going global" and "One Belt One Road", cooperation naturally emerges at the right moment.