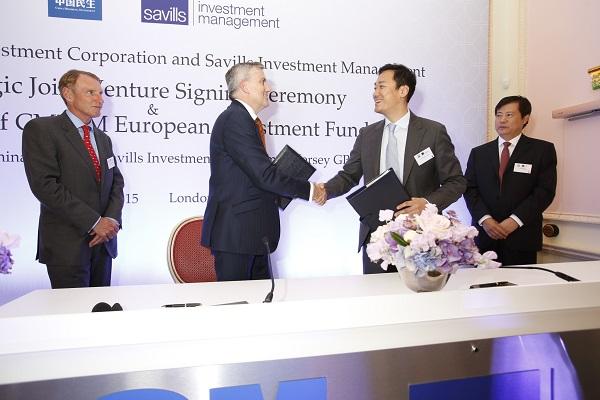 China Minsheng Investment Capital Co., Ltd. ("CMIC"), the financial investment platform affiliated to China Minsheng Investment Corp., Ltd. ("CMIG"), and Savills Investment Management ("SIM"), a subsidiary of Savills, the international property service provider, signed a strategic cooperation agreement on June 15th, under which both parties will set up a fund management joint venture in the UK, and expand extensive investment and asset management cooperation across the globe.
This step marks that CMIG's first-ever fund investment platform in Europe is officially completed, laying a solid foundation for its investment expansion in Europe down the line. The powerful alliance between CMIG and Savills will enable both sides to jointly expand the European investment market and make presence across the world.
This partnership is also the latest step of CMIG's internationalized expansion following its investment in Hong Kong, Singapore and Indonesia, showing that CMIG is actively responding to China's "One Belt One Road" and "Going Global" strategies and speeding up the construction of an international platform for private companies to go global together.
The signing ceremony was attended by many distinguished guests, including Jin Xu, Minister Counselor of the Business Department, the Chinese Embassy in the UK, CMIG President Li Huaizhen, Jeremy Helsby, CEO of Savills, Zhong Jipeng, Director of CMIG's Board Office, Cao Zhenling, Director of the Investment Management Office of CMIG, Zhao Bin, Executive Vice Chairman of the Investment Committee of CMIG's Board Office, Liu Junmin, Vice Chairman of the Advisory Committee of CMIG's Board Office, Liu Tianlin, President of CMIC, Simon Shaw, Chief Financial Officer of Savills, and Justin O'Connor, CEO of SIM.
It's reported that both sides will set up CMISIM joint venture, and initiate the CMISIM European Investment Fund ("The Fund"), in which CMIC is the co-manager and cornerstone investor. CMIC will work with SIM to handle fund-raising, investment selection and active asset management of the Fund.
Going forward, CMIC and SIM will engage in cooperation and asset distribution in the global real estate markets, including Europe, Asia and America. Both sides will take different investment strategies, build and implement a host of property-related investment portfolios and asset management.
CMIG has, since its inception, taken "the full utilization of Chinese and overseas resources and markets, following the national globalization strategy" as its strategic vision, and is actively making investment arrangements abroad. Europe, the UK in particular, has long been an important development orientation of CMIG's internationalization strategy.
CMIG has reached consensuses with the British government and many British enterprises in a wide array of fields at the First UK-China Business Leaders Summit held in June last year. The strategic cooperation between CMIC and SIM is a great achievement of CMIG as it makes investment in the UK and promotes economic cooperation and trade between China and the UK.
Liu Tianlin, President of CMIC, says, "Our joint venture partnership with Savills Investment Management represents an important step in establishing a global real estate investment platform. Given the strategic importance of London in the global economy and its buoyant real estate market, we are pleased that this will be the initial investment focus of our partnership. Moreover, our strategy is to build a globally diversified portfolio and in SIM we have the ideal partner to make this happen."
Justin O'Connor, CEO of Savills Investment Management, comments, "We are delighted to have formed this ground-breaking joint venture with CMIC, and together we look forward to generating many exciting real estate investment opportunities in the years to come. CMIC's decision to partner with SIM underlines the strength of our reputation as a leading international real estate investment manager. Our inaugural fund, CMISIM European Investment Fund, is well-placed to deliver superior risk adjusted returns by offering immediate exposure to Prime London Residential Development Fund II and other fund and projects managed by SIM."
CMIC:
Founded in July 2014, China Minsheng Investment Capital Co., Ltd. ("CMIC") is a wholly-owned subsidiary of CMIG. As CMIG's financial investment platform, CMIC is dedicated to building an all-round financial holding group, smoothing out the financial industrial chain, and realizing broad industry-finance integration based on the principle for market-based operation, thereby providing clients with all-round, multi-dimensional and comprehensive financial service solutions covering investment and financing.
CMIC also makes investment in non-financial fields featured by high growth and high return. In the past year, CMIC has launched over 20 investment deals with high growth prospects, with most of the investment subjects being Chinese and foreign listed companies.
Savills
Savills is a leading global real estate service provider listed on the London Stock Exchange. The company, established in 1855, has over 600 offices and associates throughout the Americas, Europe, Asia Pacific, Africa and the Middle East. Savills has market leading positions in Europe, and many key markets in Asia Pacific including Hong Kong, Mainland China, Japan, Korea and Australia together with leading positions in emerging markets such as Vietnam, Thailand and Myanmar.
Savills Investment Management
Savills Investment Management is an international property investment manager with offices in Copenhagen, Düsseldorf, Hamburg, Hong Kong, London, Luxembourg, Milan, Munich, Paris, Singapore, Stockholm and Tokyo. As at 31 December 2014, Savills Investment Management managed a total of c.USD 8.4 billion of assets. Savills Investment Management is the brand name for entities in the Cordea Savills group, including Cordea Savills LLP, Cordea Savills Investment Management Limited, Cordea Savills Fund Managers (Luxembourg) S.à r.l., Cordea Savills Fund Managers (Jersey) Limited, Cordea Savills Advisors Srl, Cordea Savills SGR SpA ,Cordea Savills GmbH, Cordea Savills AB, Cordea Savills SAS and Cordea Savills Invest GmbH
Cordea Savills LLP is a limited liability partnership registered in England.