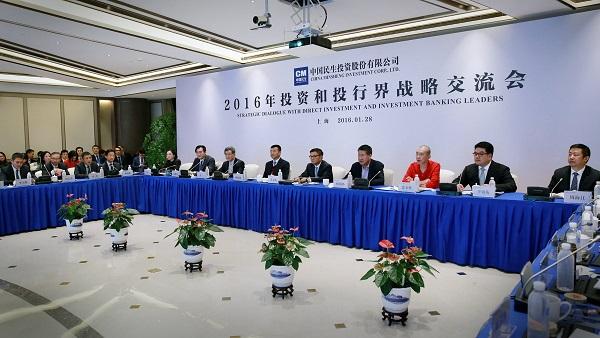 On January 28, the 1st Strategic Dialogue with Direct Investment and Investment Banking Leaders of China Minsheng Investment Corp., Ltd. (CMIG) in 2016 was held at its headquarters in Shanghai. Leaders from JPMorgan Chase, United Bank of Switzerland (UBS), Morgan Stanley, Goldman Sachs, Citigroup Inc., Swiss Re, Roland Berger, CVC Capital Partners, D. E. Shaw Group and GF Securities engaged in detailed discussions with the Board of Directors, shareholder representatives and CMIG management, touching upon the macro economic landscape, industrial investment and other aspects in 2016. CMIG also expounded on its overall strategy and industrial investment strategy to the distinguished guests present at the event. All members of the management attended the meeting, including CMIG Chairman Dong Wenbiao, Vice-Chairmen Sun Yinhuan and Shi Yuzhu, Executive Vice-Chairman Dr. Kevin E. Lee, Director Representatives Zhou Haijiang and Yang Xiaoping, and President Li Huaizhen.
In the past nearly two years since its establishment, CMIG's total assets have exceeded RMB100 billion, preliminarily realizing the strategic pattern of developing both at home and abroad. Particularly, CMIG acquired the U.S.-based Sirius Insurance in the financial field, and acquired Luxaviation in the general aviation field, which makes it the second largest general aviation operator in the world. The progress of the two strategic investment projects in finance and specific industry, respectively, has sparked the widespread attention from top-notch international investment institutions. The international investment institutions hope to have a thorough discussion with CMIG on hot spot topics and investment strategy, and stand ready to work with CMIG in expanding the investment opportunities both domestically and abroad.
Against the backdrop of increasing uncertainties in global economic development and Chinese economy's entrance into the New Normal, leaders from the investment institutions believed that a wide array of industries and investment subjects have been under-estimated. As a result, sound investment value has emerged, and now it's an opportunity to make proper investment arrangements. As a representative of Chinese private enterprises, CMIG shall seize on this opportunity and actively make arrangements in strategic industries, thus realizing a greater development. In particular, CMIG shall position itself as a bridge between Chinese and foreign investors on the international market, help private firms go global, and collaborate with outstanding global resources and brands. Donald Tang, managing director and CEO for Greater China, D. E. Shaw Group, noted that although an increasing number of Chinese companies develop abroad, and top investment institutions and individual investors of other countries are interested in making presence in China, they often poorly understand China, so they need reliable local partners. In addition, when entering into the overseas market, Chinese enterprises also need sufficient localization knowledge and international teams. It's highly valuable that CMIG puts in place such a platform in that both Chinese and foreign investors need a bridge as such.
According to the studies of the international investment institutions, the coming years will be a golden age for industrial transformation. Green energy, consumption upgrading, general aviation, medical treatment and health, among other strategic industries will be the major driving forces for economic growth in the future. In addition, the aforesaid industries are definitely where CMIG is committed to investing. As Zhu Junwei, director for Asia-Pacific and Managing Director of UBS, noted, in a recent UBS survey, more investors are bullish on investing in green technology, consumption upgrading and environmental protection in 2016 and believe that these industries will present more investment opportunities this year. Judging from this perspective, he held the view that CMIG, an internationalized investment group with the concept of industry-finance integration, is supposed to especially capitalize on opportunities in these industries, rely on its solid industrial foundation and abundant financial resources, and then fill in the gap of industrial upgrading in these sectors. In so doing, CMIG will achieve a greater development.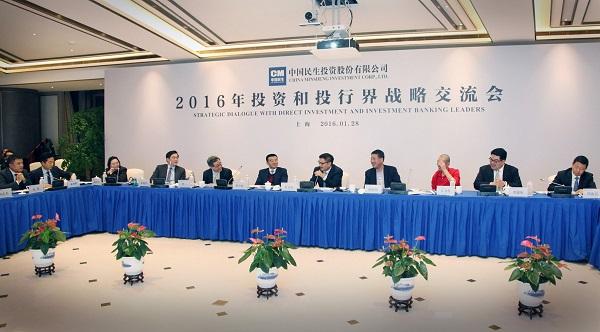 CMIG Chairman Dong Wenbiao expressed his appreciation to all investment institutions and investment banks for their support for CMIG. According to him, CMIG is a company launched by the All-China Federation of Industry and Commerce (ACFIC), and shoulders the responsibility of leading the development of the private economy. At a time when China's industrial transformation is standing at a critical juncture, CMIG is confident in and capable of making a difference in the transition and upgrading of China's private economy and helping China's private economy go global. He expected that CMIG can continue to deepen the sound partnerships with the investment institutions both at home and abroad, seek for more investment opportunities, and jointly move forward with CMIG's cause.