China Minsheng Jiaye Investment (CMIG Jiaye), a subsidiary of China Minsheng Investment Corp., Ltd. (CMIG), officially became the controlling shareholder of SRE Group Ltd. (SRE) via private placement on December 4, 2015. On January 7, 2016, SRE held a press release in Hong Kong announcing that it will aim to become a comprehensive real estate group under the support of the majority shareholder. Looking back upon the process as CMIG Jiaye became the controlling shareholder of SRE, we may develop a clearer understanding about SRE's development objective.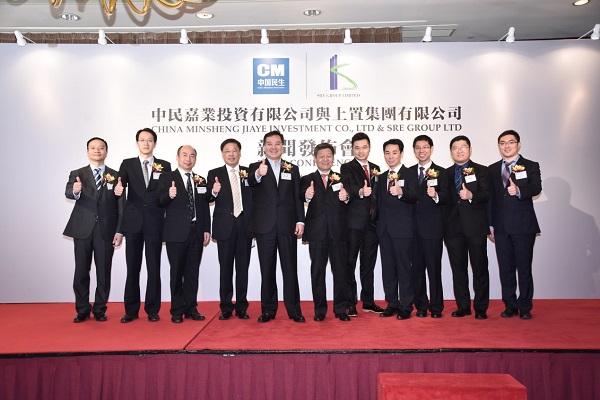 Old-brand real estate company came under an operational crisis
Established in 1993 and commenced trading independently on the main board of the Hong Kong Stock Exchange (HK1207) in 1999, SRE is a comprehensive real estate developer, with real estate development and building construction as its core business. Taking Shanghai as the focus of its regional layout, SRE has gradually expanded its business reach to provincial capitals and regional hub cities that enjoy greater economic growth potentials. Currently, SRE has made project arrangements in Shenyang, Haikou, Wuxi, Jiaxing and other important cities. When it comes to real estate development, SRE's property portfolios include medium and high grade residential properties, as well as commercial properties, such as office buildings, hotels, and department stores. At this point, SRE owns about 3.5 million square meters in land reserves. In the past nearly three decades of real estate development, SRE has successfully created Oasis Garden, Rich Gate, Albany and other brands, and won many honors thanks to its supreme quality, including the "Top 10 Tourism Real Estates of Real Estate Development Enterprises in China".
Since 2010, SRE has been caught in a development crisis over time, because its decision-makers deviated in understanding the market landscape, and the management and control system failed to keep up with the enterprise development pace. The 2015 interim report showed that in the first half of the year, SRE'S sales volume stood at RMB 3.0753 billion, and the gross operating income was RMB 541 million, down by 47.87% year on year; the operating-profit loss registered approximately RMB 119 million, down by 142.67% year on year; but the short-term borrowing, i.e. the amount due from part of the long-term borrowing, reached RMB 7.853 billion, and the book cash reserve was only RMB 798 million, indicating that SRE was faced with a huge operational crisis. "Marriage" with CMIG helps weather through the predicament
In order to tackle the operational difficulty, the management of SRE remained active to seek strategic investors, and got into contact with Poly, Vanke and other industrial leaders. However, for various reasons, there was no cooperation agreement reached with them. In the second half of 2015, CMIG Jiayebegan to engage SRE to discuss cooperation possibilities.
On September 12, 2015, SRE Holding, SRE and CMYJI signed a memorandum of understanding, under which CMIG Jiaye plans to directly or indirectly, via a wholly-owned affiliate, subscribe the shares SRE will allot and issue them for the subscription price of HK$0.10 per share. At the same time, CMIG Jiaye plans to provide SRE with RMB 560 million in an interest accrual short-term loan, with a view to help CRE get through its funding crisis.
On October 9, 2015, SRE entered into a subscription agreement with the subscribers, including CMIG Jiaye and other investors, and SRE Holding (controlling shareholder of SRE). SRE conditionally agreed CMIG and its persons acting in concert to subscribe 14.9 billion shares at the price of HK$1.49 billion (or RMB 1.219 billion), accounting for 72.45% of the issued capital of SRE expanded after share allotment, issuance and subscription.
On December 4, 2015, both parties officially closed the deal, officially making CMIG Jiaye the controlling shareholder of SRE.
Reshuffling for new opportunities
After becoming the controlling shareholder of SRE, CMIG Jiaye has offered all-round support to SRE, including capital, as part of the efforts to improve its business operations. CMIG Jiaye has provided SRE with massive funds and financial aid, as well as delivered a back-to-back letter of indemnity. With regard to management, CMIG Jiaye has appointed a management team to be based in SRE, and the team members have experience in working for leading real estate companies and other well-known firms. They are equipped with profound experience in the real estate industry, financial management, enterprise management, and other aspects. As for business, CMIG Jiaye has actively assisted SRE to engage in strategic cooperation with industrial leaders while tapping into the internal shareholders' resources of CMIG to phase in a mode of joint cooperation and development.
CMiG Jiaye's presence in SRE has brought a great benefit to SRE. First, its brand value will further entrench market investor's confidence in SRE. Second, it can provide a capital operation platform for SRE, optimize its asset and capital structure, improve business stability and sustainability. Third, the seasoned professional management team will deliver a specialized management system to SRE, further help the company build up the executive force and profitability. Finally, CMIG Jiaye can share a diversified resource network with SRE, enter into sound industrial cooperation, and lay a solid foundation for the business development and expansion of SRE.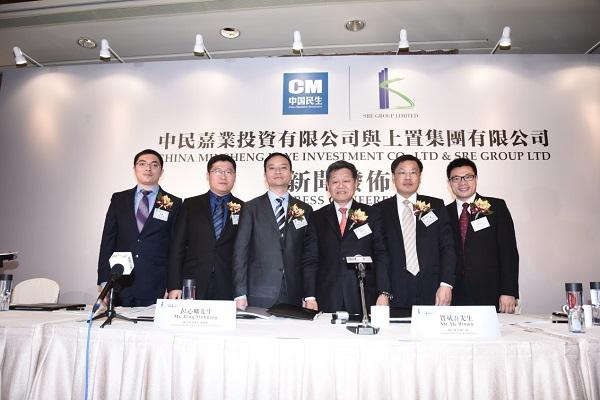 At the press conference held on January 7, 2016, SRE's new management team said that going forward, SRE will rely on the resources of the majority shareholder and press ahead with work in the following four aspects. First, SRE will center on the core business of real estate, and be committed to developing and operating comprehensive, sustainable and excellent estate projects, tapping into the outstanding property and real estate resources in the central districts of Shanghai and other first-tier cities in an in-depth way. Second, SRE will actively seek for opportunities, and develop high-quality medical property and property with the combination of medical service and post-retirement life for high-end clients. Third, , SRE will tap into the prospective overseas investment opportunities, build or invest comprehensive real estate projects abroad, and work in concert with the overseas development strategy of CMIG. Finally, SRE will further give play to the business service advantage of the Internet, expand innovative property management services, and connect upstream and downstream businesses of the real estate industry.
As the new management team indicated, it's believed that through management upgrading, SRE will develop steadily and progressively based on the strategic arrangement made according to the purpose. In so doing, it will put in place an operational mode with broad development prospects, mutual benefits and win-win outcome, and finally develop itself into a comprehensive real estate financial group.
(Contributor: CMIG Jiaye)