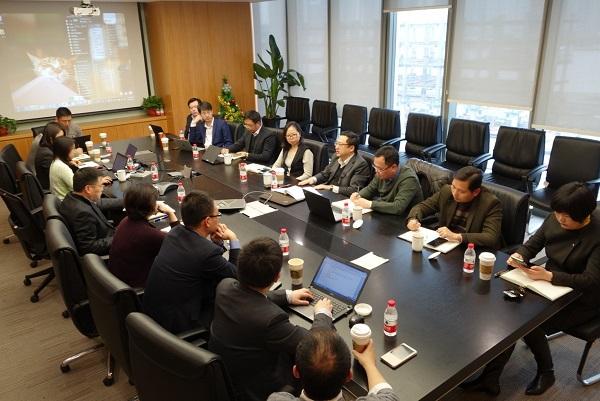 On February 14th, CMIG Property Corp., Ltd. (hereinafter referred to as CMIG Property), a subsidiary of China Minsheng Investment Corp., Ltd. (hereinafter referred to as CMIG), held a strategic communication meeting in its headquarters in Shanghai. Participants including the company's management team sorted out the company's operating results and six core competencies, and jointly defined the future business model and development strategy.
Wang Hui, Chairman of CMIG Property, said the achievements in 2015 had formed a solid foundation for 2016, and cleared the ideas for development, which was a result of the joint efforts of all sectors. In 2016, the major task of CMIG Property is to continue acquiring financial licenses, so as to further boost the value of the company.
Xu Yan, Senior Vice President of CMIG Property, mentioned that CMIG Property had formed a clear development strategy and a precise business model. He pointed out that amid the overall downturn in the capital markets, the company will focus on investment in quality assets in the next five years to rapidly gain access to communities, and gradually carry out the transition to platform operation, thus to become China's largest value-added community service provider and resource integrator.
CMIG Property currently has a clear development strategy of "1+2N". Among them, the "1" represents the entrance of property management, while "2" represents the financial and medical services. Various service models derived from such basis, combined with the community O2O platform, will jointly foster a community services ecosystem.
According to Xu Yan, the core competencies of CMIG Property lies in six aspects: a unique value-added service ecosystem featuring property management as the entrance, a profitable business model through both investment and operation, full range services in finance and healthcare that is close to the livelihood of the community, an "Online to Offline" channel that provides "360 degree" full coverage, "Big Data" brought by the IT system and O2O platform, and an excellent management team with rich industry experiences.
"With positive national policies, innovative business models, and continuous exploration during practice, we believe that the CMIG Property will be able to create a business miracle." Xu Yan said. It is reported that in 2015 CMIG Property had managed a total property of 140 million square meters, and served a group of 3 million people. This figure is expected to reach 1 billion square meters, and 30 million of population in 2017.
Wang Hui said she believed that inclusive financial and healthcare services are the closest to the people's livelihood, and fully demonstrate CMIG's philosophy of "care for livelihood and serve the people". By providing financial products with competitive yield and a full range of healthcare services, CMIG Property offers double protection for both wealth and health for the household.
Since its inauguration, the total assets of CMIG exceeded 100 billion in less than one year and a half, and initially established its "two wings" strategic pattern both at home and abroad. Li Huaizhen, President of CMIG, in his 2016 Chinese New Year message encouraged all employees to make further progress in 2016, and wishes a Happy Chinese New Year to all the staff of the CMIG Property and China Minsheng Wealth!