On July 13, the 11th EU-China Business Summit opened at the Great Hall of the People, under the theme of 'Emerging Opportunities in Comprehensive Cooperation in a Changing Industrial Landscape -- Upgrading Two-way Investment, Connectivity, and Exploring Synergy between the "Belt and Road" and EU Flagship Initiatives'. Li Keqiang, Premier of the State Council, delivered opening speech, Jean-Claude Juncker, President of the European Commission, Jiang Zengwei, President of the China Council for the Promotion of International Trade (CCPIT), Jörg Wuttke, President of the European Union Chamber of Commerce in China, Minister of Commerce Gao Hucheng and European Trade Commissioner Cecilia Malmström also delivered speech. Liao Feng, Senior Assistant to CMIG President and CEO of CMIG International, attended this Summit on behalf of the Company.
When presiding over the Summit, CCPIT President Jiang Zengwei said, the industry and commerce circle is the main body driving forward Sino-EU economic and trade cooperation, through the EU-China Business Summit and other cooperation platforms, the Chinese and European enterprise circle held in-depth communication, improved mutual understanding, explored cooperation opportunities, and propelled the landing of a large number of economic and trade projects, which made crucial contributions to enhancing the standard of Sino-EU economic and trade cooperation, and fulfilling "Acceleration of speed and expansion of capacity" in bilateral economic and trade relation.
Hosted by the Ministry of Commerce and the European Commission, co-organized by CCPIT, and the European Union Chamber of Commerce in China, the EU-China Business Summit has been held ten times since 2004, it has become the most influential event of the highest level in Sino-EU industry and commerce circle. Attracting a total of 600 well-known entrepreneurs and senior executives from China and Europe, this Summit unfolded in-depth discussion centering on three sub-topics of "Jointly embracing new industrial revolution", "Promoting bilateral investment" and "Deepening transport digital cooperation".
Cooperation between China and EU in trade, finance, investment, and cultural exchange is steadily growing, this Summit is one of a series of conferences for regular exchange and communication between the two big economies. As a leading representative of Chinese private enterprises, CMIG is closely monitoring development in Europe, it also pays close attention to bilateral investment between China and EU, and made continual explorations in this field; it acquired Luxembourg-based Luxaviation, Sirius Insurance Company whose European headquarters is located in Sweden and Germany; meanwhile, it also established close business contact and communication with financial institutions, insurance institutions, and investment institutions in Germany, France, Italy, and Spain.
This time, in response to invitation from the host, speaking as as representative of Chinese enterprises, CMIG participated in discussion and delivered speech on promoting bilateral investment between China and EU at the sub-forum conference in the afternoon. As a key representative of Chinese private enterprises with investment in EU, CMIG's investment activities and business progress in EU received high level of concern from Chinese and EU government departments and organizations. CMIG also said, with the enforcement of high-level agreements between China and EU, interaction and exchange between the two economies became more convenient, which also created excellent environment for enterprise investment. As a private enterprise, investment and business progress cannot go without mutual trust and support between governments of the two economies, meanwhile, private economic exchange and bilateral investment will also better promote mutual development between the two big economies.
Up till now CMIG has successfully accomplished multiple projects of investment deployment in Europe:
In general aviation field, CMIG subsidiary China Minsheng International Jet purchased shares of Luxaviation to become its second biggest shareholder, joined force to acquire ExecuJet, in the near term it will leverage the advantage of CMIG's international capital platform, speed up the development of Luxaviation through a number of ways including fund setup.
In the aspect of asset management, CMIG joined hands with world leading real estate service provider Savills to set up joint venture fund management company, and plans to set up asset management center in Europe, create large asset management group, aiming to make investment in assets in Europe with appreciation potential, offer professional asset management services to Chinese investors in Europe, help Chinese private enterprises to look for investment opportunities in UK and Europe continent.
In finance field, CMIG's subsidiary CMIG International has successfully acquired Sirius Re-insurance Group, currently European business accounts for more than one third of the Group's business, which provides crucial support for CMIG to enter global insurance market.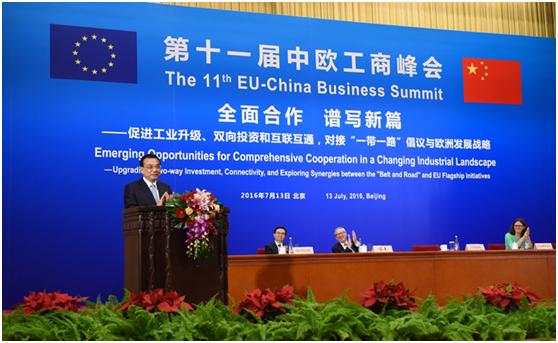 Premier Li Keqiang of the State Council attended the EU-China Business Summit, and delivered opening speech.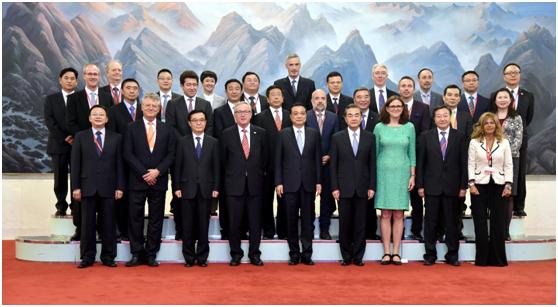 Premier Li Keqiang of the State Council met with key entrepreneur representatives attending the Summit before the EU-China Business Summit, and together took group photo.