——First "Cambodia-China Business Forum and Financial Development Forum" Successfully Held
The first "Cambodia-China Business Forum and Financial Development Forum", a top-level activity for nongovernmental economic exchanges between China and Cambodia led by China Minsheng Investment Group (CMIG), was successfully held in Phnom Penh on December 1. The Forum marks another important step of CMIG in pursuing development alongside the "Belt and Road", and also ushers in a new epoch that Chinese private enterprises make layout in Cambodia, the kingdom of opportunities along the "Belt and Road".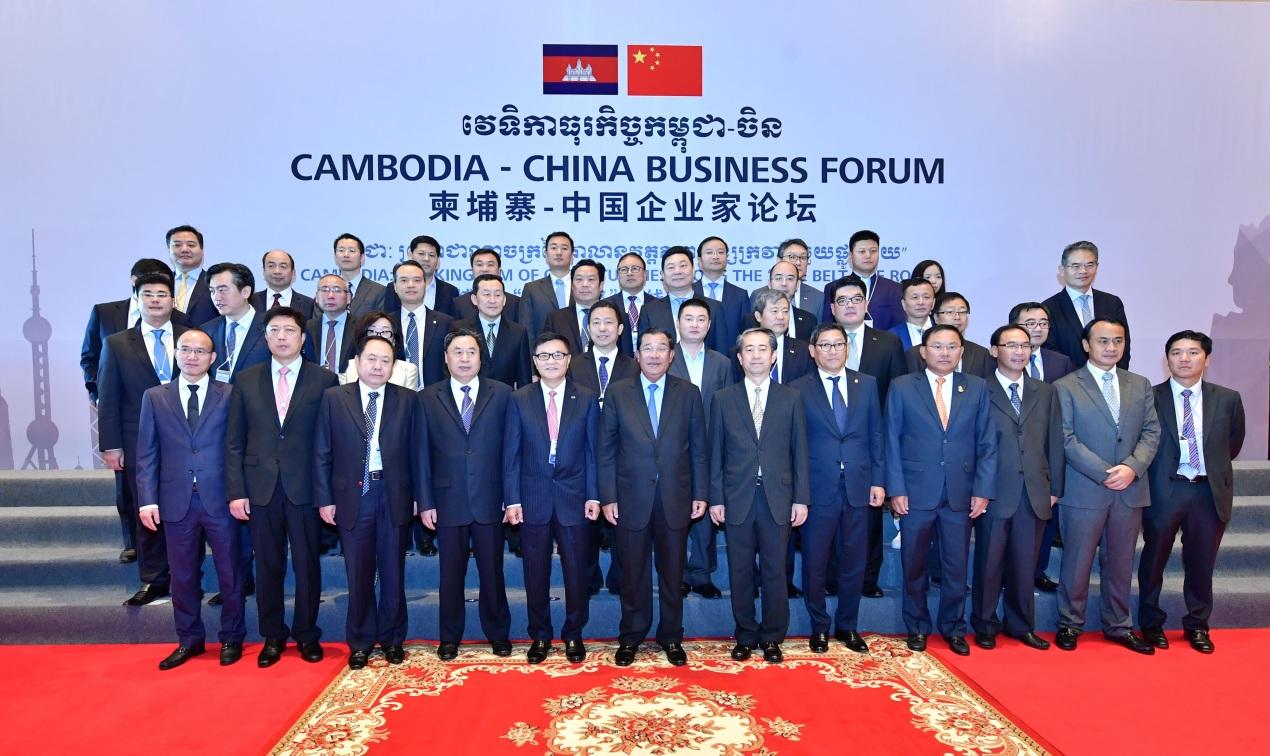 Group photo of Cambodian Prime Minister Hun Sen and representatives of Chinese businessmen participants
Over 600 participants attended the meeting, including Hun Sen the Cambodian Prime Minister, Xiong Bo the Chinese ambassador to Cambodia, Cheng Weishan the deputy director of the Standing Committee of Zhejiang Provincial People's Congress, Yu Jianlong the secretary of China Chamber of International Commerce, Huang Runzhong the secretary of China Banking Association, Dong Wenbiao the Chairman of CMIG Board of Directors, Kevin E. Lee the Executive Vice Chairman of CMIG Board of Directors, Li Huaizhen the President of CMIG, Zhang Zhichao and Lv Benxian, vice presidents of CMIG, Zhong Jipeng the secretary of CMIG Board of Directors, Ly Yong Phat the Chairman of L.Y.P Group, and CMIG's shareholders, member units of Asia Financial Cooperation Association, other governmental officials of both nations, and representatives from non-governmental organizations and other partner enterprises.
All participants jointly discussed on the topics like what Chinese enterprises can do to better boost the economic development of Cambodia, and the investment opportunities in areas such as infrastructure and finance in this country. The Forum also witnessed the signing of strategic Memorandum of Understanding on major bilateral cooperation projects - "China- Cambodia Friendship City" and "'Belt and Road' Industrial Investment Fund".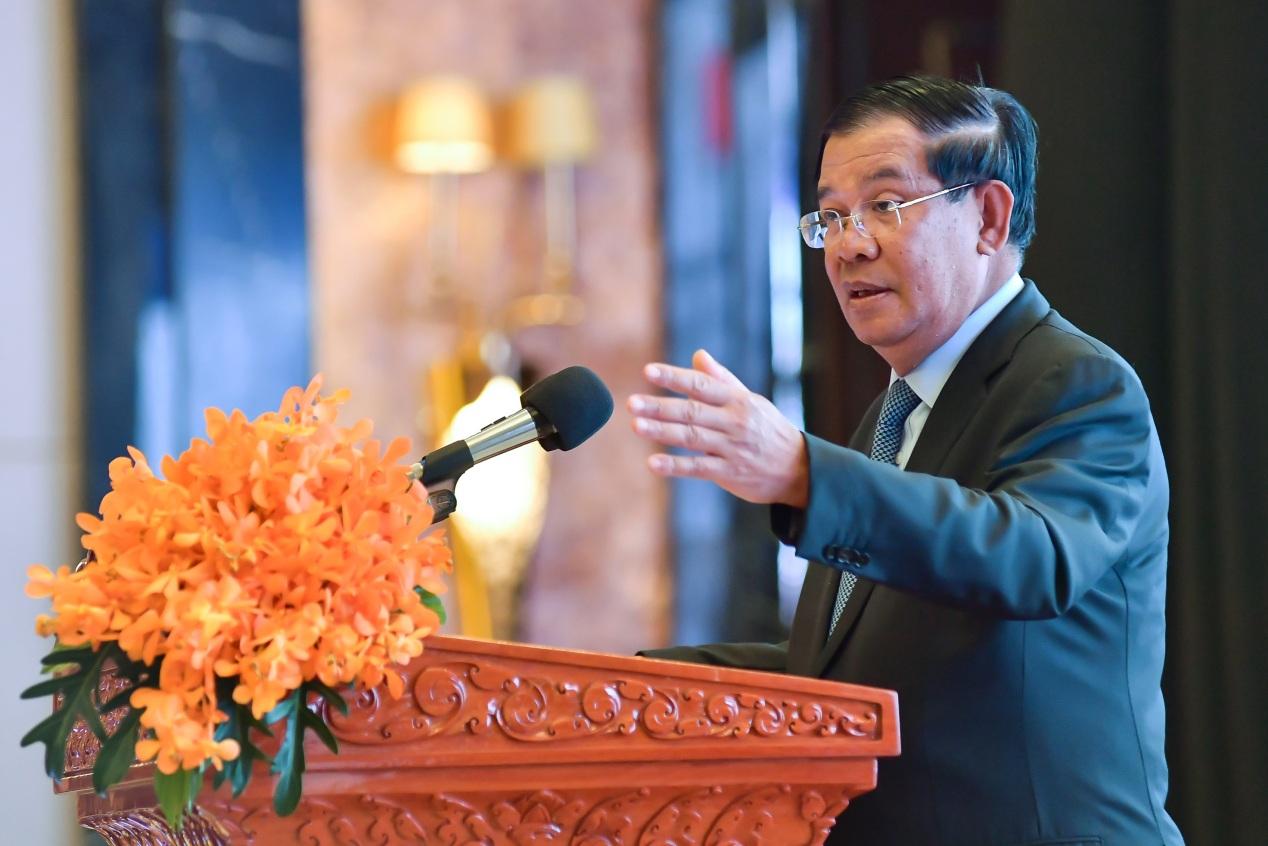 Speech of Hun Sen the Cambodian Prime Minister
Prime Minister Hun Sen expressed congratulations to the successful hosting of the Forum. He said that, endowed with abundant resources, political stability and rapid economic growth, Cambodia provides opportunities and potential for the development of various areas, as well as easy external environment, creating enabling conditions for making investments and starting businesses. According to Hun Sen, the reliance of the economic growth in Cambodia on traditional industries highlights the necessity and the urgency of diversified development of emerging sectors, therefore, this Forum is exactly held at the right time. It will undoubtedly arouse deep response and strong support of investors both in China and this region. Cambodia has well prepared for the cooperation and released three-year multi-entry visas for Chinese investors, with the aim to become a role model in the "Belt and Road Initiative".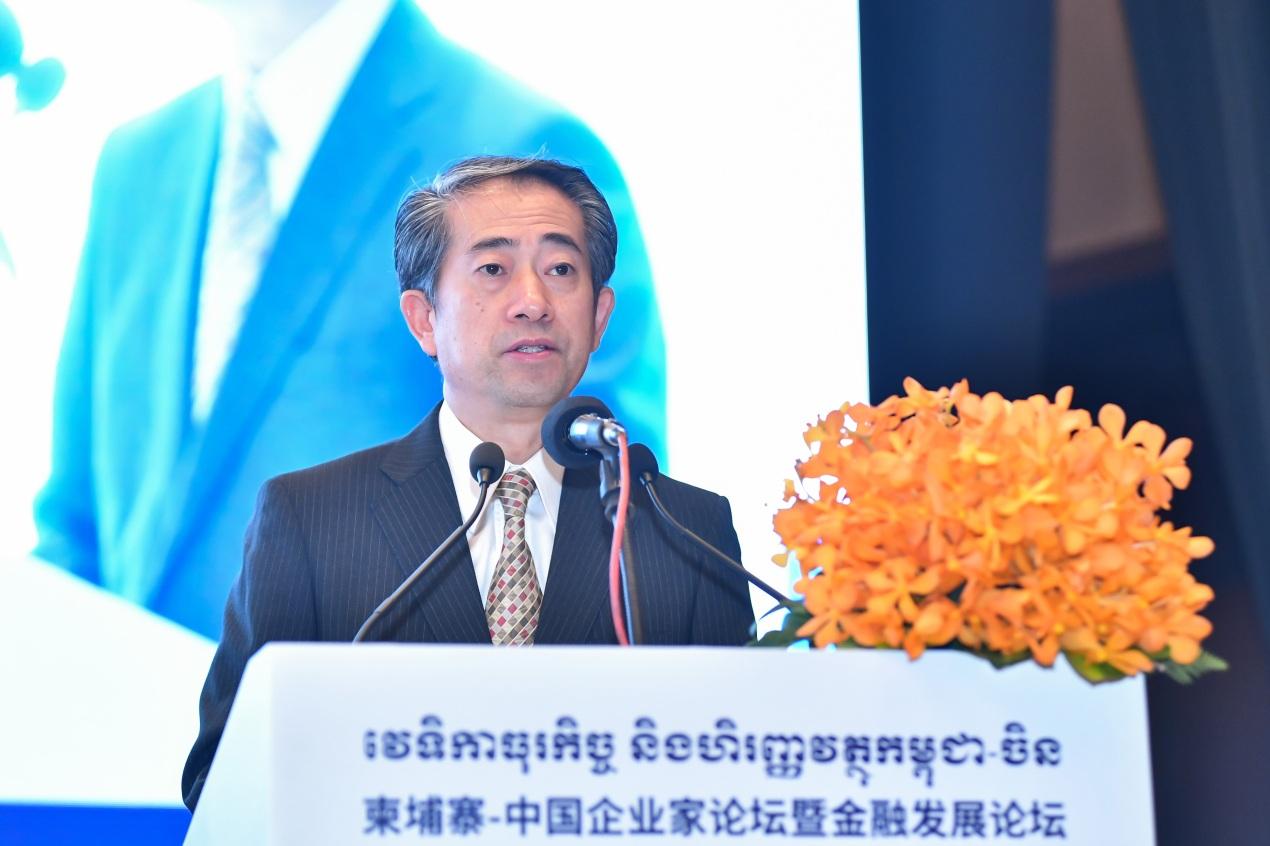 Speech of Xiong Bo the Chinese ambassador to Cambodia
Xiong Bo the Chinese ambassador to Cambodia pointed out that, this Forum represents concrete implementation following President Xi's visit to Cambodia in October, which provides a crucial opportunity and platform for the two nations to enhance understanding, establish cooperation and seek common development.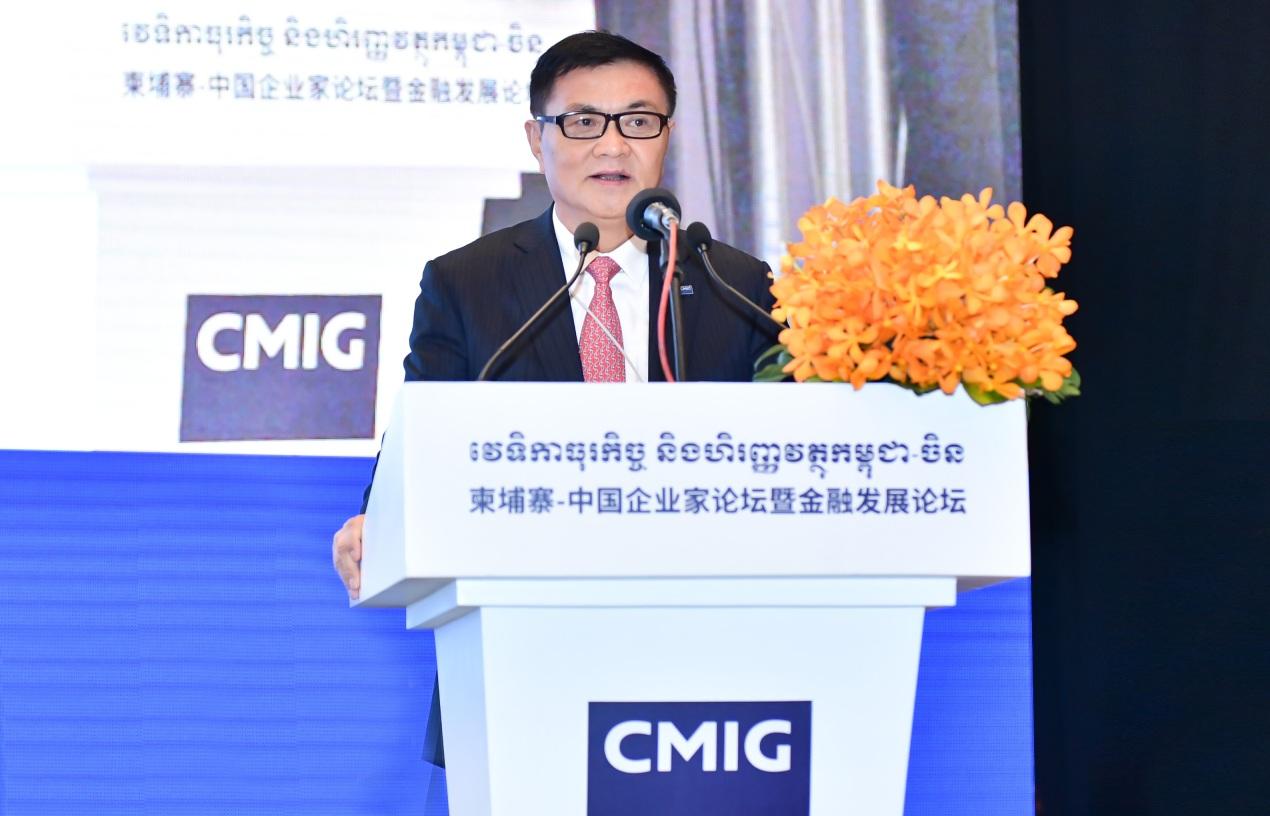 Speech of Dong Wenbiao the Chairman of CMIG Board of Directors
Dong Wenbiao the Chairman of CMIG Board of Directors noted that, this Forum aims to strengthen the mutual trust of businessmen and financiers of China and Cambodia, to lay a foundation for seeking bilateral cooperation. The Forum is expected to create a platform to promote ties between businessmen and financiers of the two nations, to achieve mutual benefits and a win-win outcome. At the same time, strong points of CMIG and Asia Financial Cooperation Association will be fully leveraged to tap into industrial advantages, enhance financial strengths and pool platform superiorities, thereby boosting the development of private economy and private businesses of the two nations.
The Cambodian government attached strong importance to this Forum. Over 100 high-ranking governmental officials attended the Forum, including the governor of the central bank, minister of land management, urban planning and construction, minister of industry, mines and energy, minister of economy and finance and minister attached to the Prime Minister & secretary general of the Council for the Development, etc. They introduced details to all participants on the investment environment and relevant industrial policies in Cambodia.
The one-day Forum, themed in "Cambodia: the Kingdom of Opportunities Along the 'One Belt One Road'", involved "Cambodia-China Business Forum" held in the morning and "Cambodia-China Financial Development Forum" in the afternoon, respectively focusing on the sharing of industrial investment experience in Cambodia and bilateral financial cooperation. Guo Guangchang the Chairman of Fosun Group, Shi Yuzhu the Board Chairman of Giant Interactive Group, and Mao Yonghong the Chairman of Baibuting Group, among other famous Chinese businessmen, and representatives of large groups such as TBEA and Sany Group, etc., were also invited to the Forum to share their experience of investment in Cambodia and discuss on cooperation opportunities.
It was reported that the "Cambodia-China Business Forum and Financial Development Forum" represented an initial achievement of bilateral cooperation after Chairman Dong led a team to visit Prime Minister Hun Sen in September. Going forward, CMIG will bring full strength into its advantages in sectors like finance, industry and talents, to initiatively participate in the development progress of Cambodia and the improvement of living standards of local people.
As a friendly neighbor of China, Cambodia has maintained rapid economic growth in recent years. The "Belt and Road" initiative put forward by China exactly provides new opportunities for cooperation and mutual benefits of the two nations, to boost rapid growth in bilateral economic and trade ties. Particularly, after Chinese President Xi paid a visit to Cambodia, Chinese businesses have become increasingly enthusiastic toward investment in this country.
CMIG has been upholding the philosophy of "following the national strategy and engaging in business along the Belt and Road" since inception. The model of private enterprises' "going global in groups" created by CMIG helps private firms to lower risks while providing them with investment study and judgment, financial resources, and investment platform. The fruitful results achieved during this Forum represent another successful practice of this model.