On December 20, 2016, CMIG Property, a subsidiary of China Minsheng Investment Group (CMIG) signed a strategic cooperation agreement with Sunny Hai Tai in Chongqing. Thereby, CMIG Property will acquire 51% of Sunny Hai Tai's equity. In the future, both parties will strive to create a smart manager of global industrial services. Leaders including Wang Dongzhi the President of CMIG Property and Yang Yong the Board Chairman of Sunny Hai Tai attended the signing ceremony.
According to President Wang, after this acquisition is settled, CMIG Property will offer sufficient supports in funds, technologies and management in virtue of its own advantages. In doing so, it will help optimize the management model of Sunny Hai Tai and expand its businesses, and then achieve a mutual improvement in corporate values. President Wang said, "In the future, Sunny Hai Tai may follow CMIG's action for the 'Belt and Road' strategy to discover more business opportunities by overseas development." He also told that, CMIG Property will consider introducing Sunny Hai Tai to the job of follow-up operation and management for CMIG's projects in Cambodia and Vietnam.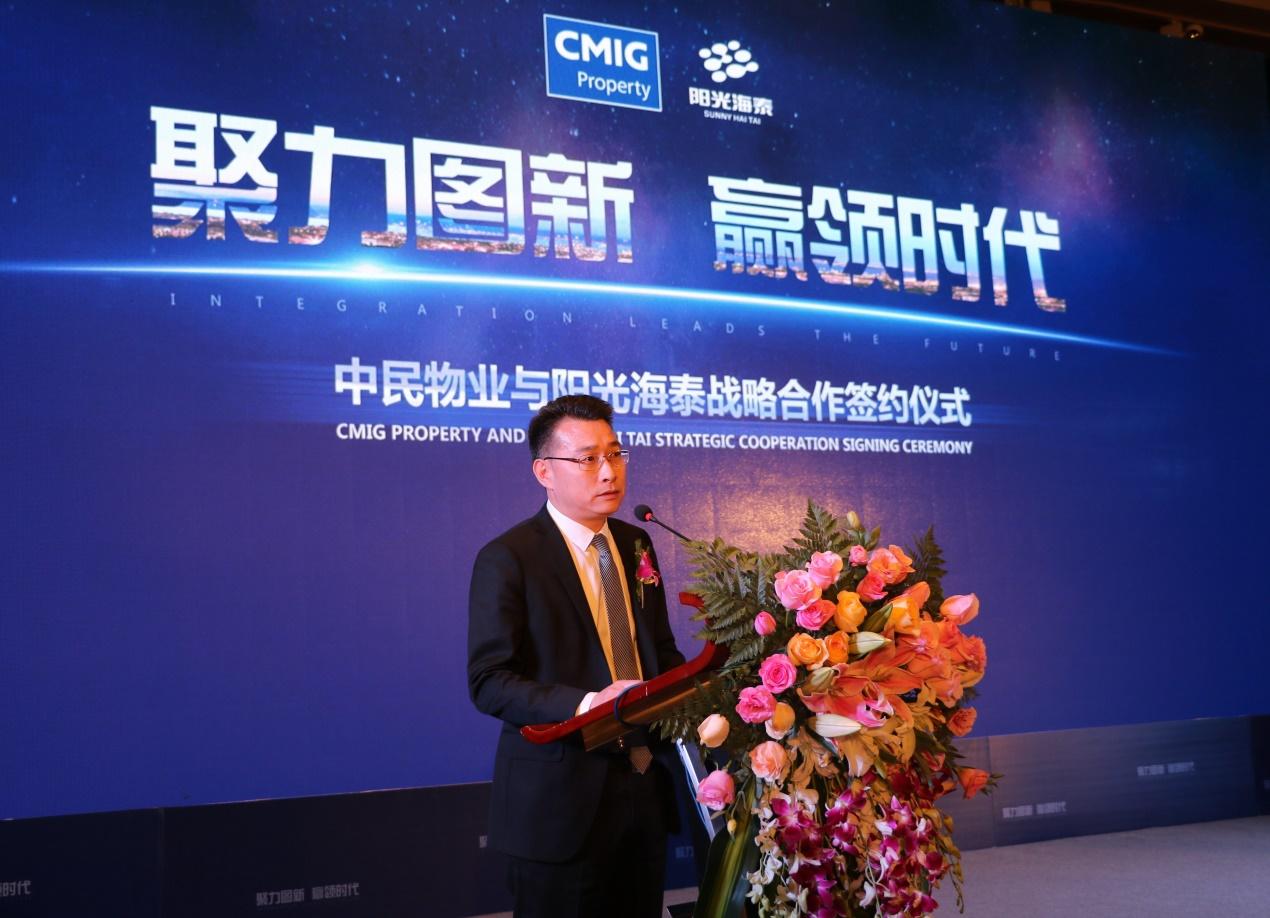 President Wang Dongzhi of CMIG Property is making a speech
Chairman Yang of Sunny Hai Tai said that, after signing the agreement with CMIG Property, they will transform their business model into platform-based operation, and meantime advance their eco-chain of industrial services, striving to become a leader in industrial service sector and a resource integrator. With methods like industry-finance integration, product coordination, and building new-type park-based economic eco-circles, this company will strive for the sharing among the whole value chain. Meanwhile, backed with CMIG's adequate capitals, resources and brand superiorities, Sunning Hai Tai will also commit itself to the national strategy of "Belt and Road" as well as internationalized development.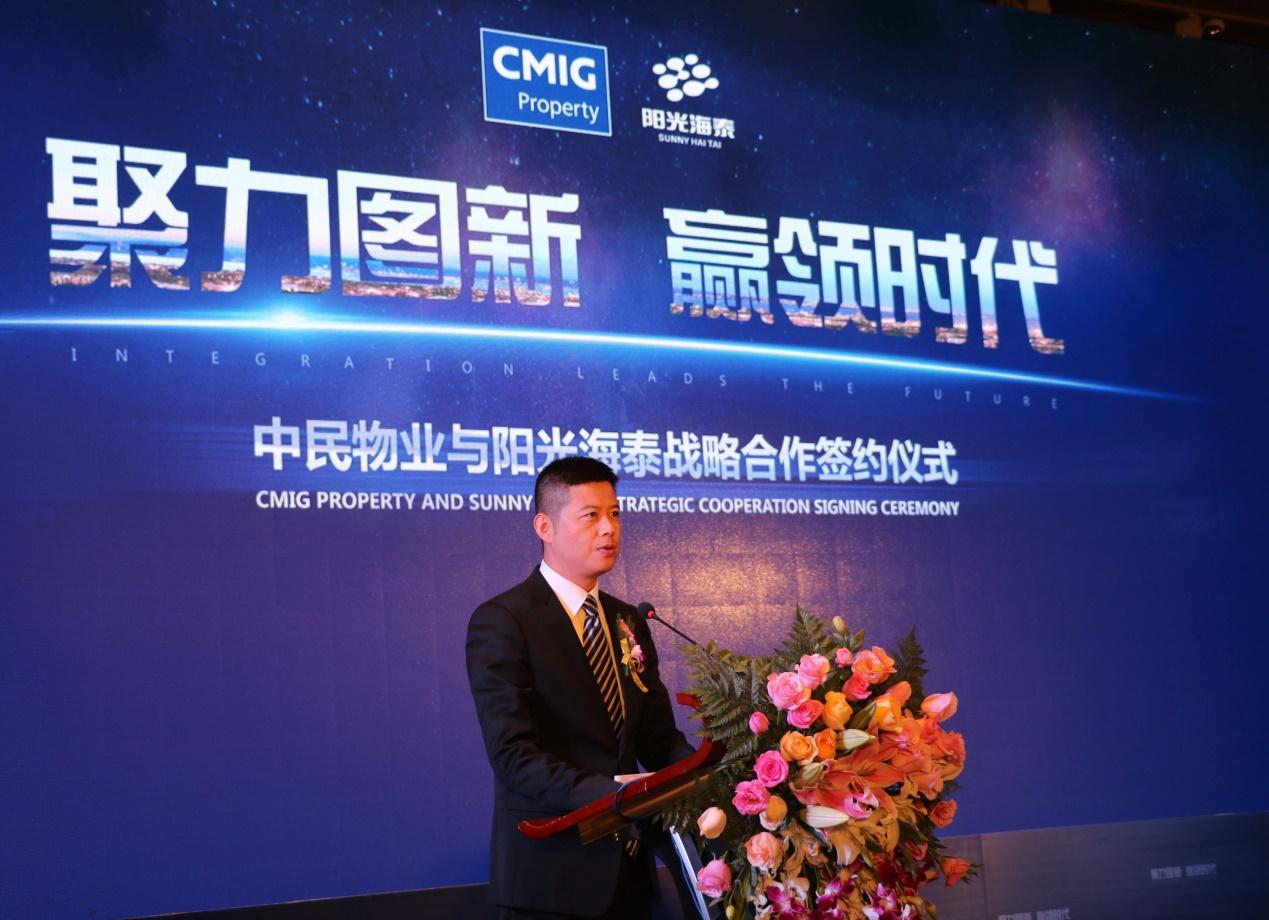 Chairman Yang Yong of Sunny Hai Tai is making a speech
After signing the agreement, Sunny Hai Tai, a new subsidiary of CMIG Property will actively expand its international market centering on CMIG's idea for the "Belt and Road" construction in virtue its own advantages in industrial property management, vehicle leasing, and catering services. With industrial services as its major business, it will carry out M & As in specific property sectors like industrial parks and science and technology parks, and also expend its businesses in commuter buses and group catering services. In doing so, Sunning Hai Tai will achieve a business collaboration with other subsidiaries of CMIG Property dealing in management services, and thereby create an industrial eco-circle and diversified-product platforms meeting customers' various demands, so as to advance the development of modern industrial services.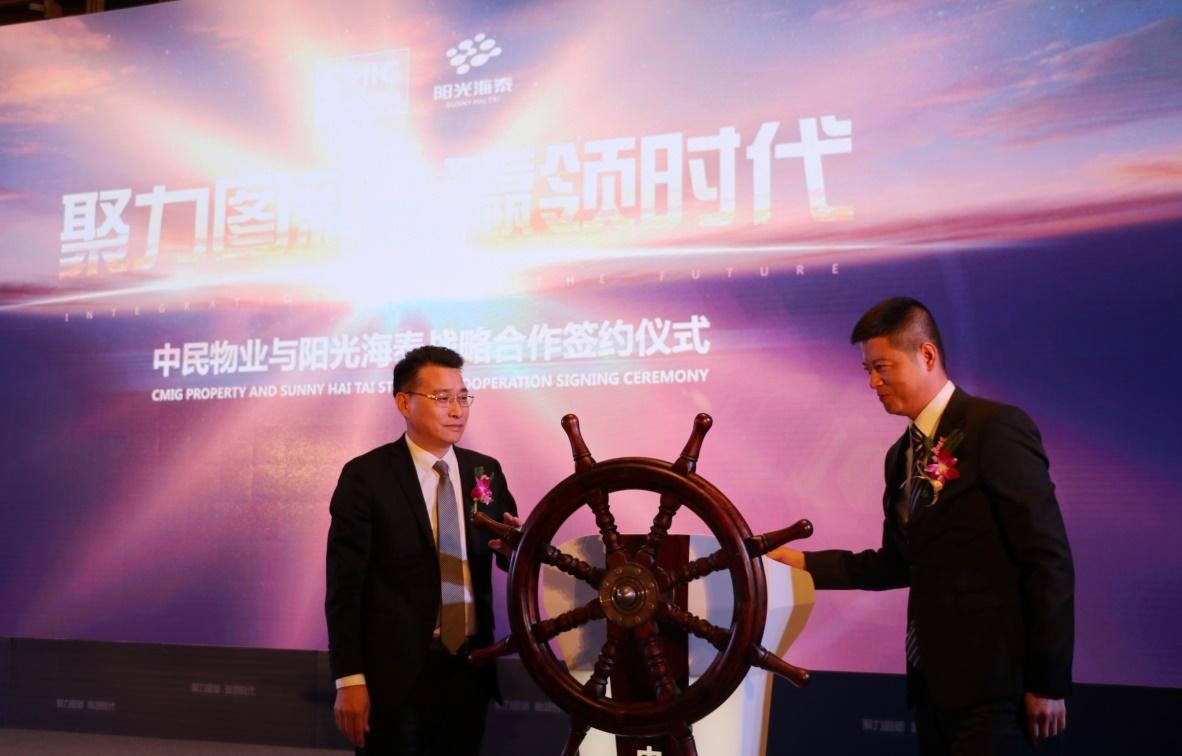 During the ceremony, President Wang and Chairman Yang rotated the steering wheel as a symbol of joint advancement upon cooperation