As one is a leading international investment group in China, and the other is an India-headquartered major transnational company, what will the talk between CMIG and TATA Group bring?
In recent periods, when being present at the annual meeting of the Boao Forum for Asia (BFA), President Li Huaizhen of CMIG had an informal discussion with Doctor Mukund Rajan, the President of TATA Group in charge of international businesses, upon his invitation. On the basis of a deeper understanding of each other, both parties came into many agreements, discussing the possibility of cooperation in the future.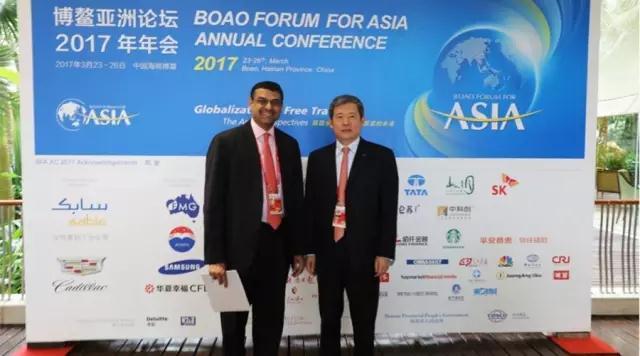 President Li illustrated CMIG's internationalized development strategies featuring industry-finance integration, the three distinctive industries of new energy, fabricated building and home-based aged care, as well as the global business expansion by the three financial groups of insurance, leasing and asset management.
At the meantime, President Li mentioned the Singapore-based CMIG International subordinate to CMIG, which acts as a development platform jointly founded by leading financial and industrial institutions in Asia like Hana Group, Charoen Pokphand Group and Sun Hung Kai & Co. Limited. According to him, it is feasible to jointly expand our Asian market on the basis of relevant platforms.
He noted that, companies both from China and India all need to find proper partners and achieve win-win development during their cooperation for expanding overseas markets. He hopes to establish an information sharing mechanism with TATA in the future, so as to jointly engage in quality projects.
According to Doctor Rajan, as a major transnational enterprise headquartered in India, over the last two decades, through continuous mergers and development, TATA has grown into a global company possessing over 100 corporates being operated as well as offices covering over 100 countries across the six continents from a mere Indian local company.
Doctor Rajan highly recognizes CMIG's development ideas, holding the opinion that TATA's businesses are quite concordant with those of CMIG, with potential cooperation in many fields. He introduced that, TATA owns the largest new energy company in India, which indicates the considerable room for cooperation in distributed power generation. Meantime, the Indian Government has released some policies, whereby 25 million security houses will be offered before 2022, so both parties bear a promising future of cooperation in fabricated buildings.
Besides, recently, TATA is also striving to develop its financial business, making layout in sectors like asset management and insurance. Doctor Rajan expressed his expectations for the cooperation with CMIG in their future investments in Asia.