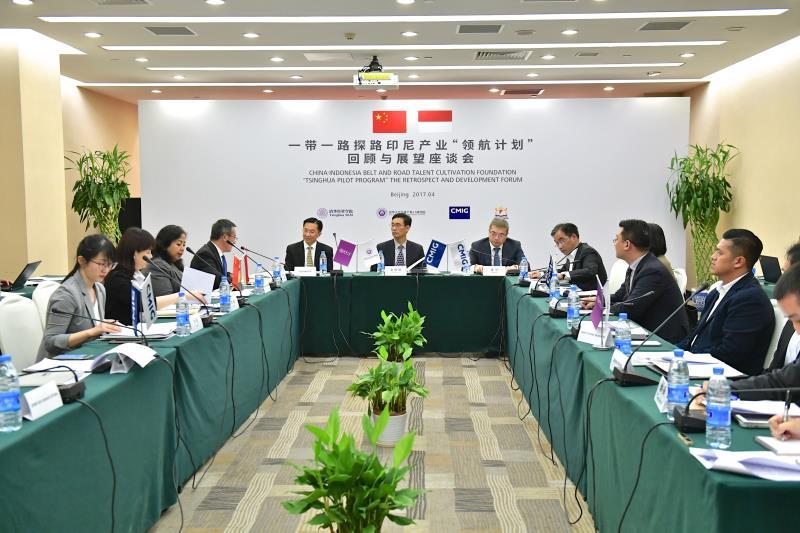 The Belt and Road Initiative is a new-type globalization solution offered by China, which also brings significant demands for new-type talents. On April 27, 2017, in Beijing, Tsinghua University, China Minsheng Investment Group (CMIG), and the Indonesia Chamber of Commerce and Industry (ICCI) jointly held a forum themed as Exploring Indonesia's Industries through Belt and Road: A Review and Prospect for the Navigation Program to discuss the opportunities and practical demands for talents brought by the Belt and Road Initiative.
Talents globalization VS talents localization?
Currently, Chinese enterprises' direct investments subject to the Belt and Road Initiative are mainly in Southeast Asia, Middle East and South Asia that are in a new economic growth period. According to Jin Xianqin, the deputy secretary general of Tsinghua University, the director of the Office of Technology Transfer, and the executive vice director of the Institute for Global Industry, they have found, along with the advancement of the initiative, demands in countries alongside the line for middle-level and senior management talents are increasing.
Per the introduction by the ICCI delegate, Indonesia is left in an economic development stage with the competitiveness and growth as the focus, but the human capital issue is always eyed as a major obstacle. The Indonesian Government has prioritized human capitals in its agendas, which will invest more to facilitate the national education and training system, especially in fields like agriculture, industry, shipbuilding, textile, food and beverage, iron and steel, mining, transportation, and information communication.
In fact, the success of the Belt and Road Initiative is attributed to the successes of projects thereof, and the successes of these projects owe to the efficient management, which comes from the reserve and training of talents. However, per the Belt and Road Talent Whitepaper issued by LinkedIn, 72% interviewed Chinese enterprises owning overseas business still need to send Chinese staff to their overseas branches.
According to Qin Jian, the senior assistant to CMIG President and the president of CMIG Healthcare, the globalized business will bring about globalized talents, which is a necessary progress for Chinese enterprises' overseas development. During the early stage of globalization, Chinese enterprises mainly resort to sending talents to overseas branches, and the localized operation is an outstanding challenge for them. To solve this problem, talents with internationalized backgrounds and ideas are not enough, it requires authentic talents specializing in localization.
Qin feels that, during the progress of carrying out the Belt and Road Initiative, the cultural difference is in need of urgent solutions. Chinese enterprises' practice for this initiative is still in the beginning, and they are still accumulating experience for the business alongside the line. Similarly, people that have sensible knowledge about China in countries alongside the strategic line are still insufficient. Besides, the difference in systems and ideas is also substantial. Chinese Government has played as a major driver for the rapid economic growth over many years, and Chinese enterprises accustomed to this advantaged system may not be able to adapt to the different systems and ideas in other countries.
Li Donghong, the deputy director of the Office of Technology Transfer, and the deputy director of the Department of Innovation, Entrepreneurship and Strategy in the School of Economics and Management of Tsinghua University, thinks that Chinese enterprises' development in Indonesia requires massive local talents. Only with these talents could the cooperation between Indonesia and China be smoothly carried forward, and so do Chinese enterprises.
CMIG contributes its talent strategies on overseas development
So far, CMIG's business has been distributed to the zone of the whole Belt and Road Initiative both at home and abroad. In detail, based on Asia, CMIG now has branches in Hong Kong and subsidiary CMIG International in Singapore to expand its global business. In Southeast Asia market, it focuses on industrial parks, new industrial cities, and future communities, and now is advancing its Indonesian Industrial Park with USD5 billion investments. In Central Asia, CMIG is developing resources upon cooperation, while in the developed markets Europe and America it is hunting for M & A opportunities in the financial service industry.
As for Mainland China, CMIG has invested in three industries -- new energy, fabricated buildings, and home-based aged care, mainly expanding its business in provinces involved in the Belt and Road Initiative. On the other hand, CMIG has begun to bring its advantaged industries to overseas markets to export its advanced business models. Per some sources, CMIG New Energy subordinate to CMIG recently established an overseas business department specifically, which now is considering the cooperation in the first waste-to-energy project in Cambodia, and arranging its clean energy business in countries including India.
"CMIG is an international industry-finance investment group, whose businesses both at home and abroad cover many industries. In particular, it is building an industrial platform in countries alongside the line. Therefore, it has urgent and diversified demands for talents," said Qin. To this end, CMIG meets its global business demands by recruiting and training international talents and meantime training local talents specially. Foreign employees or staff with overseas experience have accounted for over half of CMIG's total employees. During its acquisition of Sirius, CMIG's international financial elite team played a significant role. After almost eight months' communication with insurance regulators from many countries and regions including the US, the UK, Sweden, Bermuda, Australia, and Hong Kong, this deal was eventually accomplished.
In Southeast Asian countries, CMIG founded the Belt and Road Talent Training Fund to train financial and management talents for countries alongside the line, aiming to export China's "soft power". On November 5, 2015, CMIG, ICCI and Tsinghua University signed a cooperation agreement in Shanghai, whereby these three parties jointly launched the Navigation Talent Training Program. This program is funded by CMIG's Belt and Road Talent Training Fund with the total investment RMB100 million in a decade. Tsinghua University is entrusted to carry out special training in this program. This action also marks the first talent training program funded by Chinese private enterprises and implemented by renowned universities after the Belt and Road Initiative was proposed. According to the prediction, the training includes 20 phases, with 600-700 trainees in total.
Sugiharto, the deputy chairman of the Investment and Secretary Departments in ICCI, said that, training programs of such kind will offer talents to Indonesia and China's commercial cooperation in the future. He introduced that, in March last year, Huawei also invited 1,500 students of IT engineering majors in University of Indonesia to participate in its training program, so as to develop talents for its manufacturing center in Indonesia.
The training program is only the first step, and the vocational training scheme is also being prepared. CMIG plans to hold its industrial technology training courses by cooperating with leading vocational training schools in both China and Indonesia to provide massive skillful technicians to Chinese enterprises in Indonesia, and then meet the multi-level talent demands in its industrial park.
"We will hold various talent training and exchange programs according to the actual progress. In this way, we not only could offer training opportunities for local people, but also will consider organizing Chinese entrepreneurs to go to the countries alongside the Belt and Road line for investigation and study," said Qin.
Entrepreneurship trend rises among Indonesian young people, who want to draw experience from China
Fifteen middle and senior managers in Indonesia's industry and commerce sector attended the first training course held in 2016, whose average age was 39, with the youngest one not older than 24 years old. The first phase of the training includes four chapters, namely outstanding leadership, analysis on the cutting-edge business environment, business operation and management, and innovation and practice.
During the seminar, Li Qian, the vice director of the Executive Education Center in the School of Economics and Management, Tsinghua University, said that, the first phase of this training program has been recognized by trainees, who also expressed their expectations of more studies of both successful and failed cases. They also expect to discuss the impact of social and cultural factors on emerging industries, as well as how the Belt and Road Initiative could be applied to diplomatic policies.
Their attention to these topics is exactly related to Indonesia's development stages. Though Indonesia features a large population like China, its population mainly comprises young people. Besides, this country is in the period with intensive infrastructure construction, and is moving towards an emerging industrialized society from a traditional agriculture-based and resource-based society.
"Now the Indonesian Government is also calling for entrepreneurship. It is not necessary any more for young people to work for enterprises after graduation, because they can start their own business." Hendy Setiono, the chairman of ICCI Entrepreneur and Training Committee as well as the general manager of Babarafi, will attend the second phase of training. He often holds lectures and seminars for young students, and he said that, the knowledge obtained from this program in Tsinghua University could be shared with his students, so as to help them prepare for their entrepreneurship.
Izmir Eka Wijaya Putera, the COO of an Indonesian e-commerce company, was also present at the first phase of training last year, who is longing for drawing experience from China's e-commerce sector. Now the e-commerce in Indonesia is similar with that in China 10-12 years ago. "Through this course, we have gotten a better understanding about Chinese cultures, histories, Chinese Government, Chinese private enterprises, and also the idea of cooperation wisdom in Chinese mind, which especially stresses the suitable cooperation model for ASEAN or Southeast Asian countries as a regional community against the background of globalization."
Another Indonesian trainee also told that, China has gone through a lot in its transition into an industrial country from an agricultural state. After China embraced the industrialization, innovation plays a significant role in transforming enterprises' development forms, so that Chinese enterprises began to invest more in technology development and human resources.