Thanks to the strong support of CMIG Keytech Investment Holdings Co. Ltd. (CMIG Keytetch), a subsidiary of China Minsheng Investment Group (CMIG), the opening ceremony of the Tsinghua x-lab Fintech Innovation Center was grandly staged at the Tsinghua x-lab base on May 6. Prof. Qian Yingyi, Dean of Tsinghua University School of Economic Management (SEM), Gao Jian, Secretary of SEM's Party Committee, and Liu Yan, CMIG Keytech's Chief Investment Officer were present at the event. 100credit, KPMG China, China Reform Fund, Dalian Jingbei Internet Financial Assets Exchange, and CreditEase Group, among other institutions attended the ceremony as the initiators of the x-lab.

Tsinghua's x-lab is a university-based education platform designed to foster student creativity, innovation, and entrepreneurship. Founded in 2013, the x-lab operates under the auspices of the SEM of Tsinghua University and has 8 innovation centers. As a non-profit open platform, the x-lab links 14 schools and departments across Tsinghua University and takes in the projects of Tsinghua's students, alumnus and faculties incorporating their creativity, innovation and entrepreneurship at different stages. Since its inception three years ago, the x-lab has cultivated over 1,000 startups and attracted more than 100 rounds of Series A Financing, and nearly RMB300 million in total amount of financing has been confirmed.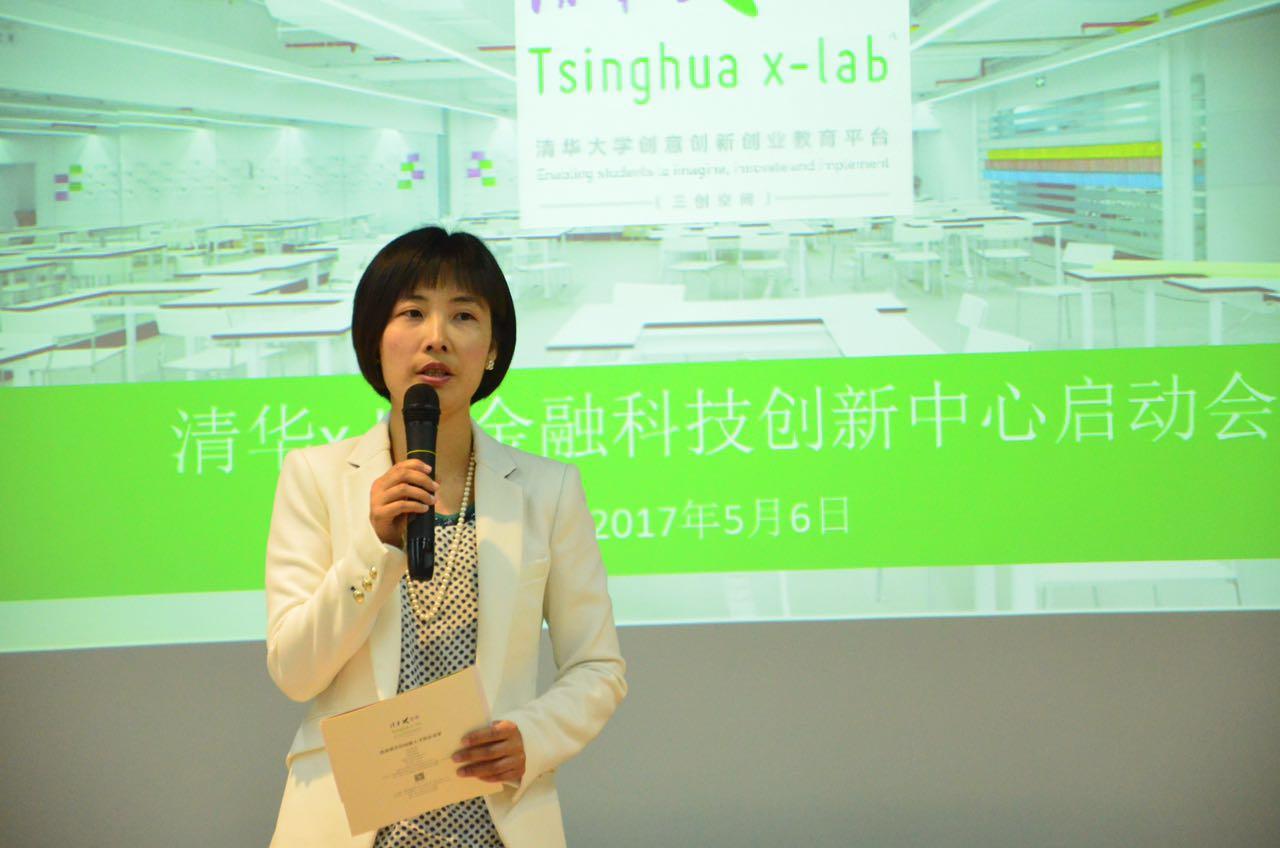 Statement of Ms. Liu Yan, CMIG Keytech's Chief Investment Officer
Ms. Liu Yan pointed out that, as the supporter of the x-lab's project, Tsinghua University demonstrates its unique strength in making financial technology innovation, and underlying technology is increasingly becoming the innovatory power facilitating the industrial transition judging from the development of financial technology. For instance, AI and bike sharing are technologies based on mobile internet and the Internet of Things. With the platform of Tsinghua, we should give full play to the cross-school district and cross-school advantages of technical colleges to advance industrial revolution from underlying technologies.
Ms. Liu Yan also noted that "CMI Keytech has two main investment modes, namely direct investment and funds. We integrate more industrial resources by virtue of capital and make investments in technological companies with growth potential down the line. As one of the first batch of initiators of this program, we hope we can help our startups, faculties, and students more in the future in terms of investment and financing."
Then, Prof. Qian Yingyi, Dean of Tsinghua SEM, said that, while financial technology is subject to government supervision, it needs to forge ahead alongside scientific advancement. This calls for cooperation among all stakeholders, thereby building an ecological system and making the effective alliance of the entrepreneurial teams a reality. For example, soil is not just the combination of clay, sand, manure and water. The complex and subtle system consists of all life bodies and lifeless bodies. The x-lab is definitely a system as such featured by inextricable connection and energy.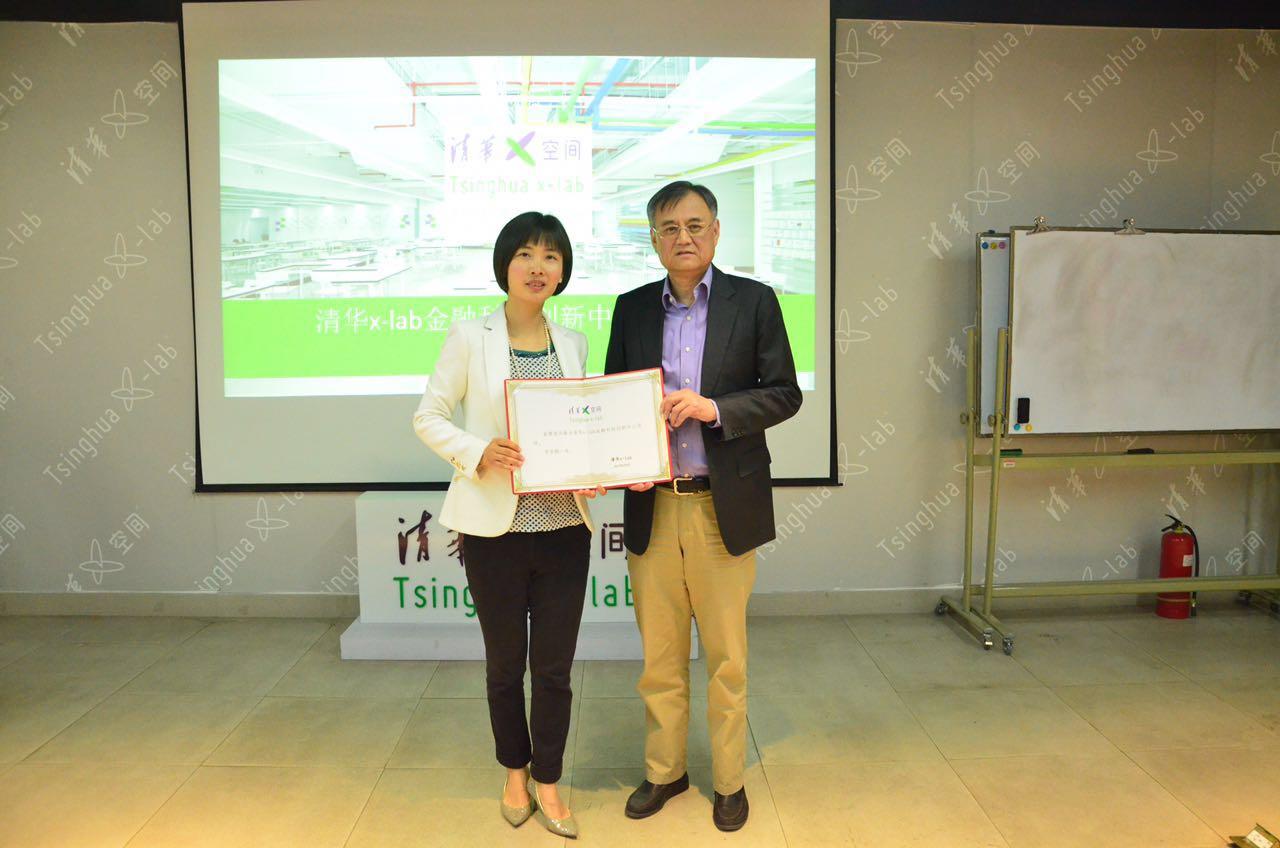 Dean Qian Yingyi issued the certificate to Liu Yan, CMIG Keytech's Chief Investment Officer
Finally, Dean Qian Yingyi and Secretary Gao Jian issued the certificate of first batch of sponsors and certificate of extracurricular tutors of entrepreneurship and innovation to the participating organizations, and indicated that the x-lab will make its due contribution to financial technology.
The Fintech Innovation Center is the ninth innovation center of Tsinghua's x-lab, and the other eight centers up and running include Intellectual Property and Legal Center, United Design Center, Social Innovation Center, Healthcare Innovation Center, Sci-tech and Intelligent Creation and Innovation Center, Internet and Information Technology Innovation Center, Education Innovation Center and Next-generation Technology Innovation Center.
About CMIG Keytech
CMIG Keytech Investment Holdings Co. Ltd., a subsidiary of CMIG, is committed to developing itself into a global internet/financial technology investment group. We plan to obtain financial, similar financial and technology related licenses by focusing on the pan-finance industry and to invest in scientific innovation technologies with the need of industry transformation and upgrading by focusing on high-tech industry. Combined with pan-financial resources and technological innovation, CMIG Keytech is determined to build a "financial technology factory" which will transform the traditional financial industries to be more web-based by innovative financial products designed by the professional team, to connect financial technology with service application, link the scene and asset, remain people-oriented, and provide differentiated and competitive products and services for our target users.