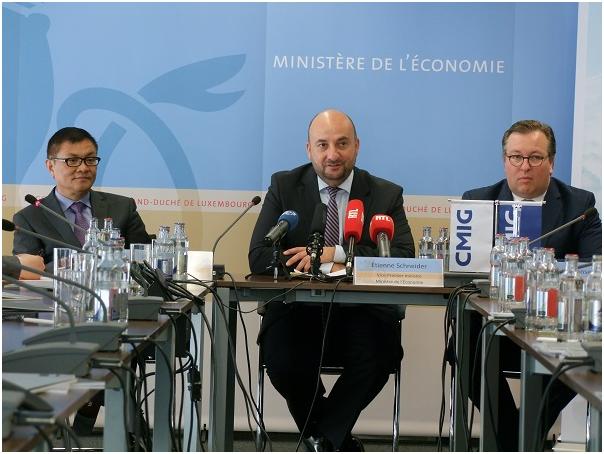 On Thursday morning, at at press conference at Luxembourg's Ministry of the Economy on Bld Royal, Luxembourg's Minister of the Economy, Etienne Schneider, announced two new FBO - in Mexico and the Caribbean - as well as the investment of a Chinese investment group which enables this, and future, expansion.
Minister Schneider also made an announcement concerning the investment of the China Minsheng Investment Group (CMIG) in Luxaviation which is enabling its global expansion according to its expansion strategy. "The financial and strategic support of CMIG allows Luxaviation to realise its global expansion, witnessed by the interwst of this Luxembourgish enterprise and its Chinese investor as well as the attractiveness of the Grand Duchy represented by the Chinese economic actors looking for international business opportunities".
Luxaviation is currently the seond largest business aviation group in the world. It operates 250 planes and employs 1,500 people world-wide. ExecuJet operates 24 ground installations (FBO) and 14 maintenance centres. ExecuJet remains a separate brand within the Luxaviation Group.
In the Caribbean, ExecuJet has acquired a ground installation (FBO) at Princess Juliana International Airport in St. Maarten, purchased from TLC Aviation, taking the ExecuJet FBO Network to 24 locations globally as part of the Luxaviation Group. The St. Maarten FBO offers ground handling, fuelling, air charter, flight plans, executive transport asnd accommodation services for both customers and crew. This facility opens today, 9 June 2016, as a rebranded ExecuJet facility.
Mike Berry, President of Aviation Services at ExecuJet stated "St. Maarten is the hub for the north-eastern Caribbean region, with access to mainland USA and Europe. Princess Juliana International Airport serves as a key location for the neighbouring islands and as such is ideally located to support the exclusive mega-yacht destinations of Anguilla, St. Barths and St. Kitts, the perfect complement to the private aviation market in the region".
In Mexico, ExecuJet today celebrates its first Mexican-based fixed-based operation (FBO) at Del Norte International Airport in Monterrey, Mexico, which started operations this week. ExecuJet Mexico manages 13 aircraft ranging from Pilatus PC12s through to a Falcon 7X with operations at Toluca International Airport and Monterrey International Airport, as well as Del Norte International Airport.
Patrick Hansen, CEO of the Luxaviation Group, stated that the group had a €600 million turnover in 2015 and that CMIG, backed by other Chinese investors, is investing in a Luxembourg-based fund to enable the growth of Luxaviation Group with the aim of it becoming #1 in the world.
Chronicle《卢森堡纪事报》:
中民投致力于将卢森堡通航打造成全球最大公务机运营商
卢森堡报道——本周四(6月9日)上午,在卢森堡经济部的发布会上,卢森堡经济部长Etienne Schneider宣布,卢森堡通航的两个新的FBO基地,在中民投的支持下已经顺利拓展,这两个基地分别在加勒比海圣马丁岛和墨西哥,未来也将有更多合作投资的机会。
经济部长Schneider 也进一步表示,中民投对卢森堡通航的投资,不论是财务或战略上的支持,都使得卢森堡通航的国际业务拓展看到快速且显著的成绩。
中民投董事局主席董文标表示:"中民投很荣幸成为卢森堡通航的股东,中民投将支持卢森堡通航在欧洲、非洲、中东、美国等地开展业务,致力于将卢森堡通航打造成全球最大的公务机运营平台。两个新的FBO的开设正是朝着这个方向努力。"
卢森堡通航目前是全球第二大公务机运营商,拥有250架飞机,全球员工人数超过1500人。
卢森堡通航首次执行官Patrick Hansen表示,卢森堡通航在2015年的营业收入达到9亿欧元,中民投目前正通过在卢森堡设立的基金推动卢森堡航空朝着全球最大的公务机运营商这一目标发展。