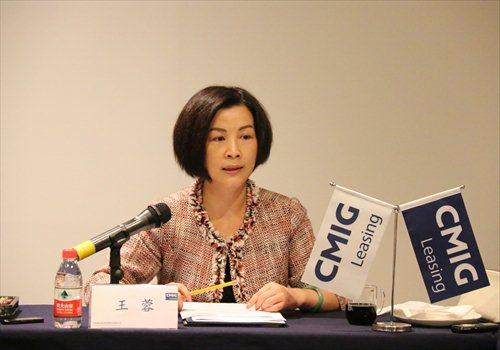 By Tu Lei Source:Global Times Published: 2016-6-26 23:58:01
Wang Rong, chairman of CM International Financial Leasing Co speaks at a media briefing in Beijing on Friday. Photo: Courtesy of CM International Financial Leasing
A leasing company under China Minsheng Investment Group (CMIG) vowed to invest in more sectors beyond its current focus on the aviation industry as the business keeps growing.
Wang Rong, chairman of CM International Financial Leasing Co, made this remark in a media briefing in Beijing on Friday.
"Our business now starts with general aviation, but our map will not just focus on this sector," Wang said. "Shipping, nuclear energy and medical care will also be our targets as our business develops."
CM International Financial Leasing, a joint venture between China Minsheng Investment and Hana Bank of South Korea, was established in April 2015 with 4.5 billion yuan ($688.22 million) in registered capital.
Its profits ranked No.1 among newly established leasing companies in 2015. It has assets of nearly 20 billion yuan at the moment.
The company signed a deal with Airbus in September 2015 to acquire 100 Helicopters Ecureuil-series rotorcraft over a 5-year period.
In a plan released earlier this month, the company vowed to have 100 helicopters in five years, as well as 100 airports for general aviation and 100 hospitals for emergency care.
Its goals are in line with the nation's strategy as the State Council, China's cabinet, said in May this year that China will also support the opening of low-altitude airspace and promote research and manufacturing in the sector.
This is a bid to boost the development of the nation's general aviation industry and create a market worth more than 1 trillion yuan by 2020.
However, "the general aviation sector is only a start, and our appetite is not confined to this segment," Wang said, noting that the commercial aviation industry will also be covered.
"The market is very big with lots of opportunities, and it has a certain growth pace each year," Wang said.
"We will cooperate with players to create a win-win" outcome, according to Wang.
In terms of the shipping industry, Wang said although there is some mixed feeling toward the shipping industry as the global economy is still on a downward trajectory, "the shipping industry is neither a dawn nor a sunset industry, it is a traditional industry, and global economy still depends a lot on it, which will create opportunities," Wang noted.
Also, clean energy and medical care are quite promising in China, Wang said.
The company's ambitions are not only based on its evaluation of industries, as well as the background of investors.
The platform and its team also provide it with solid confidence.
According to Wang, one of the two big investors - China Minsheng Investment Corp - is the largest private investor in China, and it is backed with dozens of excellent private companies.
Hana Bank has branches in more than 130 cities in the world, which provides it with solid financial support.
Further, short decision periods and a strong team also pave the way to making the company a leader.
"It is possible to introduce more investors in the future, but the newcomers should agree with our strategy and be complementary with our business," Wang said.
"That will lay a solid foundation for our future development," noted Wang.