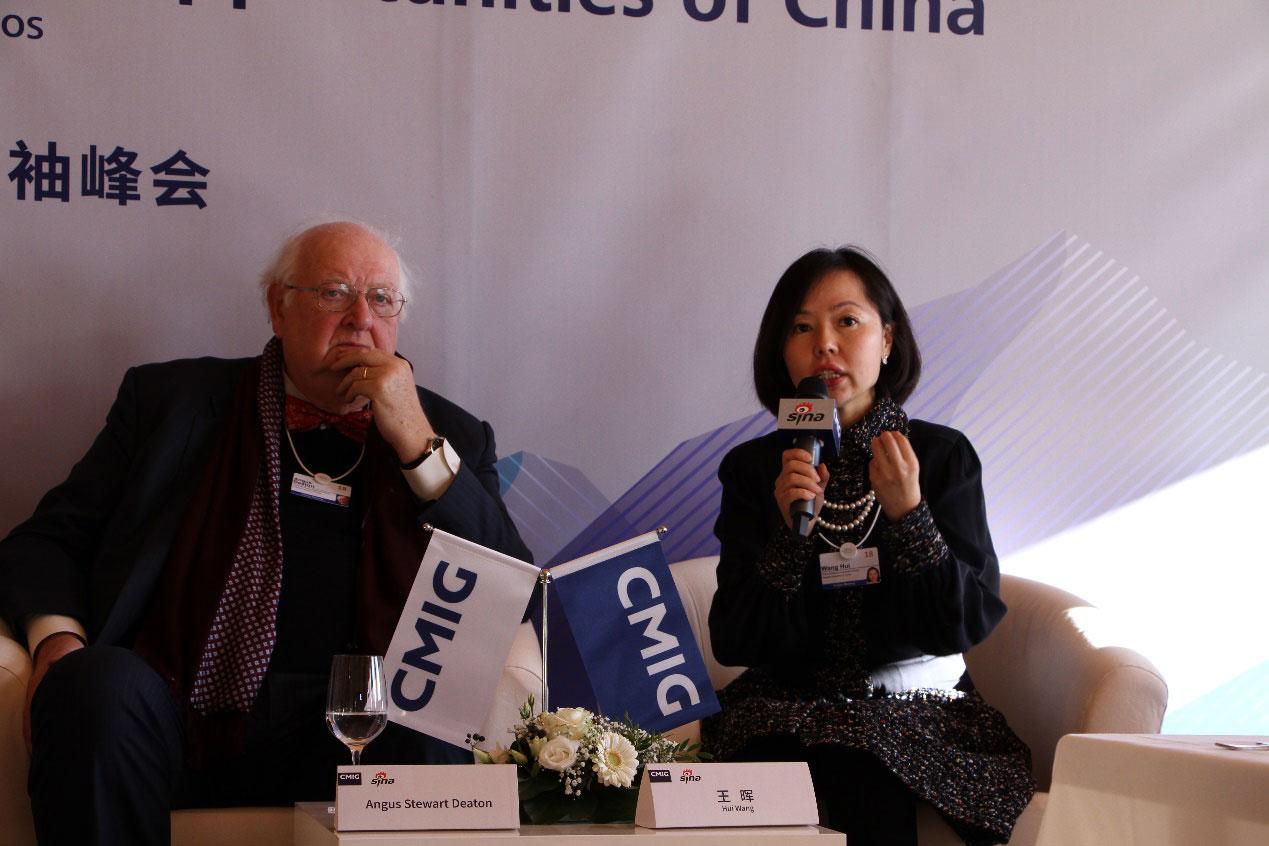 Sir Angus Deaton and Wang Hui share their opinions in Davos, Switzerland, on 23 January 2017CREDIT: PROVIDED TO CHINA DAILY
Community is the place which is tied closely to people's daily lives, so it should be the main platform for them to upgrade their lifestylesWang Hui, chairperson, CMIG Futurelife
Strong economic growth seems to have enhanced the happiness levels of the Chinese population, says noted economist
The feeling of happiness by Chinese people experienced a remarkable increase during 2006 to 2016, a period during which the Chinese economy reported significant growth, said Professor Sir Angus Deaton, winner of the Nobel Prize in Economics in 2015, when delivering a keynote speech to the Sina and CMIG (China Minsheng Investment Group) Business Leaders Summit in Davos, Switzerland, on 23 January 2018.
"There is no evidence to show any conflict between economic growth and happiness. And indeed, quite the reverse."
Prof Deaton, whose research focuses on poverty, health, wellbeing and economic development, also said China's rapidly growing elderly population was having little impact on people's feelings of happiness.
Senior citizens in China have high savings rates, Prof Deaton said. Moreover, young people, who tend to have higher incomes than their parents, often provide financial support to them or even grandparents, which enables the elderly in China to live happy lives.
The Ministry of Civil Affairs estimates that China had more than 220 million people aged above 60 in 2015. An effort had to be made to upgrade the current elderly care and welfare systems in China to provide better support for the elderly, the economist said.
Prof Deaton, who is also a member of the Global Advisory Council of China Minsheng Investment Group, said CMIG had achieved outstanding results in exploring new elderly care models in China. CMIG's community-based care service model not only successfully expands its ageing care service network, but also allows senior people to enjoy life independently and happily, he said.
At the summit, Wang Hui, chairperson of CMIG Futurelife, explained CMIG's business model to participants. "Community is the place where most ordinary people spend most of the daytime," Ms Wang said. "It is also the place which is tied closely to people's daily lives, so it should be the main platform for them to upgrade their lifestyles.
"Moreover, along with the consumption upgrade and business innovation in the community, the sense of happiness of residents can be directly improved."
CMIG, a private investment company initiated by the All China Federation of Industry and Commerce, was founded in Shanghai in 2014 with 50 billion yuan (£5.59 billion) in registered capital.
CMIG Futurelife, a key player in the layout of CMIG's elderly care business, has grown into one of the biggest community management and services companies in China, with nearly 8.61 billionsq ft of residential and commercial property under its management.