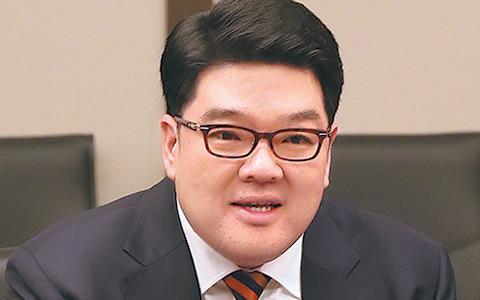 Kevin E Lee, executive vice-chairman of CMIG CREDIT: PROVIDED TO CHINA DAILY
The key to sustained growth, as it was proved by the Silk Road thousands of years ago, is openness and collaboration in global governanceKevin E Lee, executive vice-chairman, CMIG
China's determination to take on more responsibilities and contribute to more inclusive economic growth is a positive sign for companies both in China and worldwide
China's proposal at the 2017 World Economic Forum in Davos, Switzerland, that called for a shared future for mankind, an open economy, globalisation and fighting protectionism and isolationism has been widely welcomed, and is turning into action.
"In the past year, poverty reduction and environmental protection initiatives have gained tremendous progress in China," said Kevin E Lee, executive vice-chairman of China Minsheng Investment Group (CMIG), during this year's forum, which opened on Jan 23.
At the event, China's senior officials stressed again that the country stood firm against all forms of protectionism over the past year. China has strengthened protection of intellectual property rights, promoted fair competition, deepened the opening of financial markets and increased imports, according to China's senior officials.
China's continuing progress on reform, economic openness and the Belt and Road Initiative demonstrates its determination to take on more responsibilities and contribute more to inclusive economic growth, Mr Lee said. "For companies both in China and worldwide, this is a positive sign and means opportunities in a series of sectors in relation to the improvement of people's livelihoods."
As a foreigner living in China for many years, Mr Lee said he had witnessed the country's economic rise, but also some "unbalanced development. But now the Chinese government has realised this issue."
The country has begun to deal with the contradictions that had pitted unbalanced and inadequate development against people's ever growing needs for better lives, he said, and an effort to deal with the contradictions provides "the biggest opportunity over the next decade or two".
The value of business ethics and social responsibility was becoming more important in China, he said. "At CMIG we've been practising the principal of responsible investment since our establishment in 2014, and focusing on emerging sectors closely tied to people's livelihoods.
"Our rapid development and social recognition from both government and society are evidence of this trend."
Through bringing together private capital and investment, CMIG has grown into a company with a dozen subsidiaries in fields such as clean energy, green buildings, aviation and elderly healthcare. It has also helped foreign partners, such as the US reinsurance company Sirius and the Luxembourg private jet company Luxaviation, to expand their business in China.
The world economy is expected to remain stable in 2018 and 2019 following firm growth in 2017, and China's growth momentum and the recovery in developed economies is restoring confidence, Mr Lee said.
"We should always bear in mind that the key to sustained growth, as it was proved by the Silk Road thousands of years ago, is openness and collaboration in global governance," he added.