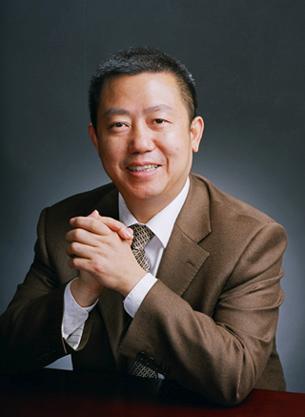 As a large-scale private corporation established in May 2014, China Minsheng Investment Group (CMIG) has enjoyed a booming growth. CMIG was initiated by ACFIC and integrates 60 renowned
private enterprises. Hodo Group, one of the sponsor shareholders of CMIG, has been backing the development of CMIG all along. Recently, CMIG New Times had an interview with Mr. Zhou Haijiang, the president of Hodo Group, a sponsor shareholder of CMIG and the chairman of CMIG Risk Management Committee. According to Mr. Zhou Haijiang, with a strong financial background and under the management of a professional and strong team, CMIG has established a platform to add value to a great number of private capital. Mr. Zhou also pointed that, CMIG will further bring its financial, brand and management strengths into full play, to strengthen diversified investment.It is also committed to supporting a sound and sustainable development of more real economies. At the same time, the Company will also lead more Chinese private enterprises to "go global" to pursue international development, by virtue of its own strategic advantages.
CMIG New Times:Dear Mr. Zhou Haijiang (President of Hodo Group), could you fully introduce your Group's historic overview, business strategies and outlook please?
Hodo Group was once a small knitting factory named Gangxia, which was built by three small handicraftsmen in 1957. After my father Zhou Yaoting took over the director position in 1983, the
factory that had been on the verge of collapse began to turn losses into gains. In 1988, I resigned from Hohai University where I served as a teacher, went back to Gangxia (a town in Wuxi City, Jiangsu Province) and entered the enterprise. In 1992, the enterprise implemented the collectivize development mode and Hodo Group was established.
Therefore, the 59-year development process of the Hodo Group has witnessed the efforts of three generations as well as the whole reform and opening-up process in China. Hodo Group now has 22,000 employees and its business revenue has exceeded RMB 50 billion. It has established four key industrial sectors, including textile clothing, rubber tire, biological pharmaceutical and real estate development, among which textile clothing is still our major business and accounts for a half proportion of our total output value. By enhancing the real economy and, at the same time,accelerating the development of the financial industry, an industry-finance group is gradually established and is rapidly developing. Our Group is not only a "combination between industry and finance, it is an integration between industrialization and informatization", which iscompletely different from the traditional development mode.
The value of Hodo Group not just lies in the acquired various honors and titles. If there is oneexpression which can best describe that value and involve the development ideas, frameworks and patterns of Hodo Group, it should be "the modern enterprise system with Chinese characteristics".
An enterprise depends on its management, and its management depends on its system. After many years, Hodo Group has established its mode of a modern enterprise system with Chinese characteristics that bears the trinity of "modern enterprise system, Party building and social responsibility". That mode can take into consideration internal and external interest relationships and achieve the win-win result of efficiency and fairness, which can basically enable Hodo Group to maintain its healthy development and also acts as the guideline for Hodo Group to guarantee the efficient implementation of its enterprise strategies and policies. Only under that mode can all its business strategies obtain better effects. The business strategies of Hodo Group are to maintain its industries relatively diversified and its first-level subsidiary companies highly professionalized, to vigorously promote its enterprise construction of "independent renovation, proprietary brand, and independent capital", to carry out six strategies of "intelligence, greenization, service orientation, high-end orientation, internationalization and securitization", and to accelerate its transformation and upgrading.
The following transformations should be implemented, including from productive business type to creative operation type, from asset operation type to the combination type of industry and finance, from traditional enterprises to smart enterprises, and from domestic enterprises to transnational enterprises. Hodo Group will take the new-type development road of "combination between industry and finance, integration between industrialization and informatization", and achieve the upgrading of both its industries and competition. I hope that Hodo Group can accelerate its transformation and upgrading paces, and improve brand and cultural contents in the future, and that it will earlier achieve the targets of 100-billion-yuan Hodo, Smart Hodo, Beautiful Hodo, Happy Hodo and of creating a transnational and century-old enterprise. I have confidence in that.
CMIG New Times:President Zhou Hajiang puts forward that Hodo Group will aim at industrial and financial innovations and take the new-type development road of "combination between industry and finance, integration between industrialization and informatization". Could you please explain how that strategy was formed and describe its implementation situations?
I often say that the pursuits of innovations and of changes are the best choice for the development of an enterprise. The pursuit of innovations means that an enterprise must possess the capability of innovations that enable it to create its key value and to control the market. The pursuit of changes means that an enterprise should continuously change its thinking modes and search for breakthroughs and development from those continuously changed modes. In other words, an enterprise should deal with various changes through its "changing thinking modes". Therefore, only the pursuits of innovations and changes can ensure an enterprise to keep pace with times and to develop for a long time.
At present, China's economy is entering a"New Normal" phase, which is inevitable, tendency and irreversible state in the economic development process. In the face of that new normal economy, the only way for Hodo Group is "making changes". As a representative of the traditional manufacturing industry, Hodo Group has its own brand and develops its own way. However, that is becoming narrow. How can Hodo Group better maintain its development? How can Hodo Group break bottlenecks, expand its development way and search for new profit growth points? Hodo Group has only one answer to above questions, namely, transformation and upgrading. In other words, Hodo Group should experience the transformations from asset operation to the combination of industry and finance, vigorously promote the construction of industry-finance groups, and take the new development road of "combination between industry and finance, integration between industrialization and informatization".
Since 2008, we have successively established financial companies, Afu micro-credit company,
investment company, fund management company and lease finance company, vigorously promoted asset securitization, and increased financial innovations.With respect to securitization, Hodo Group now has one listed company on the main board market, namely Hodo Shares, and one listed company on the National Equities Exchanges and Quotations market, namely Jiangsu YewBiotechnology Co., Ltd. Recently there is one more company under the Hodo Group preparing to go public and to make transactions on the main board market after going through the IPO auditing and examination.
With respect to financialization, Hodo Group has established an investment company and become a shareholder of China Minsheng Investment Group (CMIG). Additionally, Hodo launched the organization of Jiangsu Private Investment Holding Company (JSPIHC). These actions have accelerated the development paces of Hodo Group to create an industry-finance group and build up a new development mode that is fully different from the traditional mode of "combination between industry and finance, integration between industrialization and informatization". Thus, the competitive strength of the proprietary brand "Hodo" has been further enhanced.
CMIG New Times:As one of the sponsor shareholders of CMIG, Hodo Group has always
been supporting the development of CMIG. Meanwhile, Hodo is also one of the core sponsor shareholders of JSPIHC. I would like to know, what is your considerations for holding shares of the two investment groups, and what is your plan of collaborative development for Hodo's future by virtue of the two platforms?
CMIG is established in line with the directions of the central committee. Especially during the two sessions, General Secretary Xi Jinping emphasizes, while addressing the China Democratic National Construction Association and the All-China Federation of Industry and Commerce (ACFIC), that it is important to guide private sector to integrate private capitals, carry out trans-regional and cross-industry M&A by adopting the market for equities, so as to set up a bunch of large enterprise groups with of strong competitive capabilities and outstanding features. We all know that since the reform and opening-up policy, the Party and the government have issued a series of policies on the development of the non-public sector economy.
The Non-public sector economy is now facing unprecedentedly favorable policy environment and social climate. The establishment of CMIG is an answer to the Party's call for integrating private
capital and achieving more in such a favorable condition.Meanwhile, holding shares of CMIG suits HodoGroup's needs for future development. Hodo Goup is aiming to create an industrial and
financial group. Their goal is to find a new development path where "industry and finance are combined, informatisation and industrialisation are integrated". In order to realise these, even with Hodo Group's great efforts, it cannot be possible without external cooperation. This is why Hodo Group found CMIG. The reason that CMIG was established determines its endowed advantages in investment and finance. Great things should be done by mass efforts, that is to say, two combined companies can drive more market than an individual.
From this aspect, Hodo Group holding shares of CMIG is also a way to stimulate their own vigor of capital. JSPIHC is a Jiangsu edition of CMIG. CMIG is highly supported by United Front Work Department of CPC Central Committee and ACFIC. JSPIHC, of course, is also highly supported by United Front Work Department of CPC Jiangsu Committee and Federation of Industry and Commerce of Jiangsu. Jiangsu is one of the provinces where the private economy is greatly developed. With increasing amount of private enterprises and greater needs for them to transit and upgrade, it is urgent to accelerate this progress by investment and financing. This is the only way to help private enterprises become bigger and stronger.
Additionally, "Jiangsu Merchants" have strong amounts of capital, which lead to enormous investment potential. With this background, the establishment of JSPIHC is a must. Therefore, the nature of JSPIHC and CMIG is the same. They are both two platforms and two powers, aiming to promote private enterprises. The reasons that Hodo Group holds shares on both CMIG and JSPIHC are the same as well. On the one hand, they hope to accelerate their transition and upgrade by increasing their capital and value; but more importantly, they also want to be a contributor to Jiangsu as well as China's private economy.
CMIG New Times:There has been two years since CMIG's establishment, its assets have increased from more than 30 billion yuan to 200 billion yuan, what would you say about CMIG's development at present? What are your expectations and visions for CMIG's future development?
CMIG is the first large state-supported private investment group in China, from which you can see a typical example of combination between industry and finance. CMIG is often seen as "the aircraft carrier in private finance and investment". Its value is not only in its enormous assets. As a matter of fact, it is the nature of CMIG that makes it unique.
Its establishment is significantly crucial and profound not only to private economy, but more importantly, to China as a whole. Just as what I have mentioned, CMIG is a product of China's 30 years of reform and opening up; it is a reflection of maturity of the market economy.
CMIG's establishment suits our time: the economic transition and upgrade need CMIG; the structural adjustment needs CMIG. CMIG has strong capital and a professional management team, which provides a value added platform to a large amount of private capital. With CMIG's help, private capital can catch an opportunity to show their value.
Additionally, with CMIG's excellent leadership team, their accurate strategic plan and their wisdom in finance, private enterprises can have access to better financing methods more easily,activate their capital more thoroughly, and realize their economic transition more quickly. This is also what makes CMIG a success within only two years.
The establishment of CMIG is an important matter for China's market to play its role; it is also an important practice for ACFIC to promote the private economy. In CMIG's activities, we have
maximised our strengths from various aspects, including national branding, resource integration,capital capacity, comprehensive operation, management output, among many others.
Through capital and leverage, we have been focusing on industry integration and full-range financial licensing. We have been making every effort to gather resources so as to create our special business strengths and major business parts.
I believe that China's private economy needs more big investment companies like CMIG. I am also convinced that in the future, with our capital, our brand and our management, we can promote
more versatile investment and help the economy realise sustainable development. At the same time, with our strategic advantages, we can also lead more Chinese private enterprises to "go global" for international development.