On January 13, 2016, Marriott International, Inc. (hereinafter referred to as "Marriott") and China Minsheng Bund Real Estate Development Co., Ltd. (hereinafter referred to as "China Minsheng Bund"), a subsidiary of China Minsheng Investment Corp., Ltd. (hereinafter referred to as "CMIG"), signed the memorandum of understanding on building the Ritz-Carlton apartment project on Plots 616 and 735 of Xiaodongmen, Shanghai (hereinafter referred to as the "Dongjiadu Project").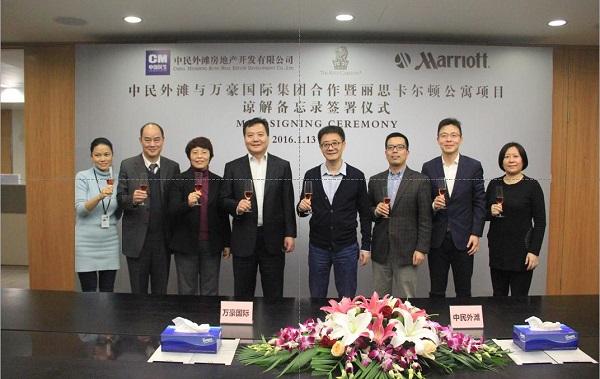 Headquartered in Bethesda, Maryland, USA, Marriott is a global leading hotel chain. Marriott owns more than 4,000 hotels and 21 brands in 74 countries and territories, including Marriott Hotels & Resorts, JW Marriott Hotels & Resorts, Renaissance Hotels & Resorts, Courtyard, Residence Inn, Fairfield Inn, TownePlace Suites, SpringHill Suites, Marriott Vacation Club, and Ritz-Carlton, to name a few. As the representative of the highest-end brand of Marriott, Ritz-Carlton has been leading worldwide hotel brands for its Motto -- We are Ladies and Gentlemen Serving Ladies and Gentlemen.
CMIG is a leading investment company initiated by the All-China Federation of Industry and Commerce (ACFIC) and launched by 59 well-known private companies. Incorporated in Shanghai on May 9, 2014, CMIG has a registered capital of RMB50 billion and specializes in equity investment, equity investment management, business consulting, financial consulting, industrial investment, asset management and investment consulting, among other businesses. Since CMIG was awarded the Shanghai Dongjiadu project in 2014, the project has been closely followed by the real estate industry and the capital market as well. Affiliated to CMIG, China Minsheng Bund is committed to the precise development and management of Dongjiadu project, with a view to build it into an urban complex with a mix of five-star rated hotel, top-trade department store, high-class office building, enterprise headquarters, upscale residence, and open-type park street.