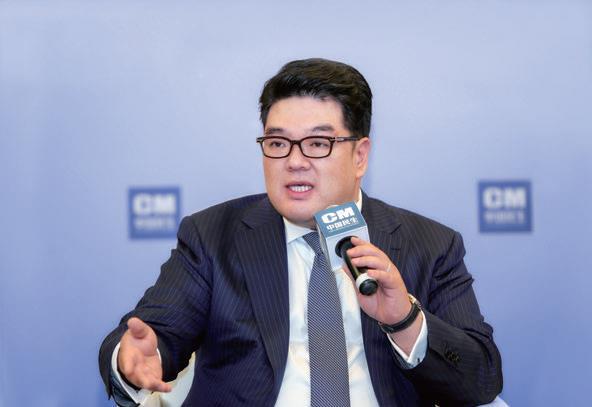 How is CMIG faring in the past couple of months since it was registered in May and inaugurated in August? As CMIG has made its presence in photovoltaic (PV), iron & steel and aviation, among other traditional industries, how does CMIG look at the internet and other emerging industries? What's CMIG's overall investment strategy under the new normal of the Chinese economy? And what's the overseas investment strategy of CMIG, a company valuing globalization?
Which industries will CMIG favor in making investment? Recently, the China Business News conducted an exclusive interview with Dr. Kevin E. Lee, Vice Chairman of CMIG, who shared his insights on the "investment philosophy" of CMIG. When serving as the former deputy president of Hana Financial Group Inc., Dr. Lee was in charge of overseas business, international strategy and other affairs. Proficient in multiple languages, Dr. Lee believes that the Chinese economy doesn't grow as rapid as before at this stage, which offers a great opportunity to distinguish and invest in excellent enterprises.
The stock market goes up at a time when the basic economy recovers
Reporter: Could you please share with us the progress CMIG has made since its inception?
Kevin E. Lee: CMIG has founded platform companies, including China Minsheng Capital and China Minsheng International, and companies in specific industries, such as China Minsheng New Energy, China Minsheng Industrial Company and China Minsheng Property, to name a few. Besides that, CMIG has also facilitated investment and integration in such fields as general aviation and PV industries.
With regard to general aviation, after acquiring Asia United Business Aviation Limited, Minsheng International Jet, a holding company of CMIG, has become the largest general aviation company in Asia and going forward, it is bound to extend its reach into helicopter, low altitude, aviation logistics and other sectors. China Minsheng New Energy, with a focus on PV and other new energy, has accelerated its projects and will build the New Energy Demonstrative Area in Ningxia, with a view to drive the effective transition of the energy industry and develop itself into a leading clean energy provider.
On top of that, CMIG won Dongjiadu Land Parcel, one of the core areas of Shanghai. That said, we will build a financial center under the new finance-oriented concept rather than just constructing and selling estates.
It's the development goal of CMIG to become a financial holding group with its focus on industry-finance integration. CMIG has set in motion the operations of financial subsidiaries, such as China Minsheng Property which offers community finance and logistics services to accommodate the basic daily needs of the public.
Reporter: Some traditional industries have slowed down and even been struggling under pressures. Financial risks are cropping up under the new normal status of the Chinese economy. However, the stock market, for example, remains vigorous. How does CMIG look at the investment opportunity against such a landscape?
Kevin E. Lee: Just to give an example. If everybody takes a car, we couldn't determine who is the most powerful physically. But if all run after getting out of the car, we could easily see the physical strength of every one. The Chinese economy doesn't grow rapidly at this stage, which offers a great opportunity to distinguish and invest in excellent enterprises.
As things stand, no country in the world could keep its economy growing for a long term. The same is true for China. For now, the Chinese economy is shifting from rapid growth to soft landing, signifying that the Chinese economy is entering into the mature period from the growth period. In the fast growing period, banks could boost profits by high interest rate spreads, while enterprises could make profits by leverage effect. But there is no such thing as a free lunch, and profits always come with risks. In this case, how will a bank or company keep its risks well under control comes as an important criteria to evaluate its competitive edge.
Recently, the Chinese stock market has remained active partly due to the policy trend. But I believe the root cause is its coincidence with the upgrading of China's basic economy. North America, Europe and other countries have achieved today's development via the periodic and constant growth in stock prices. During this process, we can distinguish excellent performers, and companies that are less competitive will be naturally eliminated. A climate which conforms to the market economy theory will be phased in where the market appears more transparent and investment opportunities are more wide-ranged.
Reporter: Many researchers divide China into a traditional economy and an emerging economy. Traditional industries, especially the iron & steel and shipping industries, call for integration, while segments of new economy, such as the internet, are growing vigorously and appealing to investment capital.How will CMIG choose as the whole things are laid bare?
Kevin E. Lee: We may look at the traditional economy and an emerging economy from another perspective, especially from the angle of physical industries and fundamental industries. As for the fundamental industries, CMIG focuses now on PV and the new energy sector.
As for the internet and other industries, we also need to fully look into the new development mode, particularly that of Alibaba and Tencent. With regard to investment as such, cooperation with existing businesses of CMIG may be taken into account.
Reporter: JP Morgan pressed ahead with the industrial integration of the United States based on the strength of financial capital in the late-19th century and early-20th century. What will CMIG do after investing in China's fundamental industries?
Kevin E. Lee: After making investment in enterprises, CMIG doesn't plan to control their operation; rather, we will bring in CMIG's financial experts to provide financial strategy support and reform. For example, given the fact that the value of products and concepts of traditional industries is high, their "physique" will become better immediately after their financial model improves.
For the same stuff, enterprises originally focus on products, but we value cost, rate of return, re-investment, leverage, listing, investment and financing, among a holistic of services from the financial perspective.
If enterprises want to "go global", the overseas platform of China Minsheng International may also work with them in providing cross-border financial support and help them realize internationalized operation.
Tap into undervalued overseas assets
Reporter: International expansion is also an important strategy of CMIG. What's the layout of CMIG in international development? CMIG develops towards industry-finance integration, which calls for strong financing support. You mentioned the advantage of cheap US-dollar financing abroad previously, but the dollar is now appreciating greatly. What's your take on the overseas financing picture?
Kevin E. Lee: Developed countries witness economic downturn alongside the under-estimation of assets, which will offer CMIG a favorable investment environment. Overseas partners are necessary for CMIG to diversify risks, and CMIG needs to enhance strategic partnerships with foreign institutes and seek for investment opportunities. The key of CMIG's international strategy is as follows: tapping into undervalued overseas assets, entering into partnerships with overseas organizations with which we can develop a long-term cooperative mechanism, and building up the competitive capacity in capital management.
When it comes to financing, as the basic economy recovers and quantitative easing comes to an end in the United States, it's expected that the exchange rate of the U.S. dollar will be on the rise, on a slight scale though. For my part, major global currencies will still maintain low interest rates in the coming 2-3 years and it's a good choice for CMIG to engage in overseas financing via low-cost U.S. dollar at the current stage of flat interest rate curve. Of course, we will keep a watchful eye on U.S. dollar exchange rate appreciation, try to match with the overseas U.S. dollar assets of the company, and hedge with market-based means as we see fit. I believe the exchange rate risk could be under full control.
Reporter: CMIG's internationalization strategy is much-anticipated by the market. In the more than two years when you were responsible for the international strategy of Hana Financial Group Inc., the share of profits of Hana's overseas business rose from 8% to 16.8%. How do you look at the international development of CMIG at the current stage of economic development? In what way are you devoted to the cause of CMIG?
Kevin E. Lee: Investment companies are different from banks in nature. To define the international strategy of the former, we need to think of investment projects in light of the world layout. Banks need outlets and other branches, but sufficient capital and talent alone could enable an investment company to invest. We need to consider and compare globalized investment businesses all the time, and tap into business opportunities.
I started my career from the investment banking business. And I have also studied, worked and lived in China. China is the place where I have built myself up. When climbing the Himalayas, one may encounter the Sherpa climbing with a heavy backpack. Without sufficient energy and knowledge about the mountain, it would be impossible to reach the peak. I hope I could, like the Sherpa, make a difference in growing CMIG into the greatest investment organization in the world.