In order to actively respond to the call of the country on lifting the whole population out of poverty by 2020, after a systematic investigation of local population in 74 poor villages in YanChi, various innovation models for "PV+" poverty alleviation are summarized by CMIG, that is, combining with targeted poverty alleviation, combining with house renovation, combining with increasing employment, combining with financial service, thus enabling process effects with multiple benefits and helping YanChi County meet poverty alleviation goal in advance in 2018.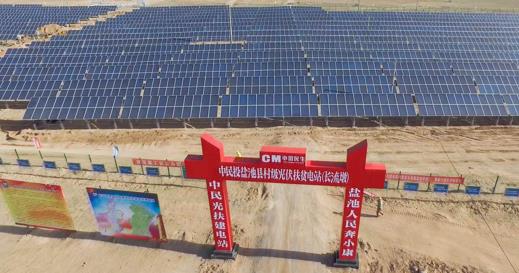 (This is a PV+ Village-Level Power Station which has already built in CHANG LIU DUN Village)
In the model of CMIG "PV+ Village-Level Power Station", CMIG New Energy will, on the basis of the actual condition of grid access and land-use for PV, complete the construction of PV+ Village-Level Power Stations as a part of poverty alleviation pilot project in 74 poor villages in YanChi within three years. The total investment will be about RMB 1.88 billion, and revenues on power fare of the village collective will be ensured for 20 years after joining the national power grid, with the continuing paying for 20 years. Currently, the construction of Village-Level Power Station in CHANG LIU DUN has been completed. The revenues on power fare will be used for upgrading village's infrastructure and improving quality of life for villagers.
At the PV comprehensive demonstration zone in YanChi invested and constructed by CMIG New Energy, reporters saw that spectacular photovoltaic cell panels had been installed at the site. The first phase of installations (350 MW) is planned to join the national grid and generate power before June 30. Local farmers are quite supportive of this project – most farmers only had adobe houses in the past, now they have built fully equipped new houses. Besides the living zone covering an area of about 120 square meters, in the backyard there are specialized areas for sheep raising and feed storing which are separated from their living zone. And the new houses are equipped with in-floor heating system. Thanks to the poverty alleviation strategy, famers obtain real benefits and find new hope for their lives.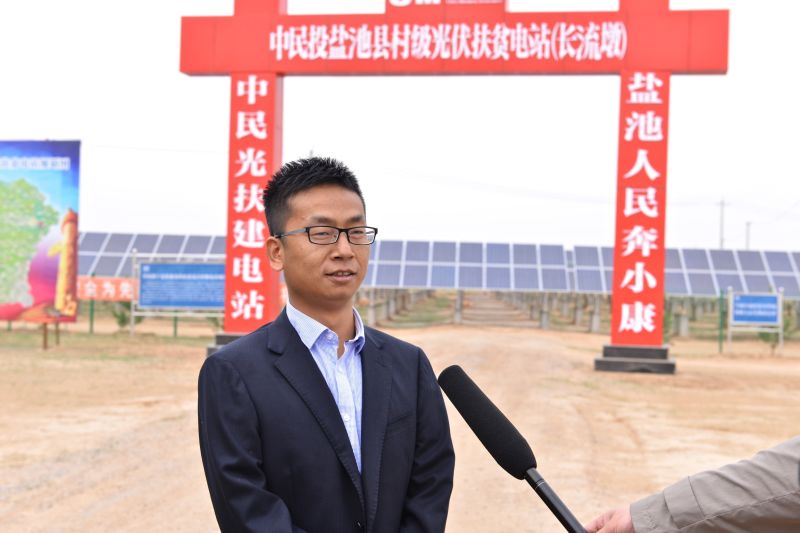 YanChi project, started on August 28, 2014, is an ultra-large project of photovoltaic power generation to be built in Ningxia with the strategic cooperation agreement signed by the People's Government of the Ningxia Hui Autonomous Region and CMIG who planned to invest RMB 30-50 billion within 3-5 years.
Why chose YanChi? Mo Fan, Project Manager from YanChi Company of CMIG New Energy said that, CMIG New Energy conducted a full-scale and scientific analytical study about the possibility of the development and utilization of solar energy resources in Ningxia before choosing YanChi, a county with abundance of solar energy resources as the site. CMIG New Energy relies on solar power generation projects, positively explores the development of green industrial cluster, and scientifically arrange solar power generation projects. On April 18, 2015, the YanChi project was officially put into implementation.
"It is the village-level power station behind me that serves CHANG LIU DUN Village. After the official startup, by using existent transmission line for agriculture use, this power station will generate clean power for the villagers, and is expected to raise village collective's income by two hundred thousand RMB a year. This embodies not only the willingness of CMIG New Energy to undertake enterprise social responsibility, and its active practice of poverty alleviation, but also its substantial efforts to raise the living standards of the villagers."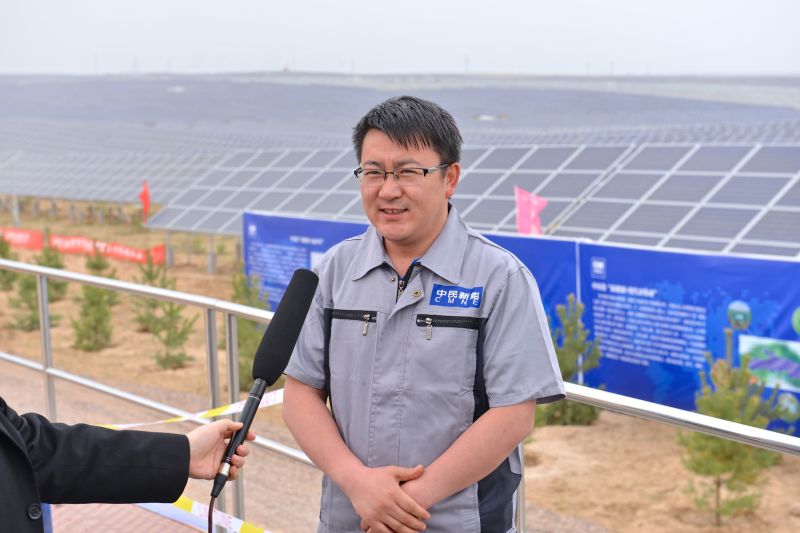 Liu Yajun, technical manager from EPC Division of YanChi Company of CMIG New Energy said that, since the participation of the project on August, 2015, our colleagues worked very hard, doing their bests to catch up with progress night and day, and finally this spectacular photovoltaic power station was built.
CMIG's new energy comprehensive demonstration zone in YanChi will have an installed gross capacity of 2GW, of which 1GW is planned to be installed in the first phase. Beginning on August 15, 2015, all of the construction tasks have been basically completed, and the first phase of installations (totally 350 MW) is expected to realize power generation on June 30, 2016.
"My colleagues and I are looking forward to the day when this world largest stand-alone photovoltaic power station is officially completed and put into production."