In order to actively respond to the call of the country on lifting the whole population out of poverty by 2020, after the systematic investigation of local population in 74 poor villages in YanChi, various innovation models for "PV+" poverty alleviation are summarized by CMIG, that is, combining with targeted poverty alleviation, combining with house renovation, combining with increasing employment, combining with financial service, thus enabling process effects with multiple benefits and helping YanChi County meet poverty alleviation goal in advance in 2018.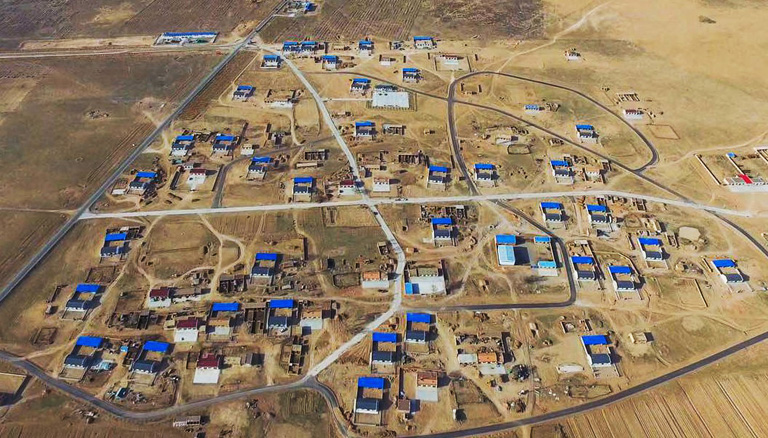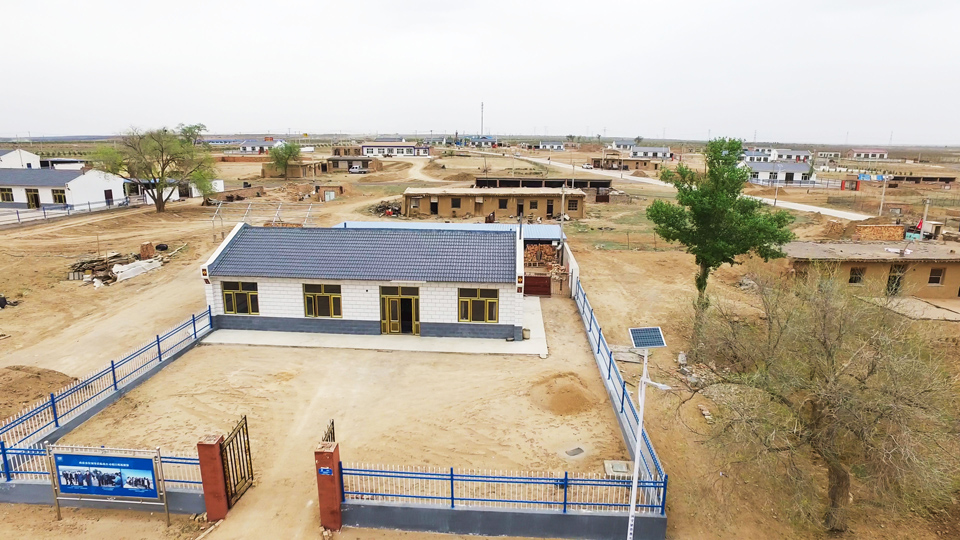 In the model of CMIG "PV+ House Renovation", CMIG New Energy will invest RMB 135 million to build five beautiful Villages, that is, Nan Liang Village, Gu Jiquan Village, Huang Jitai Village, Fan Jiquan Village and Shi Jiquan Village(totaling 406 families with the total population of 1269 ). During the process of house reconstruction for the selected poor households, not only a modern living zones, but also specialized areas suitable for sheep raising in the backyard are built. In Nan Liang Village, a CPC Members Service Center covering an area of 200 square meters has also been built, intended to carry out people-benefit network project, such as party construction, Internet +, promotion of science knowledge on agriculture and animal husbandry.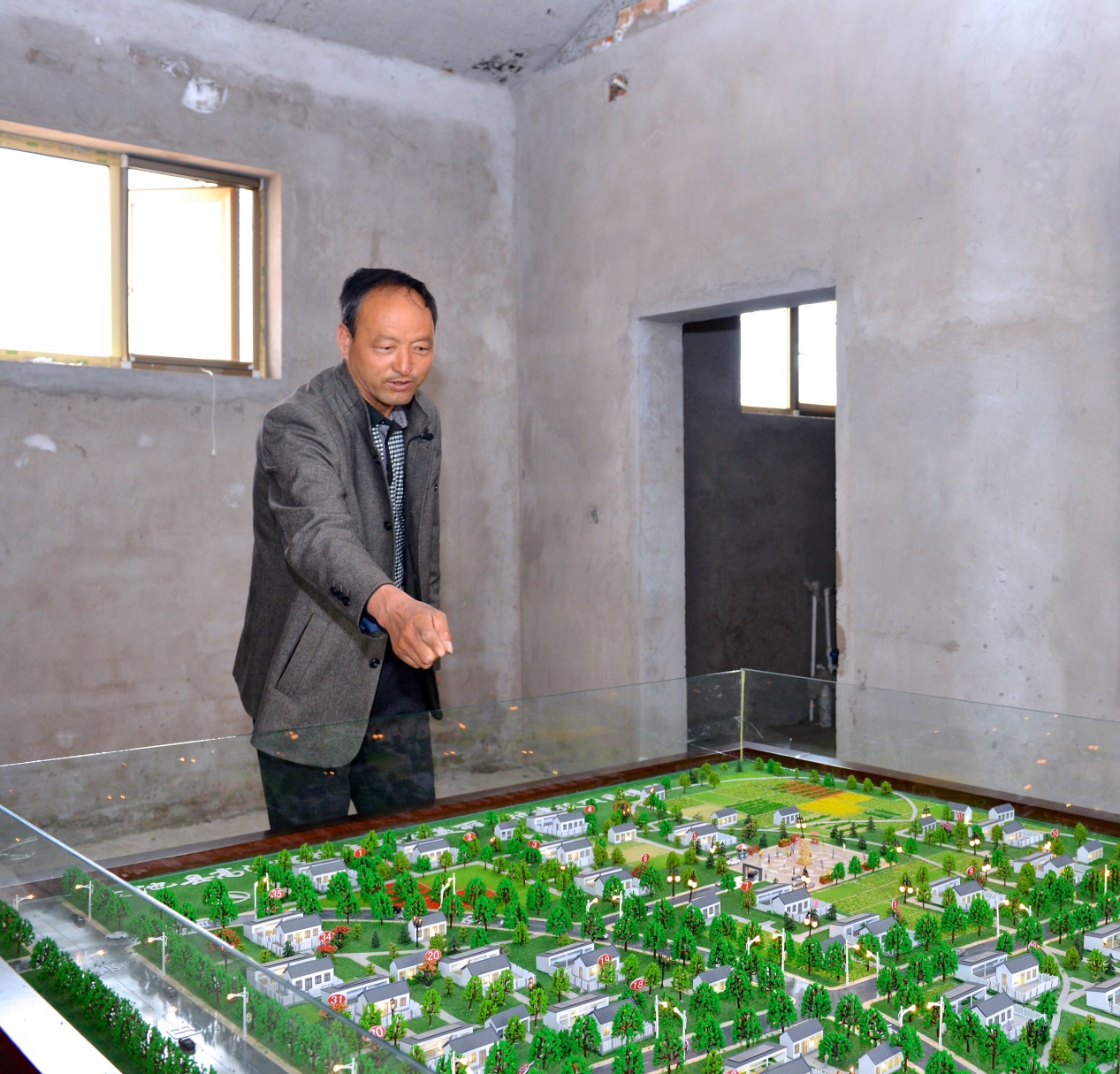 (Sun Furui, secretary of Nan Liang Village was describing a beautiful blueprint of Nan Liang Village to the reporter)
More than 40 years ago, Min Xun, now over 60 years old, migrated to Nan Liang Village, where he then got married and gave birth to his children. Now he has a family with three generations and has a lot of children and grandchildren. But, what never changed over the years is their weather-beaten adobe house. Min Xun can't remember how many biting cold winter nights he had spent in that old house – in the east part of Ning Xia in winter, -20 degrees is not rare.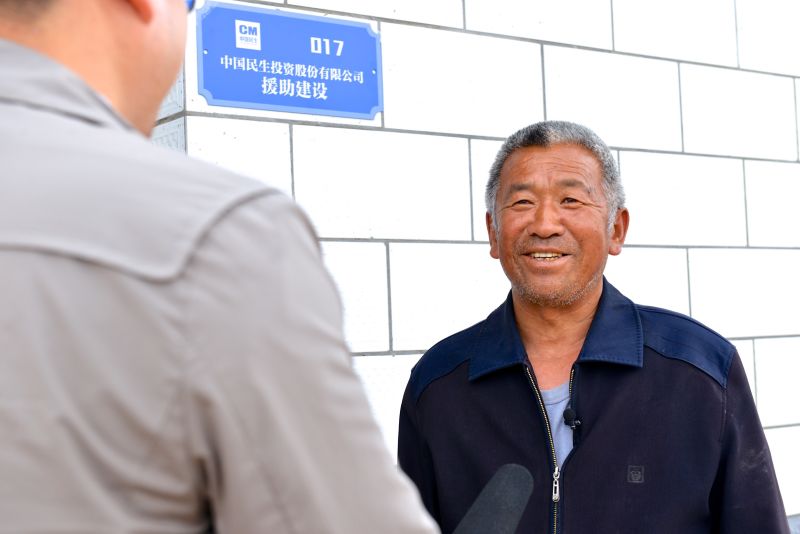 Min Xun used to go to the county town for doing a part-time job, bringing in more than RMB 2000 a month. But in recent years, his wife's rheumatism has grown worse, and nothing could cure her even after visiting doctors. When the wind blows, the rain pours or the weather turns cold, her arm was too painful to raise, so Min Xun has to stay at home for caring for his wife, and his children assume the responsibility for working in the city.
But it all changed with the progress of the poverty relief work of PV-model by CMIG New Energy in local areas.
When the reporter saw Min Xun in Nan Liang Village, he looked very healthy and asked reporters to visit his new house. Although the decoration remained unfinished, the new house is far better than the old adobe house, and you can understand why Min Xun was so happy.
Sun Furui, secretary of Nan Liang Village, happened to pass by. When seeing Min Xun and the reporter were talking, he joked:" Min Xun, you can tell them how you're going to decorate your new house."
Min Xun rubbed his callous hands together, felt a bit embarrassed and laughed:" I have to ask my wife's opinion. Heating system must be installed, for her hands cannot suffer from cold." Then, Min Xun's wife and their granddaughter moved away because of shyness.
Min Xun's wife asked the reporter suddenly:" Do you want to visit our old house? When we move into our new house, the old one has to be torn down."
When she moved away the bricks which had sealed the air-leak door sheet, her daughter came over and wanted to help her, then Min Xun also came over and asked his wife not to be tired. "I'm OK, the old house will be torn down soon. No matter how shabby it is, we lived there for so many years. "Min Xun's wife said with a laugh.