In order to actively respond to the call of the country on lifting the whole population out of poverty by 2020, after the systematic investigation of local population in 74 poor villages in YanChi, various innovation models for "PV+" poverty alleviation are summarized by CMIG, that is, combining with targeted poverty alleviation, combining with house renovation, combining with increasing employment, combining with financial service, thus enabling process effects with multiple benefits and helping YanChi County meet poverty alleviation goal in advance in 2018.
(Staff from YanChi Company of CMIG New Energy were checking photovoltaic cell panels at the construction site)
Among these models, the model of CMIG "PV+ Employment" is welcomed by many villagers who had been working in the city. On the premise of mastering the same working skills, CMIG New Energy ensure that at least one member of every household can get permanent job at nearby photovoltaic project, and that people from Yan Chi County enjoy the priority to be employed by CMIG New Energy related industry. Sun Furui, secretary of Nan Liang Village said, since the end of 2015, many people working outside has returned home, because they also could find a decent job with a good income here.
Since CMIG New Energy launched an initiative on PV poverty alleviation against Nan Liang Village in August, 2015, every household can enjoy additional amount of PV electricity and villagers leading a very hard life can get a chance to build new houses on the same spot. With people working outside returning home, the usual quiet village has become lively, and more people gather in the newly-built outdoor activity square.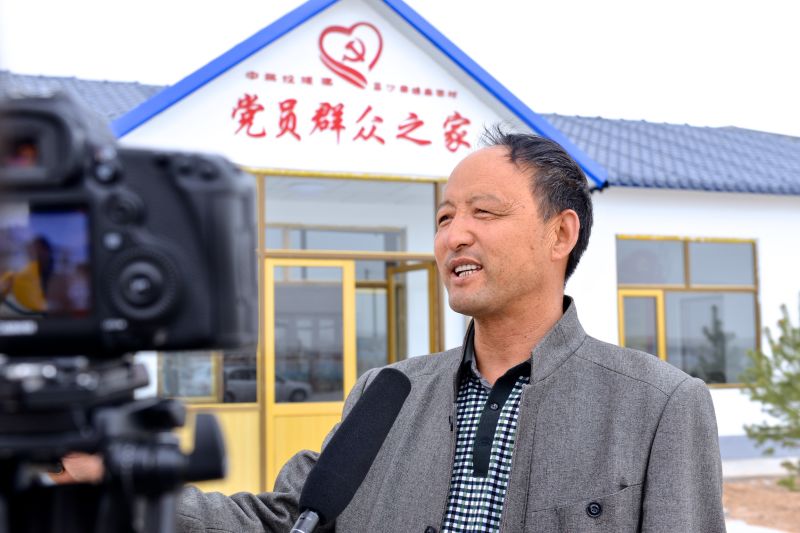 Sun Furui, secretary of Nan Liang Village said, after the photovoltaic power station was built, every year, every household can save electricity fees by a substantial amount. The village has become more and more beautiful - Street lamps, roads and other infrastructure are placed in order, and the common people obtain real benefits.
In 2016, every household in Nan Liang Village got rid of poverty - it can be said this small village has almost entered into the stage of being fairly well-off. In the past, in this village with only drought land and infertile soil, its villagers could only make a living by raising sheep, but hay and forage were always running out.
At present, there are more than 400 households in Nan Liang Village, with an average of 4-5 persons in every household. If the family livelihood only relies on the laborers working outside who earned only more than RMB 2000 a month, and could only work several months, an annual income just exceeding RMB 10000 was good enough , though it was still far from enough to support the family.
Sun Furui said, "after many years of poverty-relief work, we all understand that, it is difficult to get rid of poverty only relying on national policy, and we should have stable income. But how can life goes on if there are not enough jobs in one place?"
But then the reporter was shown around one new house by Sun Furui – a house built with the help of CMIG, which is composed of three parts: living zone, sheep raising area and feed storing area. "This is the new job location. And the photovoltaic base of CMIG New Energy is not far away. It is a large base, which will certainly create many jobs. Our villagers can help them do many things. I told the villages that if they could make money at home why do they work in a faraway place?"