About Us
Employees' Stories
Speeches at the CMI Talk
At the end of year 2015, CMIG held a CMI Talk themed My Year at CMIG, where speeches were given by 8 speakers from CMIG and its subsidiaries. These speakers shared their experience, feelings, thoughts and ideas and here we have selected some highlights for you.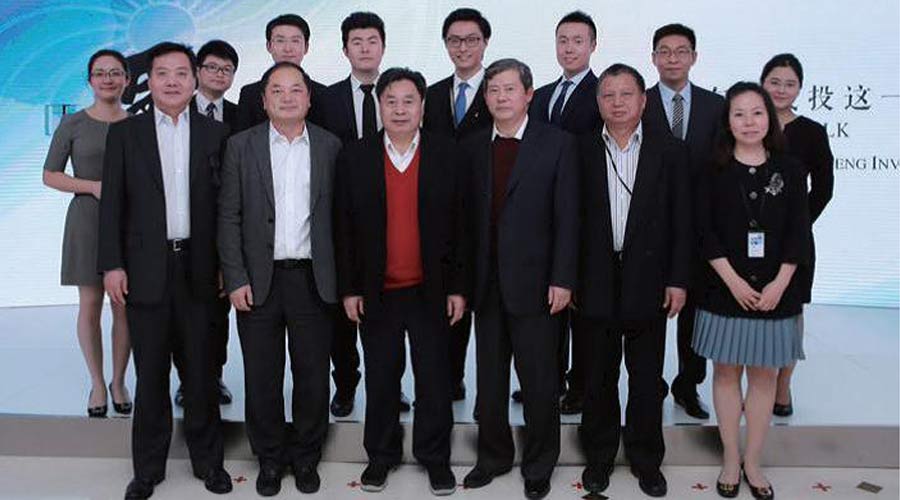 SONG Hong, CMI Capital
Our job is like to start up a new business. In other words, it is a platform-type startup. It is extremely normal to encounter confusions, feel lost and work under pressure. We are starting an undertaking, so all the difficult times are there for a reason. All I need to do is to learn, to try and to stick to what I believe in.
To be honest, being in a startup company is freer and more inspiring. No one would keep an eye on you all the time to check your jobs for today or tomorrow, or boss you around - what you should do and what you shouldn't. We can just see things and work them into reality. Imagine this: when we start up a successful business in the future, we can just proudly tell our kids: look what your daddy did! It is something huge!
ZHENG Yin, CMIG Wealth
The luckiest a man can get is to surf on waves of reform and innovation when he is still young. We all had the experience of working in a mature system where everyone moves around like a gear. Now we have to rely on ourselves to establish a new system.
I know we have a long way to go before we finally reach our goals, but I believe that I am not fighting alone. All our achievements are realized jointly by everyone in our team working hard every day on every detail. I enjoy everything we have now because I love what I do. Like our President says, CMIG is a beautiful part of our lives. Thank you.
CMIG has offered me three very important gifts.
CMIG has offered me three very important gifts.
The first gift is a stage. I am deeply enthusiastic about financing. I am willing to play a leading role in my own story with this picture that is much larger. I am willing to commit to doing what I love, contributing to the company and playing my role.
The second gift is experience. Our job is to serve for quality and efficiency. The experiences I have gained and recognitions we have received strengthen our faith in what we do and give us confidence to play our roles better.
The third gift is the sheer pleasure of working in teams. Every subsidiary of CMIG has its special and extraordinary skill sets. Only when all these skill sets work together can we achieve bigger successes.
JI Lin, CMIG Headquarters
When I looked back to the previous year, I surprisingly found that my work at CMIG was just like falling in love with someone.
Working at CMIG is like falling in love with someone unexpectedly. When you see it, you would leave everything you have imagined about it behind, and you will be enchanted by its magic and find yourself in a better place.
Work is love, the kind that you never feel tired of. If you are doing something for yourself, you might get lazy and unmotivated. But if you are doing things for someone you love, like CMIG, you will spread your wings and spare no effort, since that someone you love will magically let you know that giving is more meaningful and fun.
WANG Weiran, CMIG International
I graduated from college just a few years go. I kept thinking about how to choose a career then. To most people, they choose their careers based on either their talents or their passions. I worked overseas before. I didn't get either of the supports, unfortunately.
Then I joined CMIG, where I found my dream job. I can do what I like to do every day, work with people who have dreams to fulfill, like myself. I strongly believe and know it for sure that I have found a perfect place to realize my own values. I have also found the courage to keep pursuing perfection. More importantly, I found a team which shares the same dreams as mine.
LI Xinquan, CMIG New Energy
One word to summarize the past year for me at CMIG: toughness. It has been so exhausting and tough, but none of us quit. Quite the contrary, we all enjoyed it like we had nothing but candies. Why? I guess the answer is threefold.
First of all, we value the platform and opportunities that CMIG provides. We are young, and the last we would fear is a tough and tiring job. What we fear the most is that we don't have opportunities. When we see opportunities, the tougher the job is, the more assured we are that we will be rewarded.
Secondly, we did get paid off. When we celebrated the 1st anniversary since 2015, CMIG New Energy has obtained nearly 10% of the total project shares nationwide and stepped into the first tier company in the field of photovoltaic power.
Thirdly, we appreciate the recognition and care from CMIG for each one of us. We spare no efforts in working not just for ourselves but also for those who are important to us, who are connected with us in life.